By Cole Kim
It was a rainy and windy Wednesday afternoon when the Academy Cougars beat the Tiyan Titans 15-2, in four innings.
The only offensive action in the entirety of the first inning, the hit, which was a single, came off of Kiana Rivera, who also stole two bases.
An astonishing 11 runs were produced by the Cougars in the bottom of the second. The opening run came off an RBI single from Rina Panginpian, this hit allowed Aubriemme Esplana to take home, opening the offensive firepower.
The next two runs were ran in when slugger Kiana Rivera hit an RBI double, which gave the scoring opportunity to Isabella Muna and Rina Panginpian. This was followed by an RBI double from Ashley Mendola, allowing Kiana Rivera and Kristiana Cruz to take home plate.
Three more RBIs were hit in the bottom of the second inning. Isabella Muna, who was hit by a pitch earlier in the inning, eventually stole home. The score at the end of the inning was a commanding 11-0 lead for the Academy Cougars.
The Titans had no offensive action in the second inning, two of the batters being struck out by ace pitcher Ashley Mendola.
The Cougars gained two more runs in the third inning. Both of which came from RBIs from Dorian Calvo and Isabella Muna.
Cougar pitcher Mendola struck out all three batters in the bottom of the third.
In the top of the fourth inning, the Cougars last chance at bat, two more Academy runs were scored. One came from an RBI single hit by pitcher Ashley Mendola. The other run came when Dorian Calvo stole home after a ball was thrown.
When Titans' bats got warmed up, it was too late, since it was the last inning. They scored two runs in this inning, both of which came from an RBI hit by Terrazas.
"This tells me that everyone, from the top of the lineup, to the bottom, were doing their job and scoring runs. And then our defense executed. We had great pitching from Ashley Mendola, and great overall hitting, and teamwork," said the Academy head coach after their dominant win over the Tiyan Titans.
The final score of the game was 15-2, Academy bringing home that W.

QUICK HITS
3rd place: Big ups to the Para Todu Rugby Club for finishing 3rd out of 16 teams in the Manila 10's Rugby Tournament today. Biba Guam Rugby!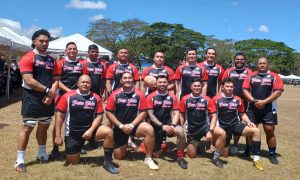 ——————————————
Guam MTB National Championship: Edward Oingerang and Jennifer Camacho are your 2023 MTB national champions. Oingerang finished the course in 1:13:24 while Camacho won her second straight title in 54:08.