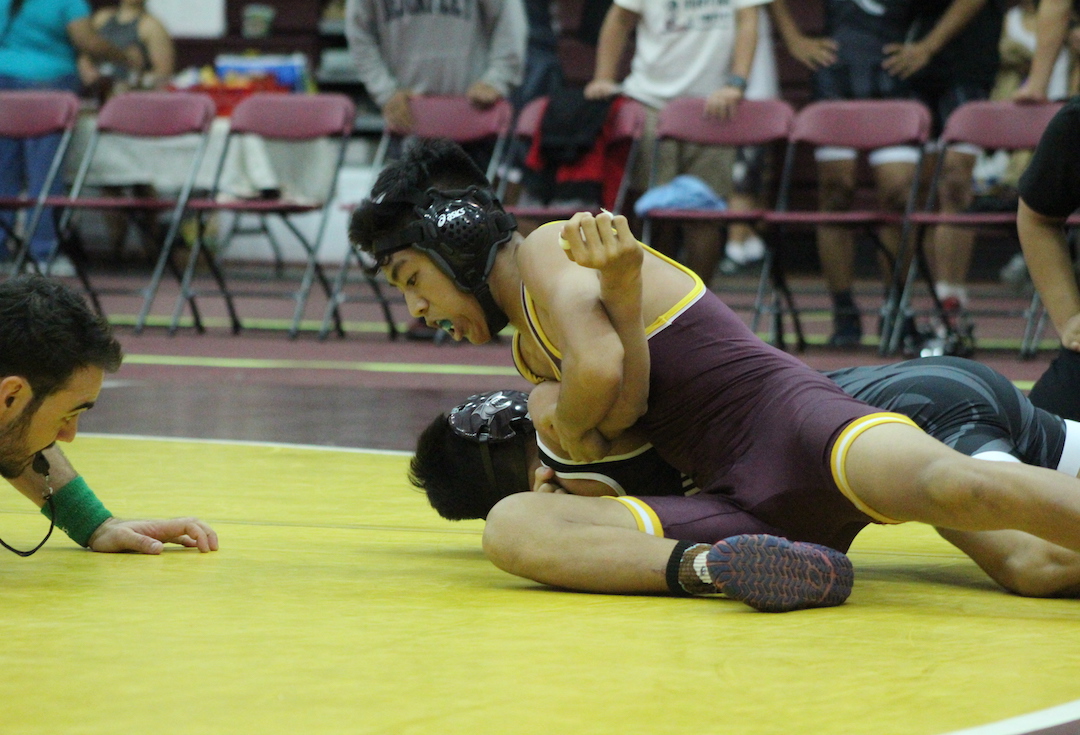 By Robert Balajadia
The FD Friars and Sanchez Sharks met Saturday morning for a showdown of two of the leagues top teams. The Lady Sharks pinned down the Academy Cougars 34-21 and the Friars out numbered of the Sharks in a 52-27 win, with five wins coming via forfeit.
One of the biggest surprises of the day came at 113 lbs. when sophomore Friar Caleb 'Little Laser' Laserna earned a pin victory over previously undefeated sophomore wrestler Gavin Whitt of the Sharks. Whitt got the better of Laserna in their freshman year bout, but the loss motivated Laserna more than anything.
"This is my biggest win ever. Ever since I lost to him last year I've been training harder each day. Everyone was cheering me on when I got back to the bench," said Laserna.
Laserna's game plan opened up and he took full advantage, despite facing the talented Whitt.
"[Whitt] got me in the head and arm really quick. He seemed a lot quicker than last year, but I managed to see what he was doing and I just had a feel for him. I wanted to try and get him on his back, but coach told me not to so I had to find another way around him," added Laserna.
The Lady Sharks were locked into a close contest before Kaetlyn Quintanilla earned a 14-7 points victory over Anabelle Basto to keep Sanchez ahead 22-15. The Sharks would take two more victories via forfiet to final the score, keeping their unbeaten record intact.
In just the third week of their shortened season, IIAAG wrestling is already preparing for their All-Island Meet next weekend. Despite the nearly three-week delay, Friar wrestling coach Terry Debold credited all the off-season training that most of the IIAAG wrestlers go through that has them performing at high levels despite lacking some matt competition time.
"Off-season training in any sport is crucial. You see it in these athletes and in their growth of the talent pool. The Snakepit of Tiyan, the Sharks and us, the Phoenix Wrestling Club all wrestle year round. You're starting to see the numbers, especially in the female wrestlers," stated Debold.
As for the final showdown next weekend, Debold told his team they need to have faith.
"This team is built on faith. The talent, hard work and support is there, but at the end of the day, you have to have faith. That's one thing nobody can take away from you and that's your faith. So whenever we go out and compete, we have to believe in ourselves," added Debold.
The top seed is often in charge of hosting the All-Island and the Friars locked up the top spot with their Saturday win. Details of the IIAAG All-Island Meet is sure to come soon!
PHOTO GALLERY BROUGHT TO YOU BY:

COMING SOON …
GUAM SPORTS ON HOLD DUE TO SUPER TYPHOON MAWAR
QUICK HITS
Bishop Obispos beat Mt. Carmel for the IIAAG Middle School Girls Basketball championship 37-25.
—————————————-
The Benavente Roadrunners crushed the Agueda Pirates 17-1 to win the 76 PONY Middle School Baseball League. Rodney San Nicolas was a beat, striking out 13 batters in a complete game while going 4-for-4 at the plate, including a homer and 4 RBI.