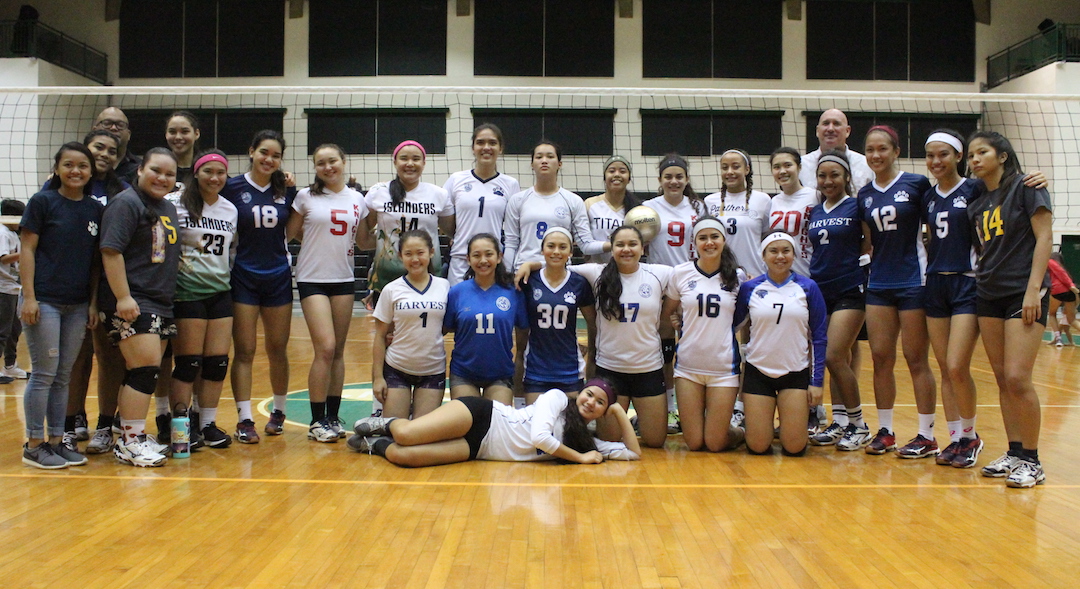 By Robert Balajadia
The first ever IIAAG Girls High School Volleyball All-Star Game hosted by the UOG Triton Athletics played out Sunday evening at the UOG Calvo Field House. Taking the court were the All-Island 1st and 2nd team members, along with hand-picked members from honorable mention.
Winning in four sets was Team 1, which was mostly comprised of All-Island 1st Team members. After losing the opening set, Team 1 ran off three straight for a 16-25, 25-15, 25-18, 25-22 win.
With the final score almost irrelevant, both teams were sporting more smiles and laughs all-game long with the atmosphere feeling more like a high-level practice.
"It's great how we got to take the court with girls from other schools. Volleyball is just better overall when you're having fun. There's a time and place to play serious, but today was all about fun," said ND Royal senior Carmen Gogue.
The military and college is high on the totem pole for Gogue's future as she stated questions of her post-high school life are brought up every single day.
A big majority of the girls playing in the first ever All-Star Game are in volleyball form year-round, whether it be playing in outside leagues or training with their volleyball clubs. For players like Academy Cougar senior Jayda Camacho, the All-Star Game was a fitting end to a four-year high school volleyball career.
"It was fun being able to play a game like this together after we've been competing against each other for a long time. Our team [Team 1] had a rough start, but we started to come together towards the end and this was just an overall great game," said Camacho.
Camacho plans to attend UOG with hopes to suit up for the Tritons volleyball team in 2018. After her stellar play throughout her entire high school career, you'd figure the 1st team Libero in back-to-back years is a shoe-in for a Tritons roster spot.
"I've worked so hard and being named 1st Team both my junior and senior year was a big achievement for me. Even though the high school season didn't end the way we wanted, it was still a great four years of volleyball," added Camacho.
The All-Star Game wrapped up volleyball for 2017, but the sport will be seeing new life much like the first ever event Sunday evening. Guam National Volleyball's coach Mike Robago assures more opportunities for more volleyball-related events.
"If UOG continues opening the doors with events like this, there's going to be a league that I'm currently working on. The training I attended off-island during the championship game goes along with the project we're working on. We want to get a league going much like all the other sports around island," added Robago.
All-Star Game Rosters
Team 1
Coaches: Mike Rabago/Art Stanley – Notre Dame; Al Garrido – St. Paul
Setter: Hana Fernandez – St. John's; Victoria Smith – Academy
Outside Hitter: Carlie Quinata – Notre Dame; Tylee Shepherd – St. John's; Frencine Villena – JFK; Christina Carlos –Sanchez
Opposite: Hallie Wigsten – St John's; Carmen Gogue – Notre Dame
Middle: Laressa Halladay – Academy; Davie Rae Lefever – Notre Dame; Johnia Siguenza – St. Paul; Alexia Brown – Guam High; Y'lisiah Jorda – Tiyan
Libero: Jayda Camacho – Academy; Tammi Wusstig – Notre Dame
Team 2
Coaches: Chris Shepherd – St. John's; Marissa Maratita – Academy
Setter: Kiyoko Afaisen – GW; Mariana Kier – Notre Dame
Outside Hitter: Lauren Hoebing – Academy; Callia Concepcion – GW; Brianne Leon Guerrero – Notre Dame; Kiyoni Yamaguchi – JFK
Opposite: Tasi Castro – Harvest; Shannen Munoz – Academy; Isabella Sasamoto – Okkodo
Middle: Theisen Taimanglo – Academy; Evita Laguana – GW; Aeryn Anulao – Notre Dame; Katelyn Camacho – Southern High School
Libero: Vanessa Y. Kim – Harvest; Tiffani Lopez – St. Paul
PHOTO GALLERY BROUGHT TO YOU BY:

QUICK HITS
Guam MTB National Championship: Edward Oingerang and Jennifer Camacho are your 2023 MTB national champions. Oingerang finished the course in 1:13:24 while Camacho won her second straight title in 54:08.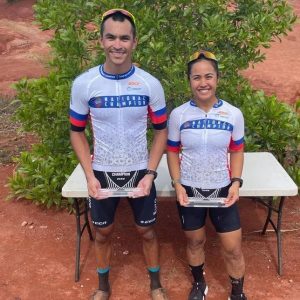 ——————————————
Kobe Miyashita, with St. John's coach Arvin Flores, was named the 2023 IIAAG Middle School Boys Volleyball MVP!