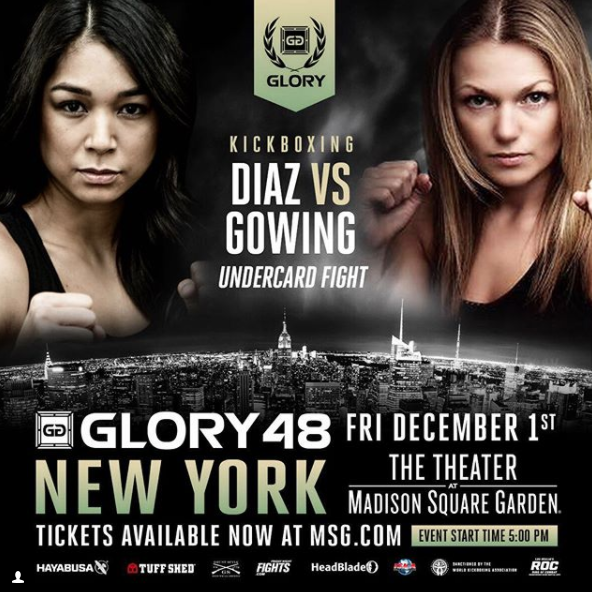 By Jay Leon Guerrero
On December 1st, the Guam Bombshell will invade Madison Square Garden. Michelle 'Guam Bombshell' Diaz will be featured on the Glory 48 fight card in an amateur atom weight bout against Regan Gowing (12-5-1) from Canada.
Diaz's bout will be the second featured fight on the card which starts at 5pm in New York City, New York. Diaz, who now resides in New York, is believed to be the first Chamorro fighter/athlete to compete at MSG.
"I'm beyond excited! Fighting at MSG is one of my top goals of my fighting career.  I've only been fighting a couple years now, but I've definitely been working hard to get an opportunity like this," said Diaz.
The 'Guam Bombshell' has a fighting record of 7-2; she trains at the Renzo Gracie Gym in NYC. "I have amazing coaches and teammates who push me to be the best at my worst, to constantly evolve, but most especially to have fun. I train hard every session and I am always training to be ready for whatever comes at me," said Diaz. Diaz's listed trainer is Joseph Sampieri.  
GSPN: How did you get the nickname Guam Bomb?
Diaz: When we lived on Guam years ago, I learned of the term 'Guam Bomb' being an old broken-down car that makes obnoxious noises (in the states, we'd call that a hoopty).  There's even a song that accompanies it and it always makes me laugh.  When we first moved there, my parents bought two cars I considered to be Guam Bombs!  My mom's car had a muffler that was rigged to sound louder, but it really sounded like popcorn gone wrong.  My dad's jeep was missing the back cover, so just imagine all the problems when the rain started pouring down!  It was embarrassing as a young child, but now, it is quite funny and very humbling.
When I started fighting, I pulled a lot of my inspiration from my experiences growing up on Guam then moving back to the states, and all the rough patches in between.  It wasn't an easy road, a lot of sacrifices made, but through it all, I remained a working car and got the job done.  I was… a Guam Bomb.
GSPN: What is your fondest memory of Guam and what do you miss most about the island?
Diaz: Oh man, there's so many!  I was a young girl who loved to go fishing, shrimping and swimming with my dad. I've always been a daredevil so he took me with him on some cool adventures just to catch some fresh food for the night. We went night fishing in Agat where we laid out the talaya net and I got stung by a bunch of little jellyfish. We would go shrimping in Mama Sandy River, and one time we caught the biggest eel he's ever trapped and it almost got away, but I helped him catch it again because he wanted my mom to believe we really caught one that big! We swam out beyond the channel at USO, and I almost drowned because the current was too strong, but he put me on his back and we swam around and I watched him deep sea dive. There are so many great things living on Guam taught me and memories I carry with me every day.
If there's one thing I miss most about Guam, its family BBQs at the beach.  Guam has some of the most beautiful beaches in the world, and to add family and food to that is irreplaceable.
GSPN: Any message to family or friends on Guam?
Diaz: First, I want to thank everyone on Guam, and all the Chamorro's around the world, that have supported me in my Muay Thai martial arts journey.  Big shout out to my Diaz family from Maina and the Perez-Claveria family from Santa Rita.  Thank you for always supporting me.  You all are a huge motivation for why I do what I do.
And, of course, special shout out to our friends and family over at Guam Muay Thai in Mangilao.  Thank you for your hospitality during our visit last year.  You helped make our trip that much more special to be able to do what we love in my own home.  You guys are doing amazing things for martial arts and Muay Thai on Guam, keep up the great work!
The Glory 48 fight card is stacked with a world featherweight title between Kevin Vannostrand and Anvar Boynazarov as the main event. Also on the card is UFC vet Thiago Silva. The Glory event airs LIVE on UFC Fight Pass (December 2nd on Guam), however, details on the live airing of the amateur bouts are unknown.
Monitor GSPN's social media accounts for results.

COMING SOON …
High School Football starts Sept. 29
Brawl 3: Oct 13
Guam's Strongest Man and Woman Competition October 29
QUICK HITS
The Figo Islanders 40s women's softball team took gold in the Senior Softball World Championship in Las Vegas. Figo came out of the loser's bracket and beat the Arizona Belles 17-3 in the AA division championship game Sunday afternoon.
Other Guam teams that played in the 40s tournament were: Team SOTTA (women's) and Bud Light Guam, Friars 671 and Sindalun Guahan (men's).
Sindalu finished a respectable 4th out of 24 AAA division teams.