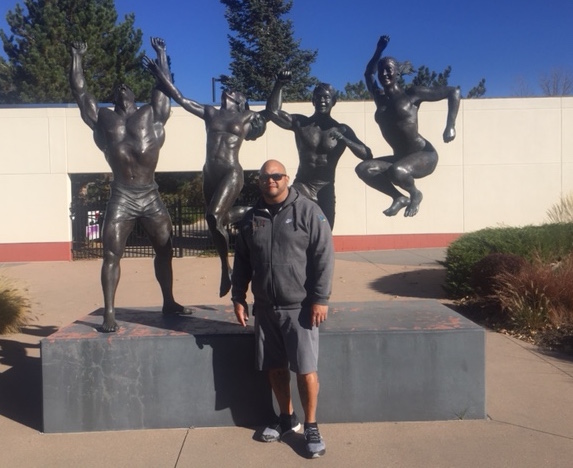 By Robert Balajadia
As the ND Royals raised their 2017 IIAAG girls volleyball trophy up high for the first time in 21 years, one vital member of the team could only watch on through live streaming services. Royals head coach Mike Rabago made one of the toughest decisions of his coaching career to leave his title-hungry girls midseason, but the opportunity to improve the overall well-being of volleyball on Guam was far too important.
For two months, Rabago, who is also the head coach of the men and women's national volleyball team, had been bunkered down in Colorado, Delaware and Georgia State University taking part in the International Coaching Enrichment Certificate Program (ICECP) with one mission: improve volleyball on Guam.
It's no secret that volleyball, much like baseball, is not as popular a sport in this decade as it was in the 80's and 90's. The issue lies within the number of opportunities presented for youth volleyball clubs as well as the numbers participating in those groups. Outside of the middle school and high school leagues and occasional volleyball tournaments, there's not nearly enough opportunities for the youth to get involved with volleyball like they do in basketball, football and soccer.
Though easily stated, the legwork to do so started in the classroom where Rabago was forced to cram a year's worth of college courses into a matter of weeks. It helped that he was surrounded by Olympic coaches and athletes who's thirst for knowledge and improving the sport in their countries provided enough of a driving force and motivation to get the job done.
While being part of the ICECP program, Rabago had to go through four different modules of training before presenting his plan to improve volleyball on Guam which he titled, 'A league created to help improve the development of Volleyball in Guam'.
Long-term athlete development is what inspired Rabago as he stated that Olympic training for athletes around the world begins as early as five years old in certain sports. Rabago has plans to adopt a similar model that involves:
Learning how to train
Training to train
Train to compete
"I end up having to teach 10th graders the basics. That's why Guam isn't considered 'competitive' in volleyball. We need to improve the overall involvement and coaching on the island," stated Rabago.
Rabago had the golden opportunity to take an apprenticeship under U.S. National coaches, listen to lectures from Olympic level coaches and players and just pick apart the minds of people who've been in positions where they've changed their own countries sports programs for the better.
"We should be competitive in the Pacific Games. Last year's games was a wake-up call for me, proving just how not-ready we are and how much we need to improve," added Rabago.
Rabago completed the program, graduating amongst a group of 30 other individuals.
What's in store for Guam Volleyball
Rabago's first course of action was to identify the problem before presenting his plan to over 80 Olympic level athletes and coaches.
"The Guam Volleyball community does not have a fun and educational way to promote volleyball throughout the island. The skill level and long term interest in participating in volleyball has declined in participant numbers," stated Rabago.
That's when Rabago formulated the idea to form a club-driven league that is set to begin in July. Rabago's goal was four clubs, but seven clubs have since committed which is already reassuring. But he's got big plans in the coming months before officially kicking off.
January – Club Implementation: Haggan, St. Paul, St. John's, Pokai, Onra, Bishop, Harvest
February – Pre-Tournament Clinic (Jamboree)
March – Post Tournament Survey (Jamboree)
April – Report Data to ICECP in Switerzerland
July-August: League Begins
Another big part of forming the league was securing big partners. Doug Palmer, athletic director of UOG, played a vital part in the leagues floor plan's of success, and his cooperation has given the league a venue for their first run.
Rabago isn't done spreading his plan to coaches and other current leagues, like the IIAAG, and he'll be spending the next couple of months establishing the stronger connection.
"That's what coaches need to see; real dates with real goals," said Rabago on trying to expand his league numbers.
What Rabago is proposing to the clubs in the league is flat rate pricing for each player that is set to pay coaches, schools used as venues and funding for the GVBF.
Save the dates and stay tuned as Mike Rabago and the Guam Volleyball Federation get to work on changing volleyball for the better!

QUICK HITS
Guam MTB National Championship: Edward Oingerang and Jennifer Camacho are your 2023 MTB national champions. Oingerang finished the course in 1:13:24 while Camacho won her second straight title in 54:08.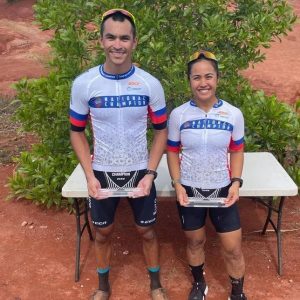 ——————————————
Kobe Miyashita, with St. John's coach Arvin Flores, was named the 2023 IIAAG Middle School Boys Volleyball MVP!