PRESS RELEASE – The Masakåda, Guam women's national football team, will play in its first FIFA international friendly match since 2004 when the team takes on Singapore at the Jalan Besar Stadium in Singapore on Dec. 9.
"We are very grateful to have been afforded this opportunity, as these types of matches are few and far between for many women's teams," said Belinda Wilson, Guam's head coach. "In addition to many of the familiar names who have been on the women's squad in previous years, we've identified several up-and- coming players who have shown the drive and skill set to potentially succeed at the senior national level. We would like to integrate these players into the senior national program and create sustainability and depth to the program, as we've laid out in our four-year Strategic Plan.
"Our primary objective, of course, is to win the match, but what I am also looking for is a better understanding of all aspects of the game at the highest level by the players in preparation for upcoming regional tournaments, like next year's EAFF E-1 Football Championship Women's Competition. The majority of the players who've come up through the youth national program and have tasted success against opponents in their respective age groups will now get to experience a whole other level of play," Wilson added.
The team will depart Guam Dec. 6 for a short training camp in Singapore before the match on Dec. 9. Kick off time for the match is 7:30 p.m. Singapore time and Internet Live Stream availability has been requested with Football Association of Singapore. Guam Football Association will announce a Live Stream link, if any, through its Web site and social media platforms before the match.
"We are very much looking forward to welcoming the Guam women's national team to Singapore for this international friendly match," said Julie Teo, Football Association of Singapore General Manager, Grassroots and Women's Football.
"There aren't very many tournaments for women's teams in the region, so by creating opportunities like this friendly match and organizing more of these consistently, we are not only helping our respective teams gain match experience for improvement, but also contributing to the overall development of women's football in Asia. We hope to continue this exchange annually, whether we host Guam's team again in Singapore or possibly play a friendly match in Guam."
Selected for Guam's team were several of the top up-and- coming players and a handful of veterans from the Bud Light Women's Soccer League Premier Division (W1) who committed to regular women's national training squad sessions: team captain Anjelica Perez, goalkeepers Chyna Ramirez and Kiarra Hutcherson, and field players Isabella Bass, Hannah Cruz, Celine Doronila, Samantha Fegurgur, Skyylerblu Johnson, Yae Kawauchi, Sabrina Kenney, Krystiana Martinez, Richelle Ragadio, Arisa Recella, Shyann Roberto, Abigail San Gil, and Jinae Teria.
None of the players called up for the Dec. 9 match featured on the team that played in Guam's previous FIFA international women's friendly in 2004. In 2004, Guam also played against Singapore in Singapore, with the home team winning 2-0.
Wilson will be assisted by Maggie Phillips and Goalkeeper Coach Ross Awa. Lexi Gambrell will travel with the team as its Athletic Trainer, as well as Jill Espiritu as the team's Media Officer.

QUICK HITS
Guam MTB National Championship: Edward Oingerang and Jennifer Camacho are your 2023 MTB national champions. Oingerang finished the course in 1:13:24 while Camacho won her second straight title in 54:08.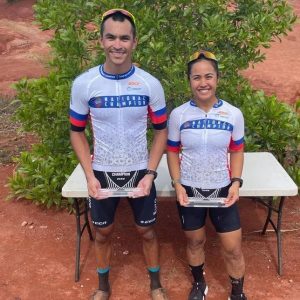 ——————————————
Kobe Miyashita, with St. John's coach Arvin Flores, was named the 2023 IIAAG Middle School Boys Volleyball MVP!