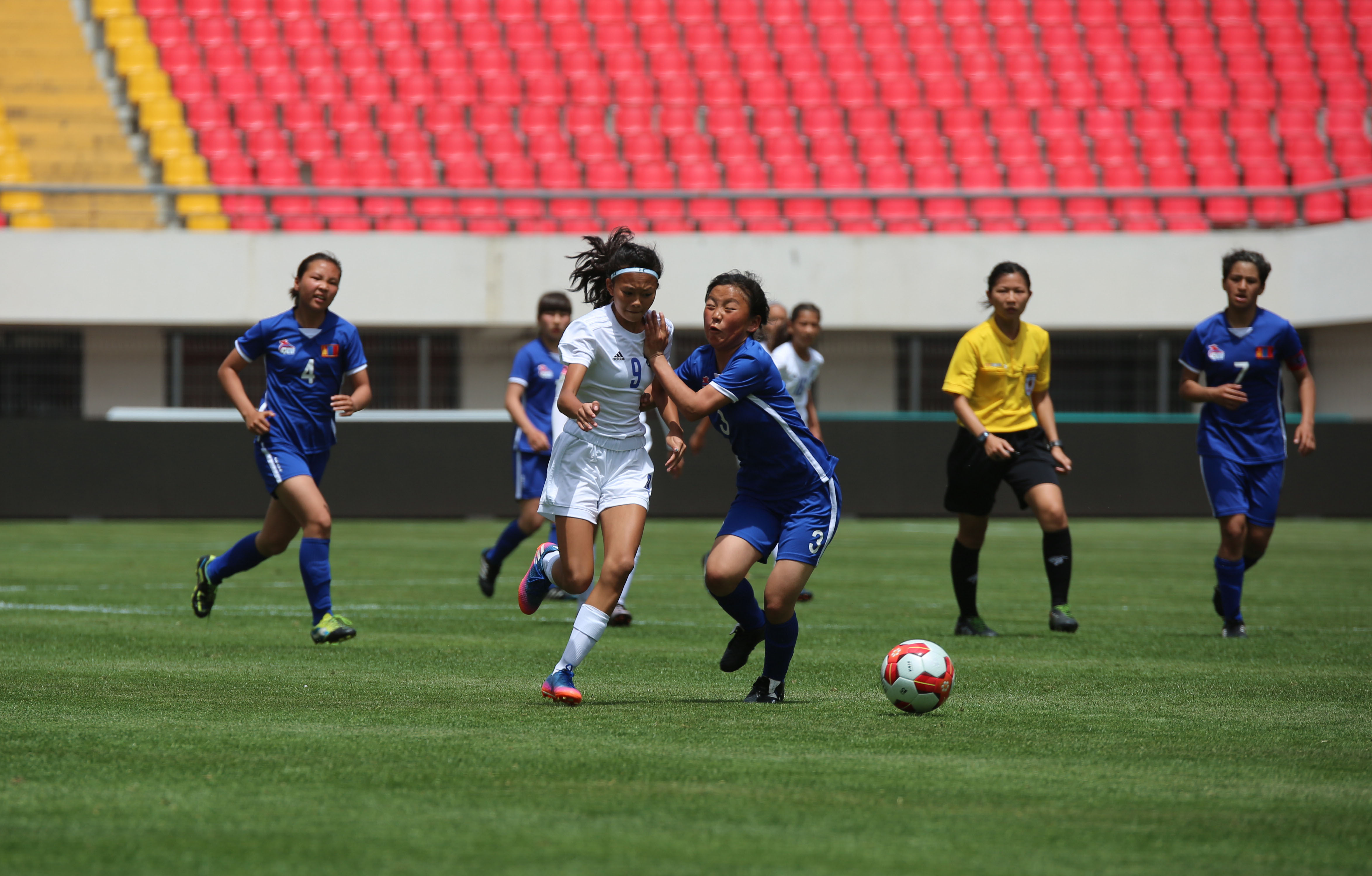 PRESS RELEASE – The Junior Masakåda, Guam U15 Women's national team, dominated in its fixture against Mongolia in Day 2 of the EAFF U15 Girls Tournament in Shanghai, China, PR, but was forced to settle for a 1-1 draw Tuesday.
With Guam's record at one draw and one loss in two matches, the team is looking forward to earning a better result against Hong Kong in its final fixture of the tournament set to be played Thursday at 11 a.m. Shanghai time at the Jinshan Sports Center.
"I'm definitely disappointed in the score result," said Maggie Phillips, Junior Masakåda head coach. "They dominated in the game against Mongolia and they did what I asked them to do, so I'm not disappointed in the players, but just the draw result. The only thing we could have done better was to get more goals in. We had the opportunities and we just didn't capitalize, which is something we need to work on. I still feel they performed really well and they've gotten better even since our first game, so I'm very proud of them.
"In our next match against Hong Kong, like I said, we need to fix our attack and know what to do to get some goals in the back of the net. Our defense is really strong and has been consistent this tournament and we're great in the midfield, so we just need to finish. We'll work on trying to fix what we can to make that happen," Phillips added.
In the opening minutes, just a few errant first touches on the ball by Guam unfortunately helped Mongolia find its way close to the goal and captain Ganchimeg Tsolmon managed to slip in a shot for the early lead.
Eight minutes later, Guam's Samantha Fegurgur drew a foul in the box and finished the ensuing penalty kick to level the match.
Guam continued attacking from all angles through the match, but could not score another goal before time expired.
In addition to Guam and Mongolia, the EAFF U15 Girls Tournament features 8 other teams in three groups – DPR Korea, Korea Republic, Japan, and China, PR in Group A, Hong Kong, Mongolia, and Guam in Group B, and Shanghai Jinshan Dist. U15 Girls team, Northern Mariana Islands and Chinese Taipei in Group C. Groups B and C play one inter-group match during the tournament so all teams play three matches.
Guam is represented by 20 players: Angeline Del Carmen, Abigail San Gil, Hallie Wigsten, Minami Rabago, Celine Doronila, Samantha Kenney, Aya Cathey, Shyann Roberto, Yasmeen Lopez, Jinae Teria, Jadyn Palomares, Isabella Clement, Ashley Larkin, Jada Han, Lola Martin, Olivia Leon Guerrero, Kaia Malakooti, Samantha Fegurgur, Rylee Guzman, and Kiarra Hutcherson. Head Coach Maggie Phillips, Assistant Coach Dr. Gary Larkin, Goalkeeper Coach Chima Mbakwem, Team Manager Kimberly Sherman, and Media Officer Jill Espiritu comprise the team staff.  
PHOTO GALLERY BROUGHT TO YOU BY:

COMING SOON …
High School Football starts Sept. 29
Brawl 3: Oct 13
Guam's Strongest Man and Woman Competition October 29
QUICK HITS
The Figo Islanders 40s women's softball team took gold in the Senior Softball World Championship in Las Vegas. Figo came out of the loser's bracket and beat the Arizona Belles 17-3 in the AA division championship game Sunday afternoon.
Other Guam teams that played in the 40s tournament were: Team SOTTA (women's) and Bud Light Guam, Friars 671 and Sindalun Guahan (men's).
Sindalu finished a respectable 4th out of 24 AAA division teams.