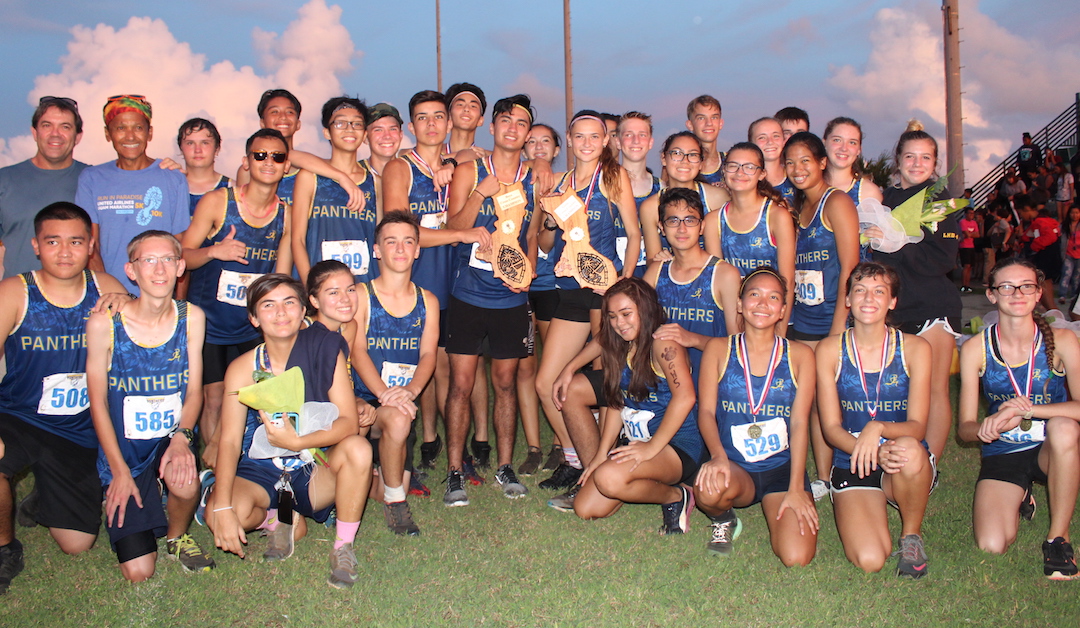 By Jay Leon Guerrero
The Guam High Panthers continued their dominance in the IIAAG Cross Country league winning both the boys and girls team championships at the highly anticipated All-Island finale meet held at the JFK high school course.
Seniors Emma Sheedy and Isaac Ventura came in first overall for the girls and boys division to give their team valuable points.
"I'm happy I finished well for my team on my senior year. I trained really hard for this and kept reminding myself that pain is temporary and to keep going," said Sheedy who clocked in at 22 minutes and 38 seconds.
Ventura held off Takumi Simon from St. John's to defend his individual title which he won last year at the Okkodo course. Ventura and Simon ran together for most of the race but Ventura was able to separate with a half mile left to take the victory. Ventura clocked in at 17 minutes and 47 seconds, Simon had a time of 18 minutes and 8 seconds.
"I noticed Isaac would sprint at every turn and that may have been the difference," said Simon.
Ventura is also coming off a setting a course record just a week ago.
Sophomore sensation Brandon Miranda from St. Paul kicked in the final mile to finish third with a time of 18 minutes and 34 seconds.
Taitano shocked at teams performance
Guam High head coach Joe Taitano was pleased with his team's performance.
"I was ecstatic of the outcome today. I knew were going to run well, but I didn't know we were going to run that good," said Taitano. The Panthers had three runners in the top five for both divisions.
The Guam High girls secured the championship early coming in first, second and third for the convincing win. Sheedy clocked in first followed by teammates Chey Vick (22:55) and Sameha Wilbanks (22:59). Academy's Sheila Dumaraog (23:06) and Okkodo's Aniah Pangilinan (23:11) rounded out the top five for the female division.
The Guam High girls came in 1st, 2nd, 3rd, 8th and 11th to finish with 25 points (the sum of the top five school placement finishers) which is possibly a record for cross country. With this type of finish, the Panthers will be a team to contend with at the Asia-Pacific Invitational (API) scheduled for next week.
Finishing second for the girls division was Okkodo High School with their top finishers coming in 5th, 10th, 17th, 26th and 27th for 85 points. JFK took home the girls third place trophy with 99 points.
Sir Isaac leads the way
"Its been a special season, going undefeated and being able to win the team all-island for both girls and boys is the cherry on top of the icing," said Ventura. "Coming into the race we knew that we had a target on our back and that everyone was out there to beat us. We just put that aside and wanted to run our race, at our pace" said Ventura.
The Panthers came in 1st, 4th, 5th, 7th and 17th for 34 points to win their division convincingly. Okkodo edged out JFK 79-81 to claim second place. Akira Martines (18:40) and Jonathan Harver (18:40) both finishing in the top five secured the win for the Panthers.
"Today's pre race speech was longer than usual," joked Taitano. "I had a little more to say because this is the final event, everything was on the line today and they responded with a good performance."
Here are the top 10 finishers
GIRLS:
1. Emma Sheedy, GHS- 22:38
2. Chey Vick, GHS- 22:55
3. Sameha Wilbanks, GHS- 22:59
4. Sheila Dumaraog, AOLG- 23:06
5. Aniah Pangilinan, OK- 23:11
6. Mya Tolerson, JFK- 23:31
7. Lily Franklin, SP- 23:42
8. Junelle Angara, GHS- 23:43
9. Minami Cramer, HAR – 23:56
10. Jasmine Magsombol, OK- 24:03
BOYS :
1. Isaac Ventura, GHS-17:47
2. Takumi Simon, SJ -18:08
3. Brandon Miranda, SP- 18:34
4. Akira Martines, GHS- 18:40
5. Jonathan Harver, GHS- 18:40
6. Terrance Johnson, TIY- 18:44
7. Nick Keefe, GHS- 18:44
8. Ryan Kent, JFK- 19:04
9.Jerimiah Rosario, JFK- 19:07
10.Kyle Delos-Santos, OK-19:07
PHOTO GALLERY BROUGHT TO YOU BY:

QUICK HITS
3rd place: Big ups to the Para Todu Rugby Club for finishing 3rd out of 16 teams in the Manila 10's Rugby Tournament today. Biba Guam Rugby!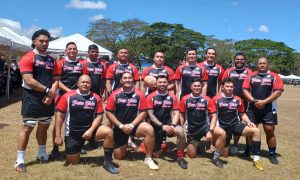 ——————————————
Guam MTB National Championship: Edward Oingerang and Jennifer Camacho are your 2023 MTB national champions. Oingerang finished the course in 1:13:24 while Camacho won her second straight title in 54:08.