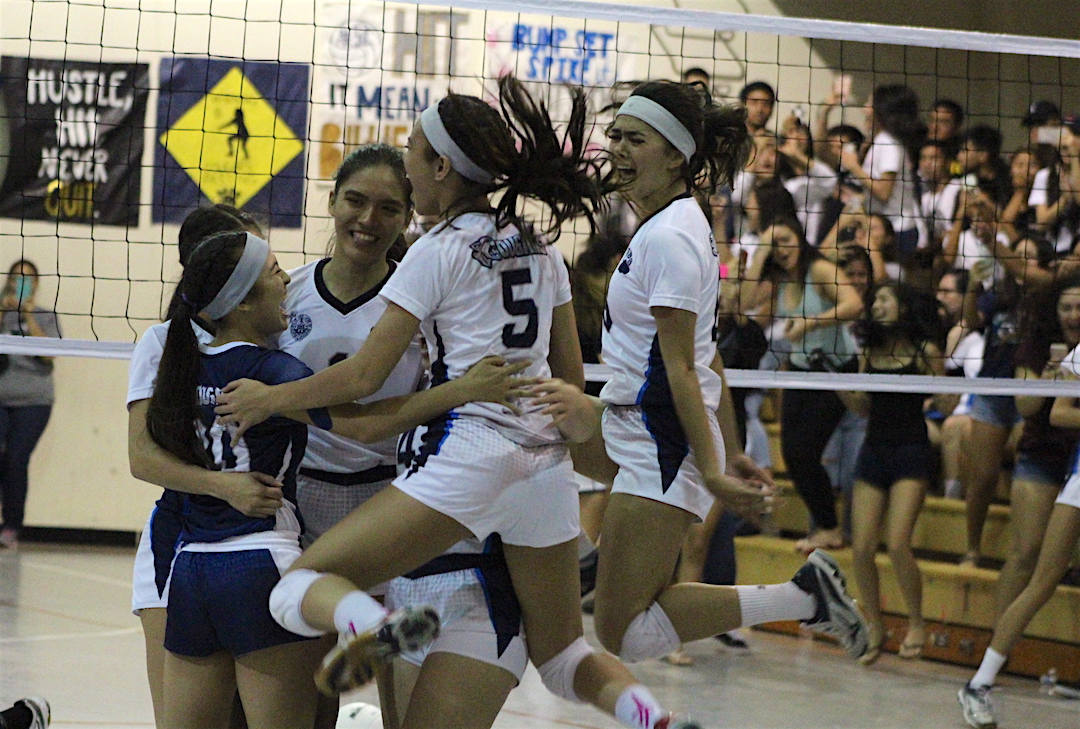 By Robert Balajadia
The Academy Cougars sent a friendly reminder to the league Friday evening that they're still the defending champions as girls volleyball has reached it's last weekend of the regular season.
Playing host to the leagues #1 seeded ND Royals, the Cougars avenged their early season loss by besting the Royals in three sets 25-21, 21-25, 25-20. With the game hanging in the balance, Academy turned to their "biggest" playmakers in the final set with middle blockers Laressa Halladay and Thiesen Taimanglo taking over.
Down 11-7 in the final set after a pair of big plays from Royal Aeryn Anulao, the Cougars took a timeout to settle down. Coming out of the break, Halladay would go two hands on a big block up the middle followed by an even bigger smash on a perfect set to get within 11-10.
Halladay added another block to tie the game at 11, then scored a pair of kills to give the Cougars a revitalizing 13-12 lead.
"I'm not feeling too well (illness) so the team helped keep my spirits up," said Halladay on the big set.
Errors would leave both teams neck-and-neck with Taimanglo coming in with the score knotted at 15.
Royals right side hitter Carmen Gogue flew in for a strong hit up the middle only to be met by the cold hands of Taimanglo, returning the big shot to the Royals floor for a 17-16 Cougar lead, forcing an ND timeout.
Taimanglo made the most of a set to the outside as she leaped off one foot for a cross-court kill to give the Cougars a 20-16 lead. Royals Carlie 'hand-quake' Quinata scored an ace on the following play, but Taimanglo would reject a spike from the outside to keep Academy ahead 23-20.
ND ended the game on an error, giving the Cougars the huge home win.
All momentum of winning the 1st set seemed to have been lost after an error filled 2nd set gave the Royals life. ND had gone with their second unit in the second set to try and turnaround an error-filled game of their own, which worked by catching the Cougars off-guard where they gave up seven serve aces.
"Our communication was off," said Taimanglo on dropping the 2nd set. "I was a little down, but my teammates motivated me and told me to just keep my head up. It helped give me the motivation to put those balls away and put up points for the team."
Quinata was held out of her usual heavy workload after registering four kills in the opening set but scoring none for the rest of the contest.
With a big win over the leagues top team the Cougars are brimming with confidence as their title defense is set to truly begin next week.
"We believe everyone is deserving of a championship, but we more than anthing want to bring it home for our Cougars again," said Taimanglo.
Royals sweep JV 
The ND Royals JV squad finished a perfect 18-0 on the season with their win at Academy!
PHOTO GALLERY BROUGHT TO YOU BY:

Foody's 5 Fun Facts
ND Royals Volleyball Setter Gabrielle Piper
DID U KNOW?
Guam National Track & Field sprinter and St. John's Cross Country/Track Star Madison Packbier is the daughter of former Track Star Tara Steffy granddaughter of GNOC's Bob Steffy.
COMING SOON …
– Marianas Open Aug. 31
– FIFA: Guam vs. Maldives Sept. 5
– Submit VI on Sept. 6
QUICK HITS
Former JFK All-Island lineman Christopher Parker transfers to De Anza College in Cupertino, CA. De Anza finished last season 10-1 and won the American Conference Championship Bowl. Good luck Chris!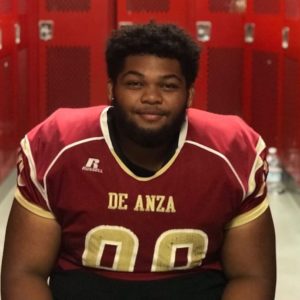 —————————————————-
Die-hard Rams fan Kenny Artero is in Hawaii to catch his beloved team play the Cowboys at Aloha Stadium in a preseason NFL game. Artero got a chance to meet Hall of Fame running back and Rams legend Eric Dickerson.