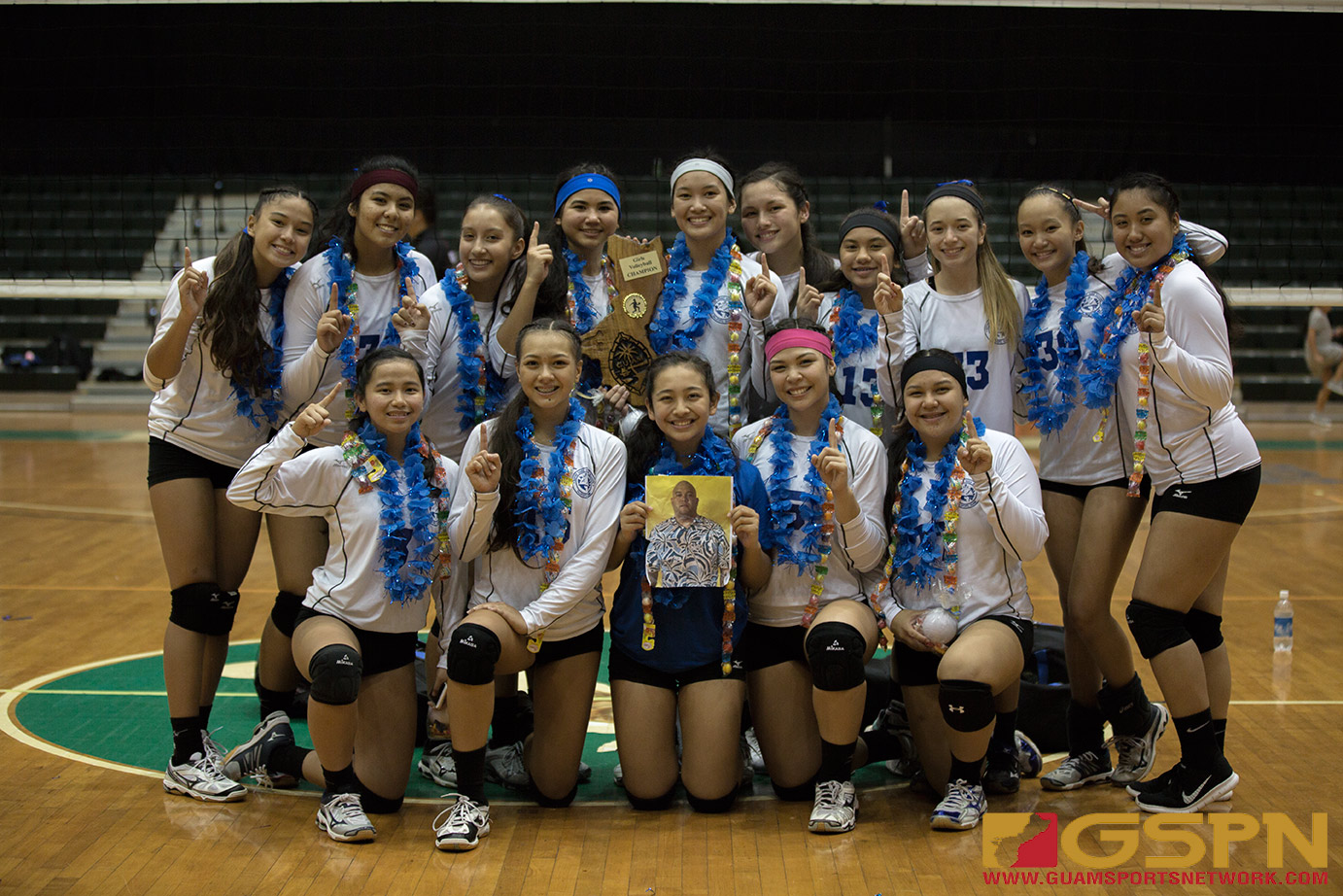 (Catch the replay of the LIVE Audio broadcast with Patrick Lujand and Robert Balajadia HERE)
By Robert Balajadia
The ND Royals can officially party like it's 1996.
That's how long ago it's been since the ND Royals last achieved girls volleyball glory, breaking the 21-year title drought Friday night as they defeated the St. John's Knights in four sets for the 2017 IIAAG title. A fan-filled UOG Calvo Field House beard witness to the Royals 27-25, 23-25, 25-14, 25-25 four-set victory.
Royal's outside hitter and league MVP Carlie 'Hand Quake' Quinata saved her best performance for the biggest game of the season, ending a stellar 2017 campaign with 17 totals kills, including the final point to win the game.
It is the eighth title in school history but only the first since the Blaine Afaisen Era when they dominated the league in the late 1980's and into the 90's.
"It feels like all of hard work finally paid off. We played together as a team tonight and we played aggressive. We didn't play just for ourselves tonight, we played for our parents, the alumni and everyone who's been supporting us. I'm just grateful for my team," said Quinata.
ND started to settle into their game after letting the 2nd set slip away, dominating the 3rd set and controlling the 4th set as they stifled the young Knights squad. Leading the way for the Knights was Hallie Wigsten with 12 total kills, seven of which coming in the 1st set.
EARLY GAME DRAMA
The Royals and Knights would jockey for the lead in the first set with Wigsten and Quinata generating most of the offense for both sides. Quinata caught the defense off-guard with her dinks over the Knights blockers while Wigsten unleashed a flurry on the Royals back line.
ND had set point at 24-21 before St. John's reeled off four straight to take set point themselves at 25-24. The Royals, however, managed to fight back and ink out the win 27-25.
The Royals appeared to have the 2nd set locked up as well as they held a 23-17 advantage.
The serving of senior Mariana Kier and the spark off the bench from fellow senior Carmen Gogue helped the Royals jump out to the comfortable lead.
That's when Knights Sophie Matthews stepped up to serve, running off eight straight points to steal the set 25-23. Senior Caitlyn Niu picked up a pair of kills in the rally, ending her night with four total.
Despite the momentum shift, the Royals stayed calm, cool and collected.
"We didn't do anything differently or change anything. We just went back to basics, stayed composed and stayed humble," said Quinata.
ANSWERING THE CALL
ND wasted no time in seizing control of the third set, scoring the first six points unanswered, on their way to a 9-1 lead. A small late-game rally from the Knights was quickly thwarted as Quinata picked up a kill to end a 3-0 Knights run, eventually claiming the set in dominant fashion 25-14.
Strong serving proved to be key in the set as ND struck for six aces led by a pair each from Davie Rae LeFever and Minami Rabago.
The consistency of Quinata would continue into the 4th set where she registered five total kills. Carlie opened the game hitting dinks over Knights blockers, switched to power shots mid game and ended up going back to the light hits down the stretch.
After registering a powerful kill off the block to give ND a 22-19 lead, Quinata met the same defense a few plays later, dinking the ball over the top and never saw it return with the Royals capturing their 25th point off the high IQ play from Carlie.
The seniors get a Royal send off as Kier, LeFever, Gogue, Aeryn Anulao and Tammy Wusstig finish their career as champions.
A bulk of the Royals will still be on the roster for next season. With that in mind, Quinata believes her squad is ready to run the season back.
"We're already looking forward to next year. It's going to be another tough season, but I think we can pull it off," said Carlie on being returning champs.
EMOTIONAL MOMENT
ND Royals head coach Mike Rabago had to fulfill National Volleyball coaching duties which forced him to be away from the team since mid September. He was tuned in live via FaceTime and shared an emotional moment with his team as they raised up the IIAAG title in front of the cell phone, bringing tears to their coaches eyes.
STATS
ROYALS def. KNIGHTS 27-25, 23-25, 25-14, 25-21
1st set
Unforced errors: ND 8, SJ 9. Service errors: ND 4, SJ 6. Kills: ND 8 (Quinata 4, Leon Guerrero 2, LeFever 2), SJ 10 (Wigsten 7, Shepherd, Matthews, Del Carmen). Aces: ND 2 (Anulao, Gogue), SJ 2 (Del Carmen 2). Blocks: ND 1 (Leon Guerrero), SJ 1 (Niu).
2nd set
Unforced errors: ND 11, SJ 6. Service errors: ND 3, SJ 2. Kills: ND 7 (Quinata 4, Gogue 2, LeFever), SJ 7 (Niu 3, Fernandez 2, Matthews, Del Carmen). Aces: ND 5 (Kier 2, Quinata, LeFever, Leon Guerrero), SJ 5 (Shepherd 3, Matthews 2). Blocks: ND 1 (Leon Guerrero), SJ 0.
3rd set
Unforced errors: ND 6, SJ 9. Service errors: ND 0, SJ 3. Kills: ND 7 (Quinata 4, LeFever 2, Mendiola), SJ 7 (Shepherd 4, Wigsten 2, Puangco). Aces: ND 6 (Rabago 2, LeFever 2, Anulao, Quinata), SJ 0. Blocks: ND 0, SJ 1 (Del Carmen).
4th set
Unforced errors: ND 5, SJ 9. Service errors: ND 5, SJ 3. Kills: ND 6 (Quinata 5, Mendiola), SJ 8 (Wigsten 3, Del Carmen 2, Shepherd, Lee, Fernandez, Niu). Aces: ND 3 (Quinata 2, LeFever), SJ 3 (Wigsten, Matthews, Niu). Blocks: ND 2 (LeFever), SJ 0. Referees: Quitugua, Ward. T: 1:46
More photos by Mike Ebio coming soon!
PHOTO GALLERY BROUGHT TO YOU BY:

QUICK HITS
Guam MTB National Championship: Edward Oingerang and Jennifer Camacho are your 2023 MTB national champions. Oingerang finished the course in 1:13:24 while Camacho won her second straight title in 54:08.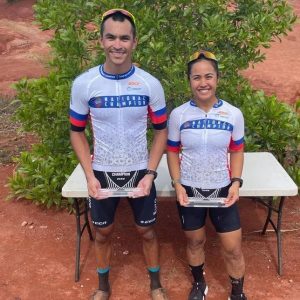 ——————————————
Kobe Miyashita, with St. John's coach Arvin Flores, was named the 2023 IIAAG Middle School Boys Volleyball MVP!