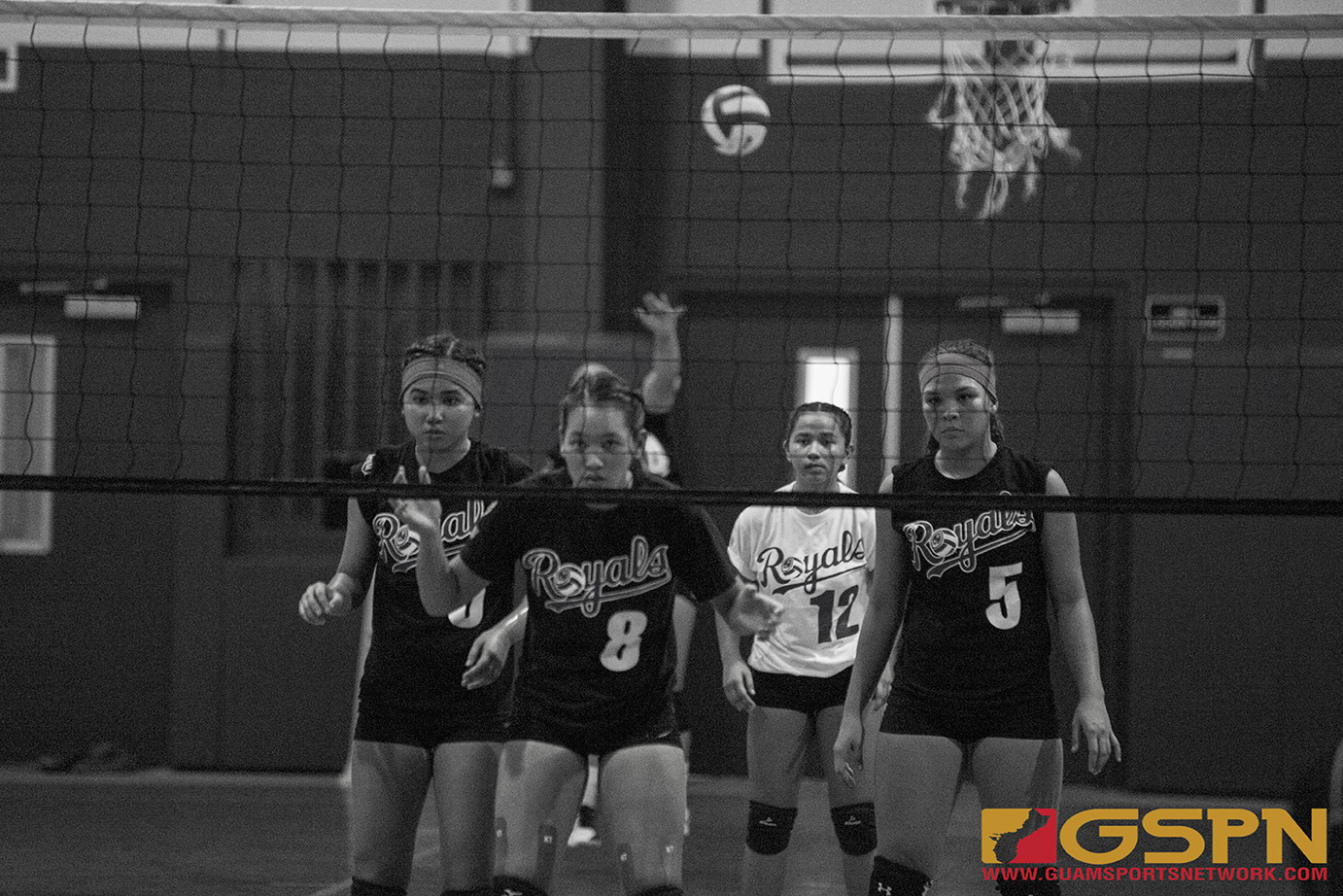 By Robert Balajadia
The ND Royals survived a rollercoaster 1st set and capitalized on an error filled Southern Dolphin 2nd set Tuesday evening with a 25-22, 25-18 straight set victory at the hotbox that is the Oceanview Middle School gym.
Action was moved to Oceanview due to air conditioning issues at the Southern gym, but the heat was felt all the same in volleyball clash between Guam's two South high schools.
With service errors plaguing ND and hitting errors holding down Southern, the biggest difference proved to be Royals outside hitter Carlie 'Hand Quake' Quinata. Quinata was unstoppable in the 1st set where she cashed in five kills, followed by a four-kill 2nd set to give her nine for the night.
Quinata is a busy body in the Royals offense, but her number was called early and often in the pivotal 1st set and she showed no signs of slowing down. It's a good thing she defeated hunger before she assisted in defeating the Dolphins or Tuesday's game could've played out differently.
"I did eat a lot before this game and I don't usually do that," laughed Quinata.
But really, Quinata credited her teams resolve in the opening set that gave them the momentum to play a smoother second set.
"Even though it's going bad for us, like it did in the beginning, we still kept our fire and stuck to our skills. In those tough situations, our skills are the only thing that's going to help us. This team is a big family and that allows us to pick each other up and get into rhythm," said Carlie.
The Royals have started the season a steady (3-0) and will play host to their rivals, the Academy Cougars on Saturday. It's often a battle on the court as well as in the stands between the two passionate fan bases, and the Royals are ready.
"We've been preparing for this one for a while. We're upping our workouts in practice because we want to be prepared when the day comes. It's going to be on our home court and we're going to take it," added Quinata.
Royals dig deep for 1st set win
Early game jitters from both teams kept the score close with Quinata going back-to-back for two of her nine kills to give ND a 13-11 lead. Two Royal passing errors and a kill from Dolphin Katelyn Camacho put Southern ahead 14-13 for the first time all game.
Camacho added another kill as part of a Dolphins 5-0 run to go up 16-13, forcing an ND timeout. Royal DavieRae LeFever squashed the run with a kill up the middle followed by an ace from the line to check ND back into the game, still down 17-15.
Quinata registered her fourth kill to knot the game at 21, then her fifth to break the tie 22-21 while receiving a wealth of cheers from the always passionate Royal fans.
Two Dolphin errors set the stage for Carmen Gogue, who served an ace for the Royals final point 25-22.
Quinata continued to get a steady flow of sets from Kier where she added two more to her kill count for a Royals 7-4 early 2nd set lead. The freshman Minami Robago ushered a 5-0 run from the line with ND beginning to run away up 10-5.
Southern didn't go down quietly as Cristi-Rose Cruz disrupted a Royal run with two kills to get within 11-9. The Dolphins put too much into their 2nd set swings with three consecutive hitting errors buried them in a 19-12 hole.
Quinata picked up her third and fourth kills before a Southern service error ended the game.
PHOTO GALLERY BROUGHT TO YOU BY:

QUICK HITS
Guam MTB National Championship: Edward Oingerang and Jennifer Camacho are your 2023 MTB national champions. Oingerang finished the course in 1:13:24 while Camacho won her second straight title in 54:08.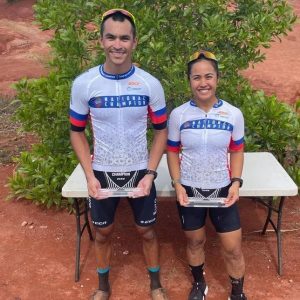 ——————————————
Kobe Miyashita, with St. John's coach Arvin Flores, was named the 2023 IIAAG Middle School Boys Volleyball MVP!