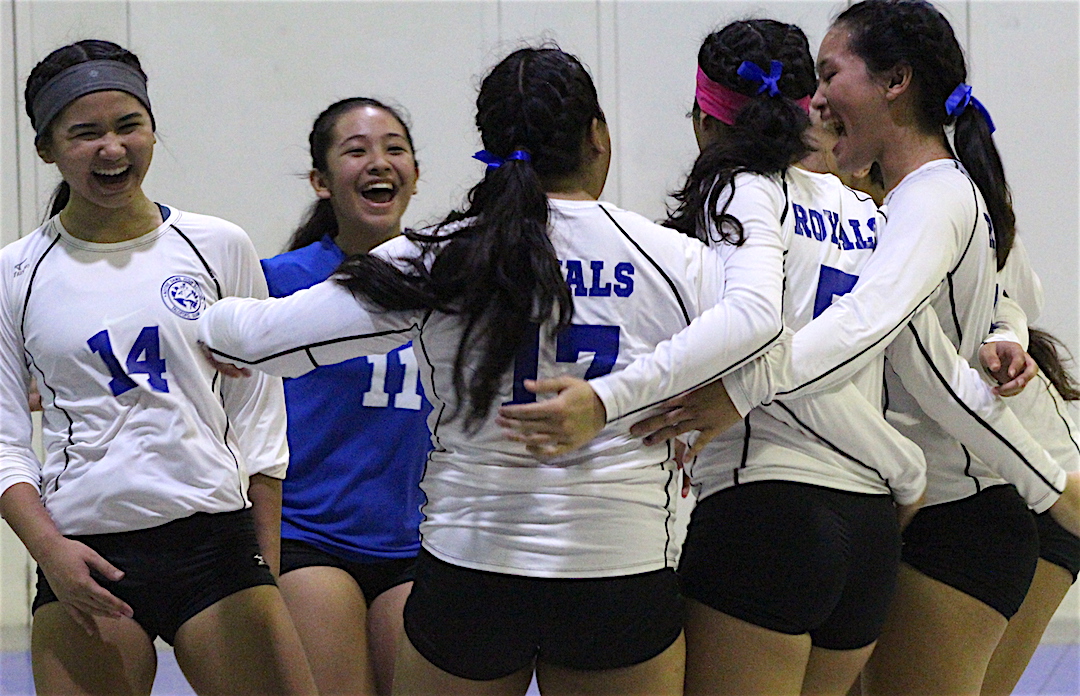 By Robert Balajadia
The top seeds in the IIAAG's girls volleyball Gadao and Taga Divisions, the ND Royals (6-0) and JFK Islanders (6-1) heading into the night, met at the net Tuesday evening in a battle down South in the Royal gym for league supremacy.
ND would escape a close first set to then dominate in the second for a 27-25, 25-15 win over the Islanders.
"Oh yeah, we pay attention to the records," admitted Royals outside hitter Carlie 'Hand Quake' Quinata on facing the Islanders. "We always come hard every game and we're always trying to stay positive. We've learned from last years mistakes and we want to prove that we're prepared for everything that is to come."
Quinata was wreaking all kinds of havoc in the 1st set for the Royals where she assumed her normal hitting work load, registering seven opening set kills. The Islanders had no answer for the quakes Quinata was causing, as the Royal slow starting offense turned to her in the clutch.
"It really helped us get going," said Kier on Carlie's big set. "We started out really slow, so when the others saw Carlie's effort and they too wanted to get in on the action."
Quinata registered her fifth and sixth kills in succession, giving ND a 20-17 lead. A short JFK spurt, which included and ace from Eddyanne Sablan, shaved off two points of the lead to get within 20-19, but Quinata hammered away another big hit followed by a Carmen Gogue ace with ND hoping to close strong 22-20.
JFK stayed aggressive as ND struggled at the service line, coughing up the short lead after two errors, with both squads deadlocked at 24 after a wild point, which included a kicking save from Sablan that ultimately ended in a JFK hitting error.
Royals middle blocker Aeryn Anulao then rose to the occasion getting the teams 26th and 27th point, ending the set with a kill off a block to heavily swing momentum in ND's favor.
Kier runs point
The 2nd set started off just as close as the wild 1st set, knotted at eight before Kier went to work. Kier started to give the Islander blockers different looks by setting up the Royals hitting squad for three straight kills from three different offenders.
Royals outside Brianne Leon Guerrero smashed a kill from the left, then DavieRae LeFever got a clean set in the middle for a powerful shot, followed by a right side swing from Quinata that hit the Islanders backside, all set up by Kier.
"When everybody hits, the defense doesn't really know where the ball is going to go. That way too we're not making one person tired for doing all the hitting, and it's important that we are able to count on each other to make sure we do our job," said Kier.
The kill-run propelled ND to a 13-9 lead until Quinata and Kier furthered the lead from the service line 22-14. Quinata picked up her second kill late in the set to cap off a lighter work load as a JFK hitting error ended the game.
ND improves to (7-0) while JFK loses for the second time in three games, dropping to (6-2) after a thrilling win over the Academy Cougars last weekend. ND will host the St. John's Knights Friday while JFK travels down to face Southern.
PHOTO GALLERY BROUGHT TO YOU BY:

2022 GSPN I MÅS METGOT COMPETITION
I Mås Metgot Athlete Spotlight: Tim Nauta
2022 GSPN I MÅS METGOT COMPETITION
I Mås Metgot Athlete Spotlight: Tim Nauta
2022 GSPN I MÅS METGOT COMPETITION
I Mås Metgot Athlete Spotlight: Tim Nauta
QUICK HITS
1LT Belizabeth Nicole V. Rengiil is known to be the first female from Guam and Palau to make the All-Army Women's Rugby Team. She is an active duty Signal Officer with the US Army and is stationed at Joint Base Lewis-McChord in Washington. Her team won the Armed Forces Women's Rugby Championship with a 4-0 record.
Belizabeth is the daughter of Edwin and Juliana Rengiil with siblings Johanna and Edwin-Isaiah Rengiil from Mangilao.