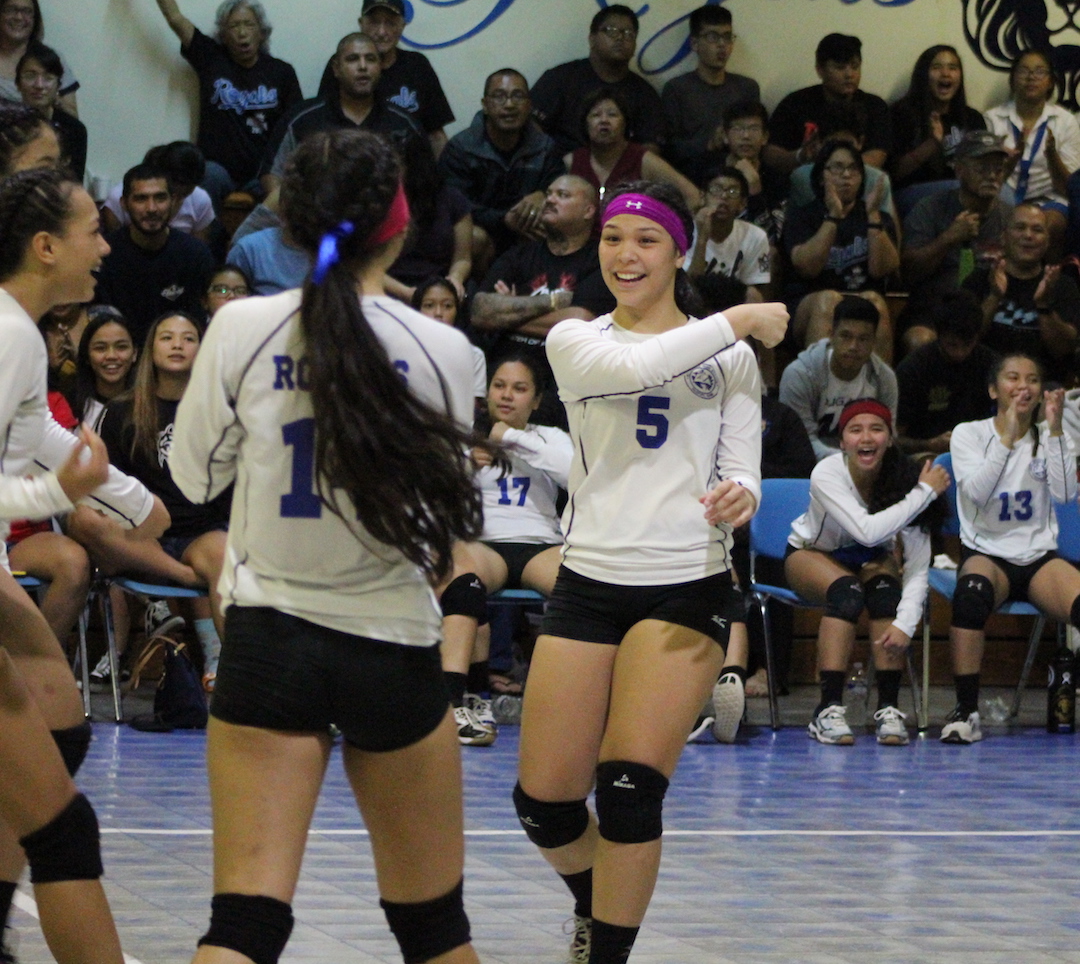 By Robert Balajadia
A new Queen will be crowned Girls Volleyball Champion in 2017 after the Notre Dame Royals knocked off the reining champs, the Academy Cougars, in four sets 25-21, 25-21, 19-25, 25-15 during their semifinals showdown Tuesday night at the Royal court down South.
Tuesday's semifinals win displayed the same type of tenacity that the Royals have been showcasing to the league all season, but getting a shot at this year's title needed a mental balance. After embracing their short comings in recent years the Royals now find themselves a game away from righting seasons of wrongs to win their first title since 1996.
"We had to embrace that we haven't finished strongly in the past and even though we were the home team, we had to embrace that the Cougars were the champions. If we wanted to be the best then we had to beat the best," said Royals coach Art Stanley, who's taking the lead role with head coach Mike Rabago in the midst of National Volleyball Training seminars off-island.
Rabago isn't expected to be back in time for the title game against the St. John's Knights Friday evening, though he does still stay in heavy contact with the group. He didn't miss any of the action after watching the game live via FaceTime and the girls even huddled around the computer for a small celebration with their coach after their win.
"This is [Mike's] squad and he still provides a lot of the verbal coaching. He's still very much involved," said Stanley.
"He was relaying messages to people who had their phones and they were relaying those messages to us," laughed Carlie Quinata.
HAVING TOO MUCH FUN
The Royals were one set away from making a clean sweep of the Cougars, but the championship mettle of Academy mixed with a lackluster outing from the Royals left the window open for a dangerous Cougar rally.
"We were having a little too much fun," admitted ND outside hitter and league MVP Carlie 'Hand Quake' Quinata on the 3rd set. "We had to get back to doing what we do best and just control the weather."
Cougars Lauren Hoebing and Laressa Halladay led the charge in the 3rd set after the Cougars used a 10-1 run, all behind the serving of Hoebing, to take over the gym's acoustics to the tune of a 20-11 lead. A short spurt from the Royals, which included a pair of kills from Quinata, weren't enough restrain the Cougars as Hoebing and middle Theisen Taimanglo went back-to-back on kills to capture the 3rd set 25-19.
ND wiped away their smiles and bottled their laughs, quickly setting the tone in the 4th set by jumping out to a 7-3 lead with Brianne Leon Guerrero serving. Royal Davie-Rae LeFever squashed a 4-0 Cougar run with kill up the middle with ND still ahead 8-6. Quinata then picked up her 8th kill of the night to fuel a game-clinching Royal run.
Middle blocker Aeryn Anulao stepped up to serve leading the 4th set 10-7 and didn't leave until ushering a 15-7 advantage. Leon Guerrero took advantage of a free ball, smashing a big kill to give ND a 19-11 lead midway through. Quinata took matters into her own hands down the stretch as she shook the Cougars frontline for the final two kills to win the game 25-15.
Quinata said that winning MVP title is great, but the personal achievement is an afterthought as she's more focused on becoming league champs.
"Being the MVP doesn't guarantee you a spot in the finals. I put that aside and I'm more focused on the team because winning it all is going to take the team, not just me," said Quinata of the pressure of winning MVP.
A FRESH PERSPECTIVE
A key ingredient to the Royals semifinals win was the big play from freshman Minami Rabago, who didn't expect to see as much court time as she actually ended up getting. After the Cougars had gained a 2-0 lead in the first set, Rabago checked in.
"I was expecting the other girls on the team to play more, but you know, you've got to be ready! It's a great feeling coming through for your team like that," said Rabago on getting her number called.
Rabago registered her first kill off a block to give ND their first lead of the game 11-10, a set they would eventually win 25-21. Fast forward to the 2nd set as Rabago received a nasty two-hand rejection from Halladay to give the Cougars a 14-13 mid-set lead. Instead of crumbling, Rabago went cross-court on a kill followed by an serve ace to put ND ahead 15-14. Strong play from Leon Guerrero and Anulao would wrap up the 2nd set for ND, 25-21.
"The Cougars came out blazing and I plugged in [Minami] for ball control. After that, I just noticed that Minami was settled in and you just have to go with your gut feeling," said Stanley.
A coaching move made during the Cougars and Royals final regular season meeting had come back to pay dividends as the young difference makers for ND took the floor. Stanley made a platoon swap after ND had dropped their first set to the Cougars with the young Royals earning, what in time, would prove to be a valuable set win, despite losing the game.
"They gain a lot of confidence in those situations," said Stanley on the set his youngsters won against Academy in the regular season. "I'm not rolling the dice with these kids, who I've coached since they were in 7th grade, I'm putting them in for a reason."
ONE MORE GAME
The Royals made sure not to celebrate too much being fully aware what awaits them Friday, a date with the St. John's Knights.
"We need to come out strong, be aggresive, much like we played against Academy tonight," said Quinata.
"We're prepared for it. Up 10 or down 10, we have a plan and we're going to stick to that plan," said Stanley.
Minami Rabago is excited to see friend, relative and training partner Tylee Shepherd of the Knights, also a freshman, in the title game.
"It's going to be cool. I'm ready in case my number needs to be called again!," said Minami.
The Royals and Knights will play Friday evening at 7 pm at the UOG Calvo Field House for all the marbles. The best-of-five championship match can be heard play-by-play via podcast on www.guamsportsnetwork.com.
The St. Paul Warriors and Academy Cougars will play for 3rd place at 5 pm.
PHOTO GALLERY BROUGHT TO YOU BY:

QUICK HITS
Guam MTB National Championship: Edward Oingerang and Jennifer Camacho are your 2023 MTB national champions. Oingerang finished the course in 1:13:24 while Camacho won her second straight title in 54:08.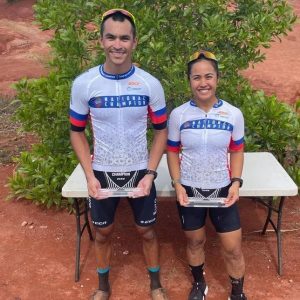 ——————————————
Kobe Miyashita, with St. John's coach Arvin Flores, was named the 2023 IIAAG Middle School Boys Volleyball MVP!