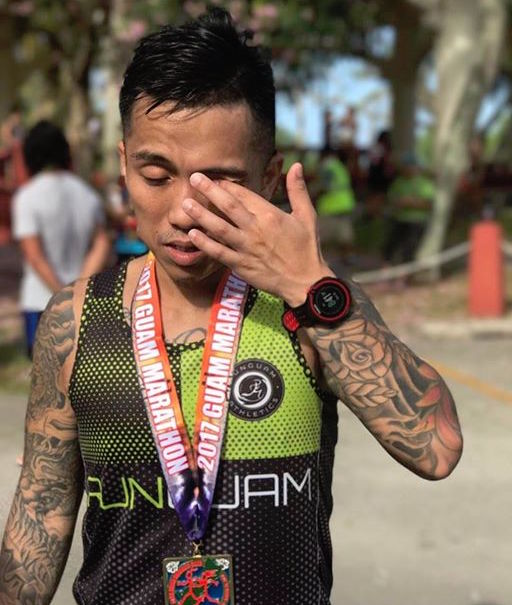 By Robert Balajadia
Out of all the miles logged under Sherwin Paet's running career, none were more important than the 26 he logged in during the 46th Guam Marathon last Sunday.
Running with a heavy, not in marathon shape, heart, Paet was only focused on crossing the finish line to honor his father Bernie, who is currently battling chronic spinal issues that is making him incapable of walking.
What used to be normal tasks for Bernie, like preparing food and getting into a car, now requires assistance just to move from point A to point B. So much so that you wouldn't be able to recognize the former athlete in Bernie, who was an avid runner in his heyday.
One event on Bernie's bucket list was to compete in a marathon. Given his current state and situation, that goal may never be accomplished.
Although, Bernie was awarded a Marathon Completion Medal from his son, one he's sure to appreciate all the same.
Racing Motif
The 46th Guam Marathon is one of Guam's longest running traditions that often draws Guam's best endurance athletes, and what has recently become a warm up race for the International Marathon.
Sherwin got the idea to run the race for his dad, but came down with an illness at the beginning of the race-week that would stick around all week long.
"I couldn't even get out of bed to register for the race. I had to contact GRC and ask them to register for me, and by race time I still wasn't 100%," said Sherwin.
This wasn't Paet's first marathon, but it would be the first one he didn't train for. Finding the motivation to do so was the easy part, but even the avid runner in Sherwin knew it was going to be one of the most daunting things he has ever done.
"I wasn't concerned about my time at all. I was just focused on finishing the race so I could go home and give that medal to my dad," said Sherwin.
The Run
Paet's first 5k into the marathon was a breeze.
"Well, still 23 more to go!," said Paet on what he was thinking after checking the distance on his watch. "It was all about pacing myself. I felt I was going to hit a wall 15 miles in."
13 miles in and 13 more to go. Paet was only fixated on how his pain was minuscule compared to what his father was going through.
"Dad was going through much harder stuff than this," said Paet to himself repeatedly. "This will pass. Dad can't even walk and I have the ability to run, I can't complain about anything right now."
20 miles in and Paet started to find some familiarity in his distance, as well as a little divine intervention.
"I kept thinking about how often I run Tumon, which is about 6 miles. It was really just time to give it all I've got. I paced myself with this walk-jog kind of thing. I just put my trust in God and it definitely took a lot of praying to finish that," added Sherwin.
26 miles done.
"A lot of emotions were running through my mind. Before I left for the race I went to my dad's room and he was in pain, massaging his legs. Before I walked out I just told him 'this race is for you'. He didn't know I was doing a marathon, he probably thought I was just running another 5k."
The Medal
As fast as anyone who just ran a marathon could move, Sherwin raced home to give his father the finish medal. Bernie reacted like the competitor Sherwin knew him to be.
"He was surprised, but the first thing he asked was for my time and what place I came in," laughed Paet.
Sunday's race with no finish time goal, personal record or placement aim would end up being the most meaningful race Sherwin Paet had ever run with his head, heart and faith carrying him every step of the way.

QUICK HITS
3rd place: Big ups to the Para Todu Rugby Club for finishing 3rd out of 16 teams in the Manila 10's Rugby Tournament today. Biba Guam Rugby!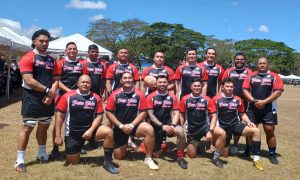 ——————————————
Guam MTB National Championship: Edward Oingerang and Jennifer Camacho are your 2023 MTB national champions. Oingerang finished the course in 1:13:24 while Camacho won her second straight title in 54:08.