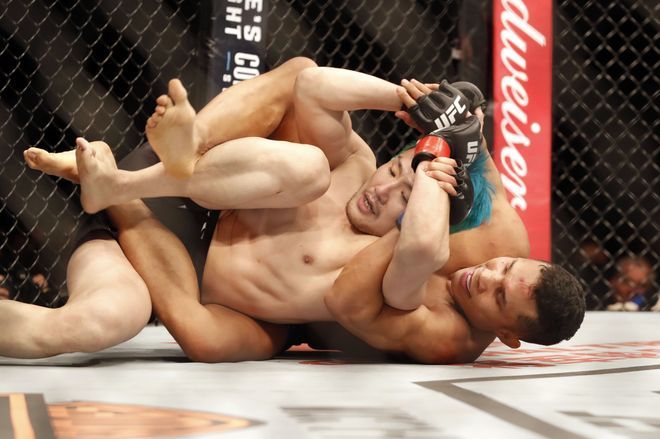 By Robert Balajadia
Jon Tuck summed up his once in a lifetime opportunity to fight the legend Takanori 'The Fireball Kid' Gomi perfectly on social media, 'Work until your idols become your rivals.'
Saturday night, 7 pm Chamorro Standard Time, UFC Singapore kicked off in what would be a big night for Guam and the Marianas. GSPN huddled in with Applebee's Guam where fight fans from all over the island came together to support Frank 'The Crank' Camacho and Jon 'Super Saiyan' Tuck.
"Jon is a good grappler so I think he should take it to the ground," said fight fan Di Xiong. "[Gomi] is at the end of his career and Jon is hungry."
"I've trained under Jon Tuck and seeing him and Frank up there really pushes us to try and make it there one day," said local MMA fighter Jose Ramirez.
Tuck was scheduled to be the last bout in the undercard.
Tuck submits Gomi in the 1st
The most dominant win and the fastest finish of his UFC career, Jon Tuck quickly submitted the Japanese legend after landing a body kick that set up the finish.
Applebee's Guam was loud with excitement as Tuck brought down Gomi and worked his world-class black belt jiu-jitsu towards a rear-naked choke.
"Jon took out one of the most well-known MMA fighters in the world and Tuck will definitely be coming home to a rooting island," said fight fan Mike Taitano. "I know Jon personally and it's good to see a good friend come away with a big win like he did."
"It was amazing to see our local talent all the way in Singapore represent Guam. Seeing them do what they do makes me proud. Coming from a small island being represented on the big stage, on the big screen, brings notoriety to the island," added Geri Diaz.
Tuck hoisted up the Guam flag as he does in every victory, locking in the biggest win of his MMA career.