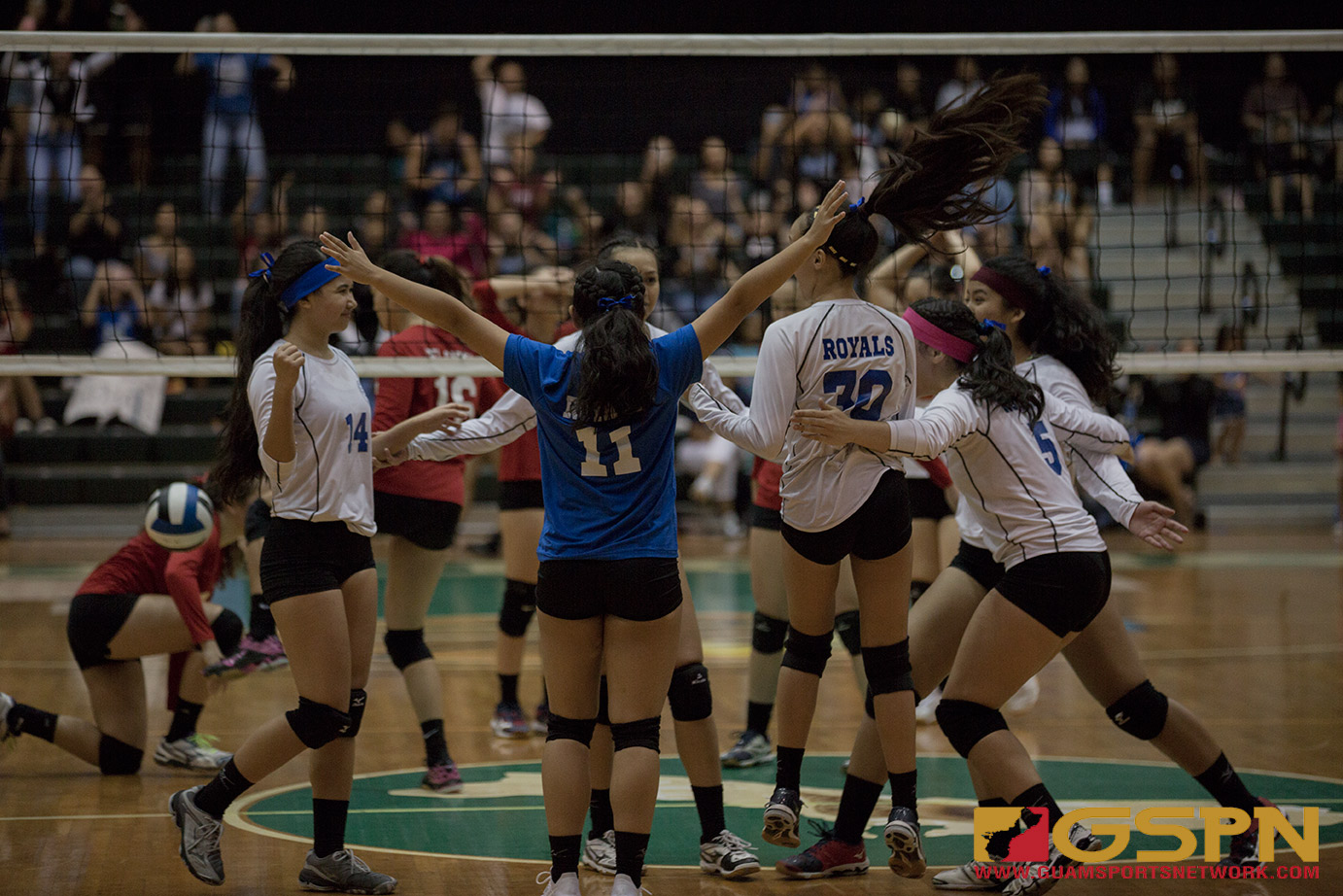 PRESS RELEASE – The University of Guam's Triton Athletics will host an IIAAG Girls High School Volleyball All-Star Game on Sunday, November 12th at 6 pm in the UOG Calvo Field House.
The event will feature players from the All-Island teams, with selections by the coaches from the "Final Four" teams in the IIAAG Island High School Championship. The 1st and 2nd Teams from the All-Island selection were automatic selections to the two All-Star teams while the coaches drafted 16 players from the 35 member Honor Mention All-Island list.
Said UOG Athletic Director Doug Palmer "There are just too many players in the Honor Mention category to select as All-Stars and give playing time to, so we decided on two teams of 15 players each and took 16 players from the Honor Mention group of 35 players.
Coaching Team 1 will be Mike Rabago and Art Stanley of Notre Dame, Island Champions, assisted by Al Garrido of St. Paul (4th Place). Team 2 will be coached by Chris Shepherd of St. John's, Island Runner-up, and assisted by Marissa Maratita of Academy (3rd Place).
The match will be played at the UOG Calvo Field House on Sunday, November 12 at 6 pm.
Palmer also stated, "We host four indoor high school championships each year in the UOG Calvo Field House (Girls Volleyball, Girls Basketball, Boys Basketball, Boys Volleyball), we now hope to hold an All-Star game in each sport that we host a championship in about 2 weeks after the championship is played. We hope to give more recognition to the great high school student-athletes on Guam and of course, showcase the University of Guam to them as well".
The All-Stars will receive t-shirts from Triton Athletics for recognition as All-Stars.
"Hopefully we will do a better job with each All-Star game we host and these become anticipated events for the student-athletes and the island itself," said Palmer.
Team 1
Coaches: Mike Rabago/Art Stanley – Notre Dame; Al Garrido – St. Paul
Setter: Hana Fernandez – St. John's; Victoria Smith – Academy
Outside Hitter: Carlie Quinata – Notre Dame; Tylee Shepherd – St. John's; Frencine Villena – JFK; Christina Carlos –Sanchez
Opposite: Hallie Wigsten – St John's; Carmen Gogue – Notre Dame
Middle: Laressa Halladay – Academy; Davie Rae Lefever – Notre Dame; Johnia Siguenza – St. Paul; Alexia Brown – Guam High; Y'lisiah Jorda – Tiyan
Libero: Jayda Camacho – Academy; Tammi Wusstig – Notre Dame
Team 2
Coaches: Chris Shepherd – St. John's; Marissa Maratita – Academy
Setter: Kiyoko Afaisen – GW; Mariana Kier – Notre Dame
Outside Hitter: Lauren Hoebing – Academy; Callia Concepcion – GW; Brianne Leon Guerrero – Notre Dame; Kiyoni Yamaguchi – JFK
Opposite: Tasi Castro – Harvest; Shannen Munoz – Academy; Isabella Sasamoto – Okkodo
Middle: Theisen Taimanglo – Academy; Evita Laguana – GW; Aeryn Anulao – Notre Dame; Katelyn Camacho – Southern High School
Libero: Vanessa Y. Kim – Harvest; Tiffani Lopez – St. Paul

Athletes Birthdays by W5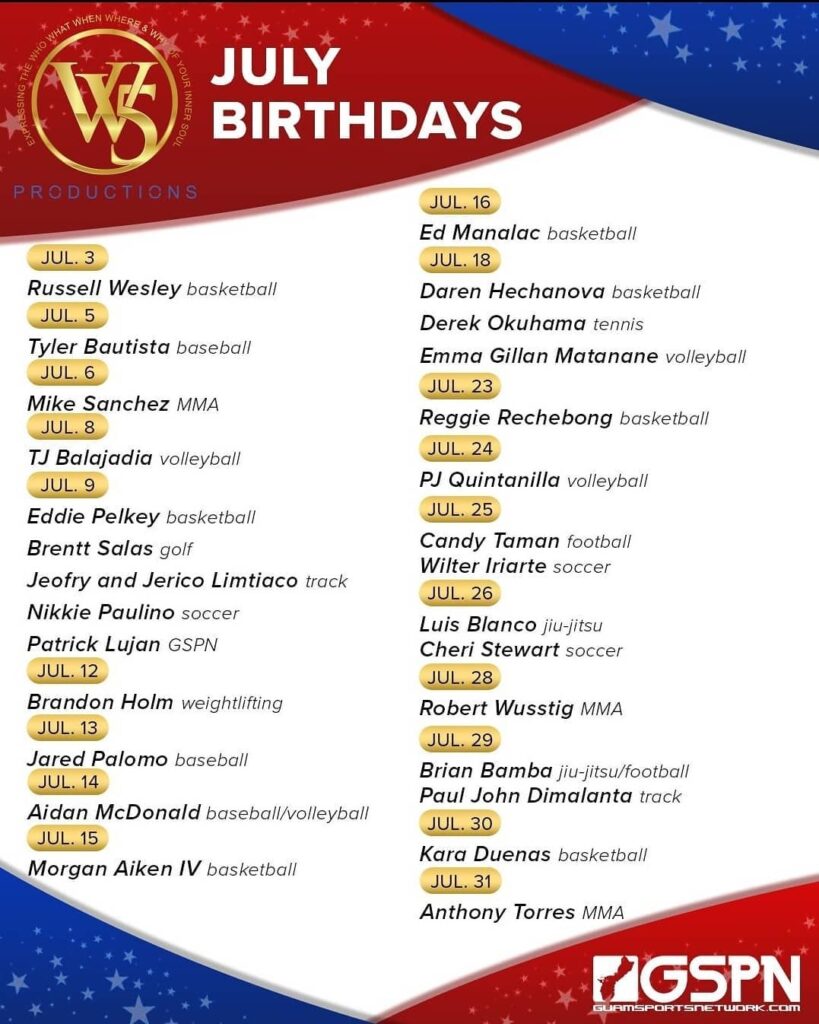 Foody's Fun Facts
Favorites From Year 2
COMING SOON …
2020 Tokyo Olympics
UFC Fight
Aug 1: Trevin Jones vs. Tony Kelley
QUICK HITS
——————————————————–
Guam's Joey Miranda met up with Chamorrita Softball Star Bubba Nickles and Olympic Teammates Dejah Mulipola and Aubree Munro out in Tokyo as we approach the Olympics!
Photo credit: GNOC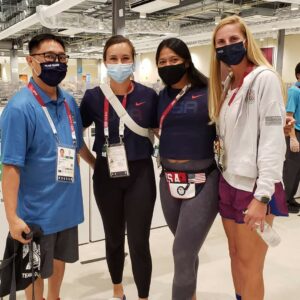 ——————————————————–
Former Guam resident Tre Taylor has committed to play cornerback for the Southwestern Junior College Jags.
Turner attended Harvest and FD before transferring to Hawaii where he played for Saint Louis, the 5th ranked team in the nation.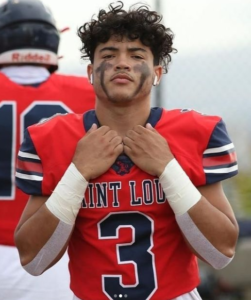 ——————————————————–
The big man Zach Banner getting to throw out the first pitch earlier today for the Pittsburgh Pirates!