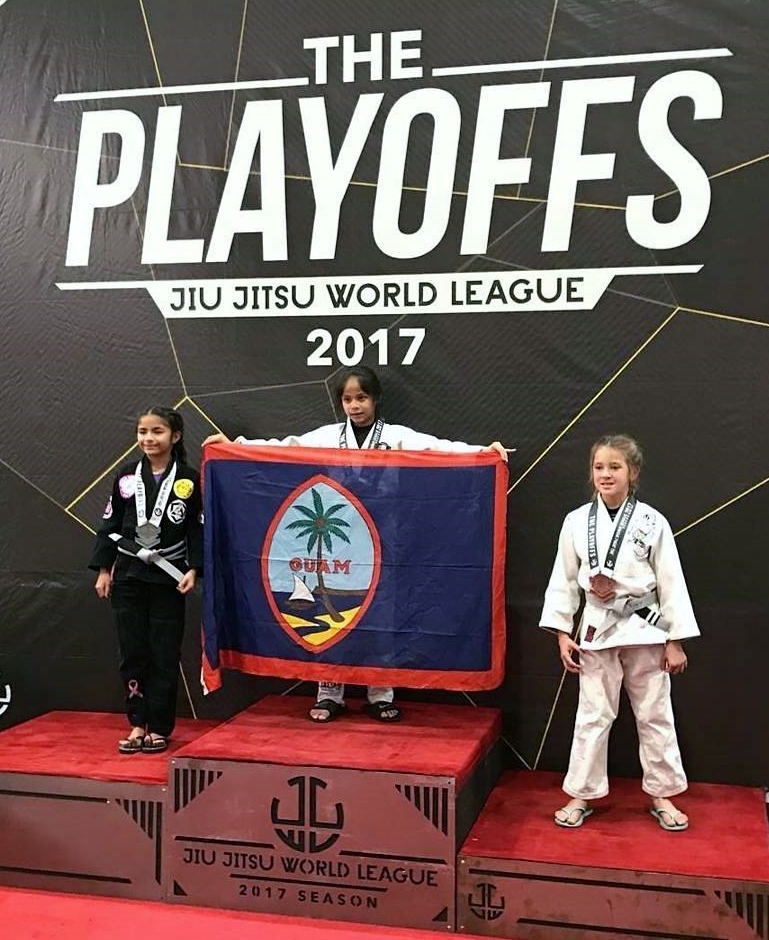 By Patrick Lujan
Thirteen straight matches and not a point given up.
No matter what sport, 13 shutouts in a row is beyond impressive.
Nine-year-old Paydence Gisele Manibusan has done just that with a streak of a lifetime in 2017.
The former student of San Vicente School in Barrigada is a jiu-jitsu practitioner with not even two years in the art, but has rocketed her way to the top of her age class already.
"She was just a passive kid and we wanted to build her confidence," said her dad Joeglenn Manibusan who moved to Las Vegas in the summer of 2015 with a job opportunity. "That's the real reason why we put her in."
After starting with Cobrinha BJJ Las Vegas in June 2016 under professor Hector Vasquez, little Paydence would enter her first tournament later in December of that year and would lose to a boy.
"She just kept wanting to roll with it," Joeglenn said.
At the Pan Kids BJJ Jiu-Jitsu Championship last February, she would lose to the eventual champion.
Since then, an unblemished record. With a busy calendar in only her first year of competition, Paydence already has
eight gold, one silver and two bronze in the 11 tournaments she's entered.
"She trains every day from 5 pm-8:30 pm. She does the kids and adults classes five days a week. While I'm at her class, I take notes on what her professors are teaching her and we'll work on some stuff at home. I really can't keep her off the mats," the dad added.
With three belt promotions already in her first year, Paydence has set a pretty good direction ahead for herself.
GOALS
"I let her dictate her training. She's a pretty level-headed kid, so if she wants to take a break, we'll let her take a break. She wants to go to red belt so she wants to go far. I do tell her if she's not having fun anymore, just let us know and we can find something else.
"As long as it continues to build her character and respect for herself, shooting up for the positive, I'm all for it."
In the crazy tempo of west coast competition, the elder Manibusan will be targeting up to eight tournaments in 2018 for his prodige, but the big prize would be back to the Pan Kids in February.
"She's ready for that and wants to redeem her loss to the kid she lost to last year."
As for more goals Paydence actually wants to go home school so she can train in the mornings since they open at 7 a.m.
With all that drive and determination, it's no wonder the domination of 13 matches without giving up a point is paying off in a big way.
NOTES: her mother is Joenelle Manibusan from Barrigada, Joeglenn from Latte Hts. Mangilao; she has a full sponsorhsip from  SicChic.com as well as Capital Kitchen Guam.
Started BJJ on June 2016
First comp 2016 BJJ tour  (bronze)
Bronze  at Pan Kids 2017
Gold at JJWL World Championships (July 2017)
Gold at NAGA LV – Gi (August 2017)
Silver at NAGA LV – No-Gi (August 2017)
Gold at JJWL LV Elite (Moved up in both age and weight divisions) (November 2017)
– Won 1st match by decision
– Won title match 4-0
Bronze at BJJ Tour (All boy division) (Dec 2017)
– Won 1st match with a triangle arm bar
– Lost 2nd match by rear-naked choke
Gold at JJWL The Playoffs in Orange County (Top event/invite only for JJWL) (Dec 2017)
– Won 1st match by decision
– Won title match by 4-0
Promoted to Solid Grey belt in July, and then Grey Black in November by Professor Hector Vasquez of Cobrinha BJJ
Sponsored by SicChic fight wear and The Capitol Kitchen Guam
Currently ranked #1 in the 08-09, Grey belt division on JJWL
2017 JJWL Season Champ
—Overall Highlights—
Overall Tournament record is 11-4 since December 2016
2x World Champ (Kid's Worlds & JJWL)
IBJJF American National Champ (IBJJF)
8x Gold
1x Silver
2x Bronze
Hasn't had a point scored on her since February 2017 (13 straight matches)