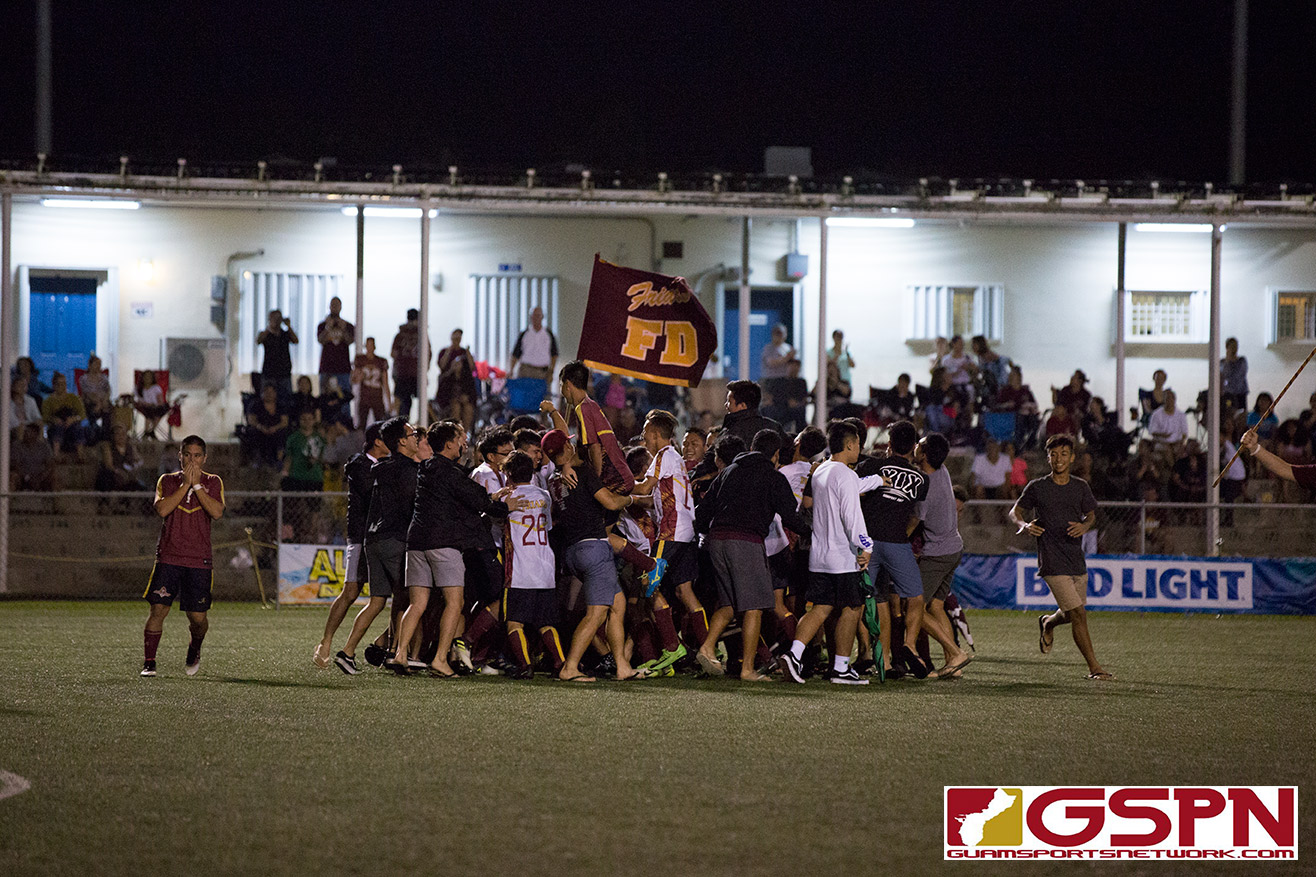 By Robert Balajadia
As if their semifinals shootout win over the Harvest Eagles wasn't dramatic enough, the FD Friars outlasted the JFK Islanders in yet another shootout, but this time to win the IIAAG Boys Soccer Title.
Friar senior Joseph Connelly nailed a go-ahead goal to put FD ahead 3-2 and Islander Christian Kido's last attempt hit heartbreak on the crossbar to conclude an evening of stellar defenses from both sides.
"I didn't want to celebrate that because I knew there was one more PK after me. But when their last PK didn't go in, that's when I really celebrated and just let it all out," said the senior Connelly on scoring his first goal in two years, and his first ever PK.
Connelly admitted his performance through out the game had him down as he sported an emotionless stone-cold face, despite giving his team a 3-2 lead.
To add more to the narrative, Friars keeper Shawn Sablan might have been playing the entire overtime and shootout series with a concussion as he seemed less than his normal expressive self as the final sequences of the game unfolded.
"It was already a hard fought game and I think seeing Shawn out there kicking it into extra gear motivated our team. Both sides were working really hard, but Shawn is a gamer and he doesn't ever want to come out. We put him out there and we just got lucky, twice," said Friars coach Keith Dickson.
The Islanders had lost 4-1 to the Friars in the regular season and a defensive strategy to drop the MVP Ito from midfield to defense really threw a wrench inside the well-oiled Friar system. But the Friar defense was also up to the task with defenders like Nichka Fermin mentally locked in.
"I got selected for 1st Team All-Island so I wanted to prove that I deserved to be there," said Fermin.
All thriller, no filler
After regulation, the game went into the overtime period which allows each team to take one side of the field for four minutes each, totalling eight minutes of extra play.
The Islanders were staring down a golden opportunity in the second half of the overtime as a cleared ball by the defense made it's way to Sablan in the box. Sablan stumbled on the deflection which prompted Islanders striker Kris Fernandez to chase down. Sablan made a diving save to knock Fernandez's shot away, but took a shot to the head on the collision, which may have been where the possible concussion was suffered.
"I was happy because the defense wasn't able to recover in time for that. Thanks to Shawn for making that play and I'm just proud of everyone tonight," said Fermin.
With Sablan down and no one protecting goal, Kido got his foot on the free ball, but missed the go-ahead score as it drifted to the right of the post. The overtime ended a minute later setting up the dramatic finish.
The Friars would end up shooting first and both teams deployed their most lethal scorers to begin the shootout, but neither Friar Aiden Dickson or league MVP Takumi Ito of the Islanders got their team on the board. Dickson had his shot blocked by Islanders keeper Allan Aranas as he tried to hit left and Ito had his shot returned by the crossbar.
Friar Xavier Naputi squeezed in the first score of the game on a shot deep left, but the Islanders answered as Inochi Rocella booted a shot in the same direction.
With the game tied at one goal each and just three shooters left, Aranas made yet another big play. Friar Giancarlo Abril kept his shot short left and Aranas made a diving save to deny the Friars yet again. Islander Kris Fernandez put too much toe on his shot as it sailed over the post to keep the game tied at one.
Friar Kyle Halehale went right as Aranas was thinking left, putting FD up 2-1. Last years championship game hero Eddie Cho put on his cape one more time as he knotted up the contest at two goals each with one shooter left for both teams.
Connelly had his number called for the PK and he made the most of his only trip to that line this year.
"We figured that if we were going go into our 5th shooters that we would want to have stronger shooters out there," said Dickson on calling up Connelly. "We leave it for our guys to decide where to shoot it. We practice PK's enough and we trust them."
PHOTO GALLERY BROUGHT TO YOU BY:
…all photos taken by GSPN's Michael Ebio…

QUICK HITS
Guam MTB National Championship: Edward Oingerang and Jennifer Camacho are your 2023 MTB national champions. Oingerang finished the course in 1:13:24 while Camacho won her second straight title in 54:08.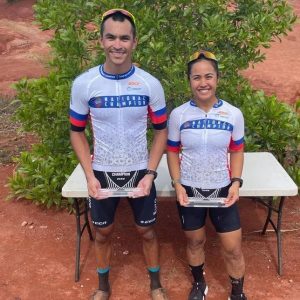 ——————————————
Kobe Miyashita, with St. John's coach Arvin Flores, was named the 2023 IIAAG Middle School Boys Volleyball MVP!