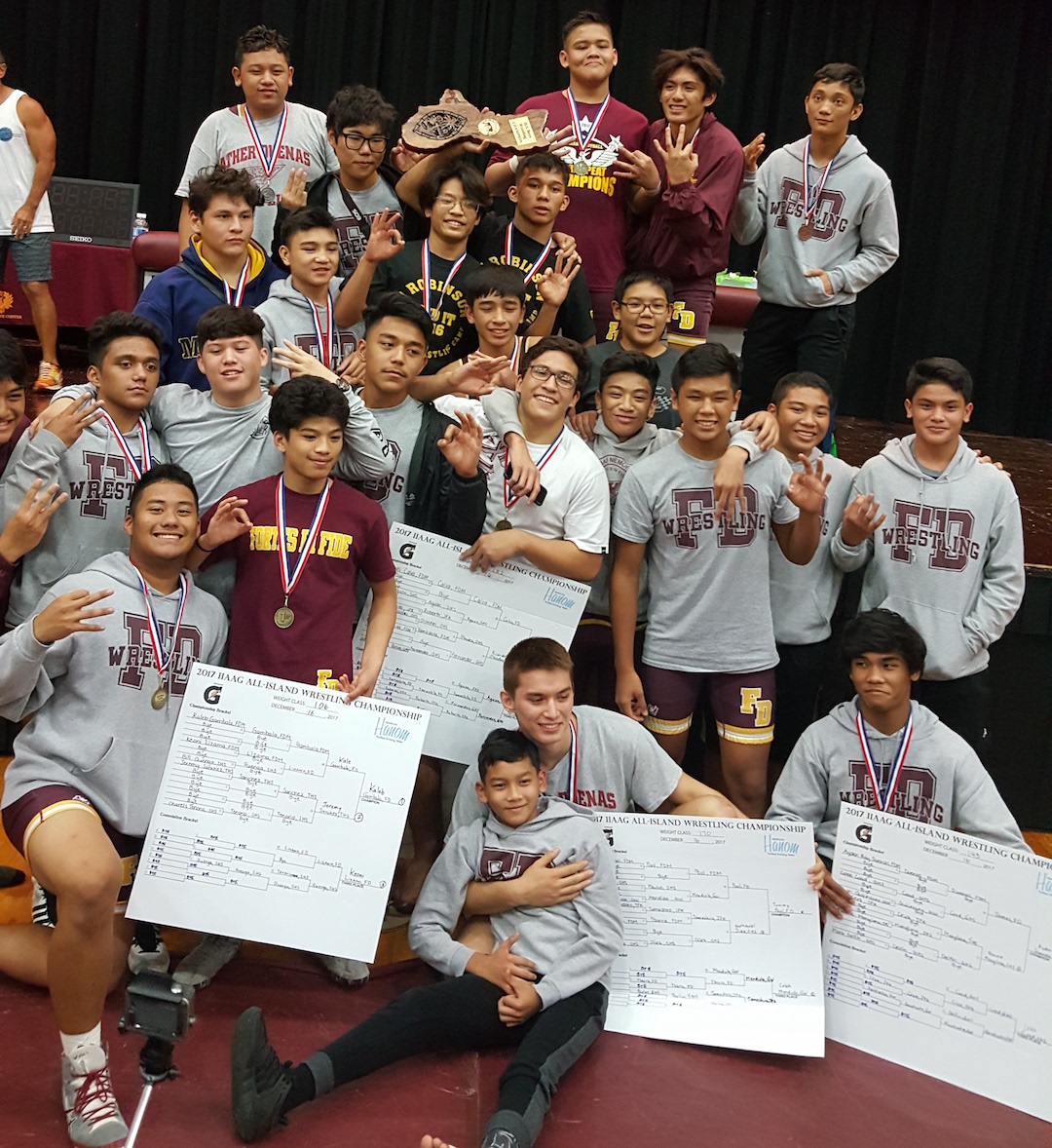 By Jay Leon Guerrero
Different year, same result. After watching the Simon Sanchez girls wrestling team win their sixth straight IIAAG championship last night, the FD Friars joined the party and continued their legacy as well. The Friars continued their dynasty with eight Friars winning gold medals at the All-Island Meet.
The Friars have not lost a team meet in over a span of 30 meets and they were not intending to break their streak during the 2017 All-Island Wrestling championships on their home gym. Guided by head coach Terry Debold, the Friars had 10 wrestlers enter the gold medal matches. Eight of the Ten Friars won gold medals to contribute valuable team points to run away with team championship.
After eight hours of wrestling at the Phoenix Center, the Friars managed to score 250 points. The Sanchez Sharks finished second with 128 points; Southern High finished third with 117 points.
Here are the official team scores based on trackwrestling.com results:
Father Duenas – 250 points
Simon Sanchez – 128 points
Southern High – 117 points
Okkodo High – 58 points
Tiyan High – 54 points
George Washington High – 45
Guam High – 45
John F Kennedy High – 34
"I'm very happy with the results and proud of how the team performed today. We've been training hard all year and our coaches put it in our mind that we can compete with the best on this Island," said FD's 182-lbs gold medallist Matias Calvo. After accomplishing a bronze medal in his sophomore year, Calvo went undefeated and earned his first all-island Gold Medal.
FD team captain Devon Garrido won via pin in the 126-lbs weight division. "I think we exceeded our expectations this year. We wanted to develop new wrestlers and get as many wrestlers as possible into the medal rounds," said Garrido.
Garrido was happy that 10 total Friars made the gold medal rounds but he was also happy that the team as a unit showed dignity and respect.
"One of our main goals was to better ourselves on and off the mat and I really think that we did that today."
The Friars filled the weight classes from top to bottom to win the title. Kaleb Gambala (106 lbs), Kaleo Gambala (120 lbs), Garrido (126 lbs), Ayden Ray Duenas (145 lbs), Tommy Pool (170 lbs), Calvo (180 lbs), Kobe Onedera (195 lbs), and Kyle Ada (285 lbs) all managed to win gold medals.
The Sanchez Sharks managed to accomplish second place despite having one of the smallest teams in the league. Paul Aguon won gold in the 152- lbs division defeating Friar Liam McManus for his second straight all-island gold medal.
Aguon went undefeated for the season and said his team performed well despite not being able to fill in all the weight divisions.
"We are not even supposed to be near them (FD) in points but we ended up pushing and scoring well," said Aguon. Aguon, along with Lynch Santos (132 lbs), JunJun Asebias (138 lbs), Javier Rodriguez (160 lbs), and Hansen Ignacio (220 lbs) all ended up winning gold medals for the Sharks to finish a respectable second place.
In one of the highlight matches of the tournament, Tiyan's Lance Galarpe won his school's only gold medal with an upset victory over Sanchez wrestler Gavin Whitt in the 113 lbs division. Galarpe won via points after three rounds, taking an early lead and hanging on for the victory which got the Tiyan fans roaring on their section of the bleachers.
"After seeing alot of my teammates lose in the early rounds, I felt I had to get that gold for the boys," said Galarpe.
Here are the results from the gold medal matches:
106 – Kaleb Gambala (FD) def Jeremy Sanchez (Tiyan) via pin
113 – Lance Galarpe (Tiyan) def Gavin Whitt (Sanchez) via points
120 – Kaleo Gambala (FD) def Czar Dela Cruz (JFK) via pin
126 – Devon Garrido (FD) def Kenneth Malsol Jr. (Tiyan) via pin
132 – Lynch Santos (Sanchez) def Corey Cabales (GW) via pin
138 – JunJun Asebias (Sanchez) def Allan Weires (Southern) via points
146 – Ayden Ray Duenas (FD) def Ronnie Manglona (Southern) via pin
152 – Paul Aguon (Sanchez) def Liam McManus (FD) via pin
160 – Javier Rodriguez (Sanchez) def Brocke Bonnette (Southern) via points
170 – Tommy Pool (FD) def Nathaniel Diaz (Southern) via pin
182 – Matias Calvo (FD) def Ricardo Olandez (Okkodo) via points
195 – Kobe Onedera (FD) def Bartolome Avian via points
220 – Hansen Ignacio (Sanchez) def Jacob Wolford (FD) via pin
285 – Kyle Ada (FD) def Aston Esemanaw (GW) via points
PHOTO GALLERY BROUGHT TO YOU BY:

QUICK HITS
Guam MTB National Championship: Edward Oingerang and Jennifer Camacho are your 2023 MTB national champions. Oingerang finished the course in 1:13:24 while Camacho won her second straight title in 54:08.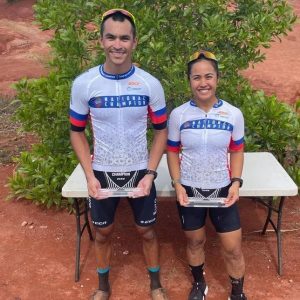 ——————————————
Kobe Miyashita, with St. John's coach Arvin Flores, was named the 2023 IIAAG Middle School Boys Volleyball MVP!