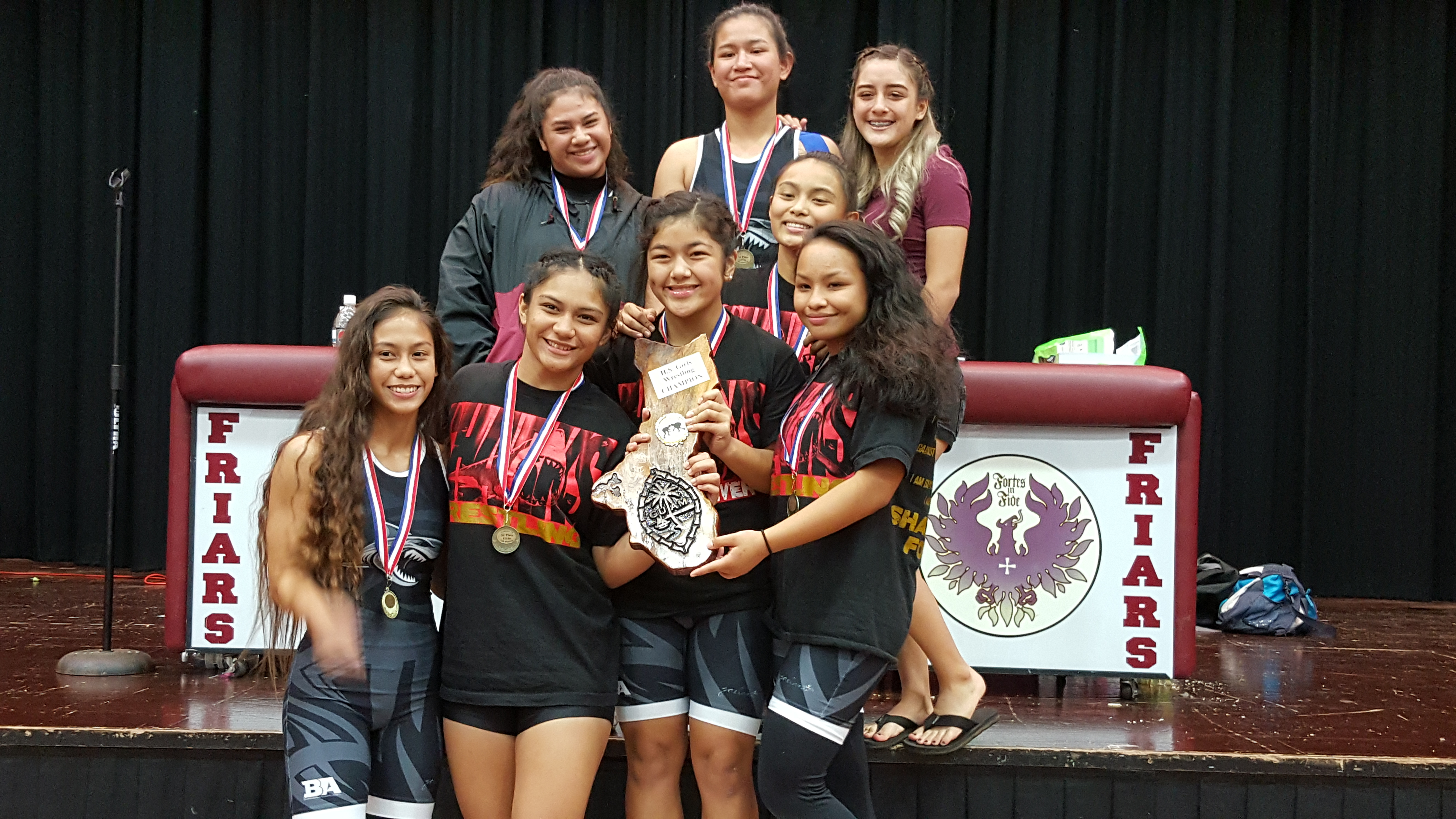 By Jay Leon Guerrero
The dynasty continues! The Simon Sanchez Sharks girls wrestling team won their sixth straight IIAAG Girls title after winning 6-of-6 matches in the gold medal rounds of the All-Island Meet Friday night at the FD Phoenix Center.
Quality over quantity was what the Sharks bring to the mats every meet according to 132-pound sophomore Kaetlyn Quintanilla.
"Academy (FD girl's wrestling team) has more girls wrestling than we do and we were behind at first. But we did what we usually do in our matches and come up with pins," said Quintanilla.
Quintanilla won an exciting match over Southern High's Jayann Andrews in the 132-lbs division via pinfall in the second round. "It wasn't easy, we worked really hard."
The victory is the second gold medal for Quintanilla after winning a gold medal last season as a freshman.
Chloe Quidachay from the Sharks clinched the title in a clutch 12-second quick pin over Guam High's Samantha Franchino in the 184-lbs division. Franchino was undefeated going into the contest and Quidachay needed to get a victory to give valuable points to the Sharks to help preserve the dynasty. The win was important because the Sharks edged out the FD Girls team by just 9 points. Quidachay's quick pin was the fastest of the tournament.
Quidachay got the crowd cheering after she managed to catch Franchino by surprise with a throw and quickly covering her up for the pin.
"I honestly didn't have a strategy against my opponent. I saw an opening and I went for it," said Quidachay after the match.
Shark teammates quickly surrounded Quidachay with hugs and high-5s after the match. The Sharks had 124 points after Quidachay's match, finishing just in front of the FD Girls team who had 115 points.
"Our coaches really deserve alot of the credit. They trained us really hard in practice," said Quidachay. "I don't think we would have accomplished anything without our coaches. They train us to be the best, I love the way all our coaches help us," said Quintanilla.
The Sharks are led by head coach Tony Aquino and staff of several volunteer coaches.
The FD Girls team, composed of players primarily from Academy of Our Lady of Guam High School, made history and finished second with 115 points. The Friars managed to win three gold medals. Andrea Salas (117 lbs), Lauren Lujan (122 lbs) and Annabelle Basto (127 lbs) each earned gold medals for the FD Girls squad.
Basto had a double celebration after achieving her first gold medal and also celebrating her 16th birthday. "I'm also so happy we did so well as a team this year. This is my first year wrestling and I didn't really expect to win a gold medal but we worked so hard" said Basto.
"It feels really good to win a gold medal and contribute points to my team. It was a challenge, it wasn't easy for me to win my match," said Lujan.
Team points:
Simon Sanchez – 124 points
FDMS Girls team – 115 points
John F Kennedy High – 104 points
Tiyan High School – 76 points
George Washington High – 69 points
Guam High School – 61 points
Okkodo High School- 50 points
Southern High School – 47 points
All-Island final match results:
97 – Avianey Terlaje (Sanchez) def Aunee Duenas (FlDMG) via pin
102 – Paulina Duenas (Sanchez) def Cleeara Perez (FDMG) via DQ
107 – Samantha Torres (Sanchez) def Isa Tainatongo (GW) via DQ
112 – Erin Quichocho (GW) def Jennifer Mesa (FDMG) via points
117 – Andrea Salas (FDMG) def Chloe-Michaela Stanley (FDMG) via points
122 – Lauren Lujan (FDMG) def Corina Salas (Tiyan) via pin
127 – Anabelle Basto (FDMG) def Stacy Falagoy (Tiyan) via pin
132 – Kaetlynn Quintanilla (Sanchez) def Jayann Andrews (Southern) via pin
138 – Cali Strantz (GHS) def Ayaka Aky (JFK) via points
145 – Breanna Tamashiro (JFK) def JulieAnn Andrews (Southern) via pin
155 – Jackie Brub (Sanchez) def Brena Anney (JFK) via points
168 – Christine San Nicolas (OHS) def  Cliana Sanchez (Southern) via pin
184 – Chloe Quidachay (Sanchez) def Samantha Franchino (GHS) via pin
225 – Masiko Nuther (JFK) def Isabel Teria (Tiyan) via pin
PHOTO GALLERY BROUGHT TO YOU BY:

National Guard Athletes
Scott Eclavea
Scott Eclavea is a jiu-jitsu black belt and an accomplished MMA fighter. The Guard has given him an outlet in combatives to display his martial art skills, where he's become a head instructor for that program. Eclavea has served since coming out of high school and the Guard has only changed his life for the better.
COMING SOON …
LIVE FOOTBALL ON GSPN
FD vs. JFK (Saturday 7 pm)
GSPN Preseason Basketball Tournament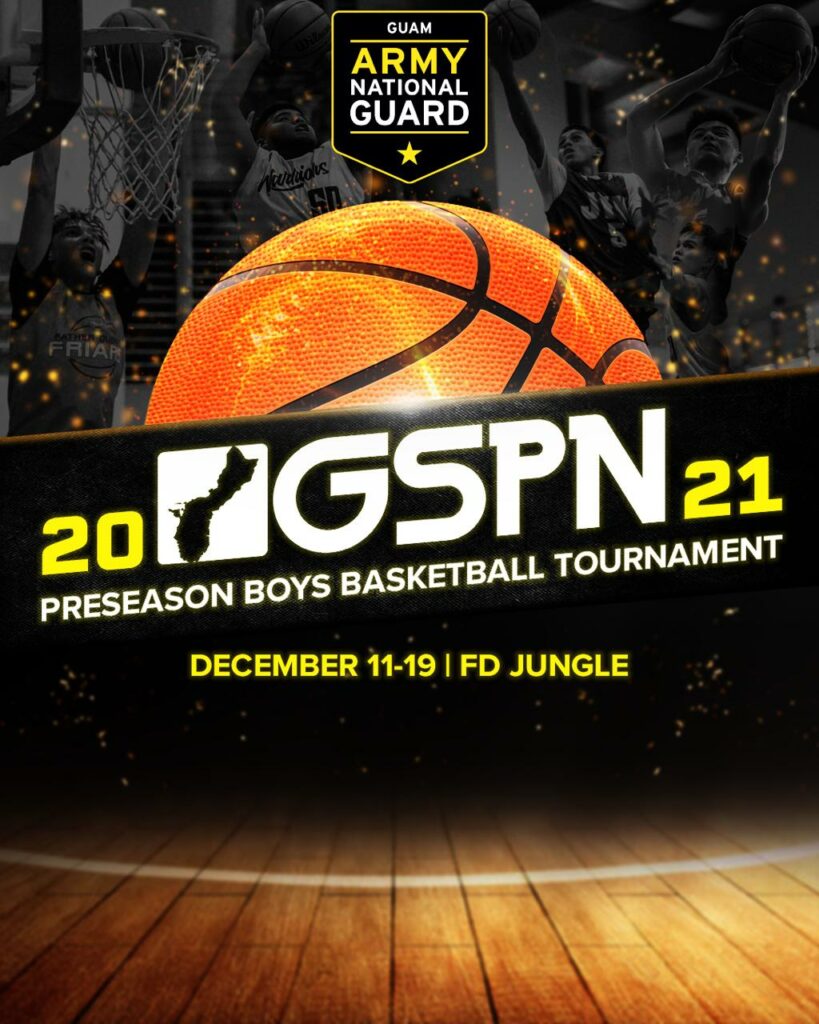 QUICK HITS
Pat Taitano and Rich Abiador, teammates on the 1995 SPG volleyball team, have led their high school girls volleyball teams to the Washington State Championships in Yakima, Wa.
Taitano coaches Mt. Rainier High while Abiador leads North Creek High.
There for support is Dr. Mark Perez, a health professor at Central Washington University and a former UOG volleyball player.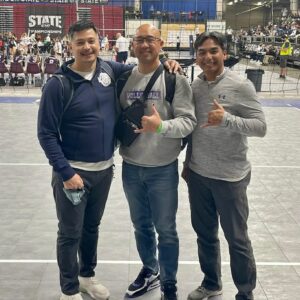 ——————————————–
Guam has recently lost two former star athletes.
– former national volleyball player Larry Gamboa
– former GW Geckos running back Joe 'Pit Bull' Leon Guerrero
May they both rest in peace.