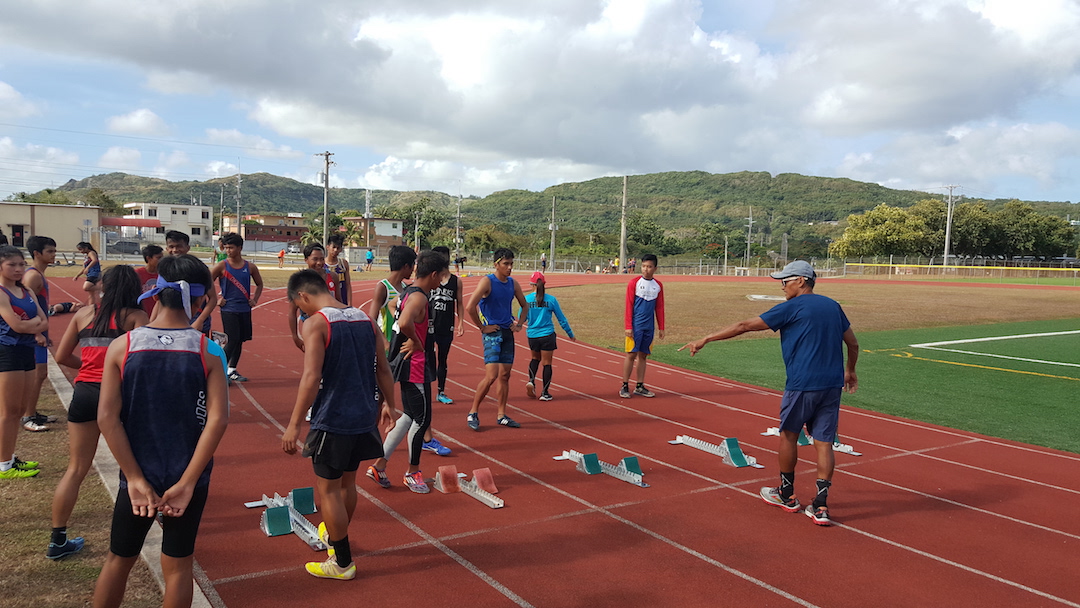 By Jay Leon Guerrero
For GSPN
The Guam Track and Field Association hosted the March Open Track Meet Sunday morning with a total of 99 athletes signing up for the event.
Genie Gerardo was the highlight of the event breaking her own record in the shot put with a distance of 11.26 meters.
National team prospects also used the meet for qualifying times for the upcoming Micronesian Games scheduled for this summer in Yap. Shania Bulala and Paul Dimalanta used the meet for qualifying and as a competition simulation.
"These simulations are really good for us because it's like a trial for us to see if all of our training are paying off. It's also to see where we stand with other athletes," said Dimalanta.
"Its really good to see the big turnout. This meet is a good opportunity for the high school athletes to perform to let those nerves out before their first meet happens," said Bulala.
Both Bulala and Dimalanta won the 100 meter sprint event. Bulala scooped the sprints with a victory in the 200 meter race as well. Dimalanta had the fastest time in the 100 meter race at 12.06 seconds, Bulala was the fastest female with a time of 13.38 seconds.
Fellow Olympians Derek Mandell and Joshua Illustre took the track for the 1500 meter race. 41 athletes took the track for the event which had the highest number of entries. Mandell finished the race with a time of 4:21.44, Illustre finished at 4:30.26. Ryan Matienzo finished third with a time of 4:35.04.
Genina Piolo Criss was the first female finisher in the 1500 meter race with a time of 5:18.56. Criss, coming fresh off the medal stand at the Pacific Mini Games, looks to continue momentum at the Micro Games this summer.
High school athletes take the track
A majority of the athletes taking the track on Sunday were high school athletes preparing for their upcoming season scheduled to start next week. Some athletes were looking to see which event was best for them, some took the track for their very first time.
"I was just looking to see where I am so when the season starts I know what times I should be hitting," said Okkodo track team member Darin Pascua. "These meets give us the opportunity to try new events. We get to see what's our strongest events and what events we need to work on."
PHOTO GALLERY BROUGHT TO YOU BY:
RESULTS
RaceTab by MileSplit/FloSports Herreros, GCA
Open Meet 3 – 3/18/2018 5:00:31 PM
Guam High, ,
Open Men Long Jump
=======================================================================
Name Yr Team Mark Wind Pts
———————————————————————–
1 Jonas Oyardo 5.40m NWI
2 Paul John Dimalanta GCA 5.30m NWI 10
3 Aljie Alcantara Okkodo HS 5.00m NWI 8
4 John Halili JFK 4.80m NWI 6
5 Aaron Serrano Okkodo HS 4.67m NWI 5
6 Jake Piano Akasuki 4.49m NWI 4
7 Jeric Alcantara Okkodo HS 4.48m NWI 3
8 Dreyvin Apatang Okkodo HS 4.40m NWI 2
9 Melvin Reyes JFK 4.35m NWI 1
10 Rizaldy Tugade JFK 4.21m NWI
11 Calvin Reyes Okkodo HS 4.16m NWI
12 Christian Leonor Okkodo HS 3.33m NWI
Open Women Long Jump
=======================================================================
Name Yr Team Mark Wind Pts
———————————————————————–
1 Shania Bulala 4.19m NWI
2 Joy Lazaga SSHS 3.69m NWI 10
3 Danica Cabrera Okkodo HS 3.69m NWI 8
4 Dshanae Cruz Okkodo HS 3.51m NWI 6
5 Seiana Nedlic Okkodo HS 3.18m NWI 5
6 Aniah Pangilinan Koko Track Club 2.74m NWI 4
Open Men Shot Put
=================================================================
Name Yr Team Mark Pts
—————————————————————–
1 Clent Mortes SSHS 9.53m 10
2 Tristan Chiguina 9.50m
3 Ricardo Olandez Jr Okkodo HS 9.44m 8
4 Isaac Barasi SSHS 8.52m 6
5 Zion Ferrera Okkodo HS 8.06m 5
6 Yvan Oftana Okkodo HS 7.99m 4
7 Daryl Delgado Okkodo HS 7.82m 3
8 Edwin Espino Okkodo HS 7.01m 2
9 Derick Logarta Okkodo HS 6.18m
10 Justin Mariano Okkodo HS 6.15m
11 Vann James Okkodo HS 5.82m
Open Women Shot Put
=================================================================
Name Yr Team Mark Pts
—————————————————————–
1 Genie Gerardo GCA 11.26m 10
2 Amanda Cruz Atletiks Matua 9.52m 8
3 Riza Tugade GCA 8.31m 6
4 Maeyah Soberano Okkodo HS 5.67m 5
5 Janelle Balecha Okkodo HS 5.40m 4
6 Maria Guadalupe Okkodo HS 5.00m 3
7 Marshelly Borja Okkodo HS 4.10m 2
Open Men Discus Throw
=================================================================
Name Yr Team Mark Pts
—————————————————————–
1 Tristan Chiguina 25.79m
2 Clent Mortes SSHS 24.58m 10
3 Emil Estabillo JFK 24.56m 8
4 Isaac Barasi SSHS 21.50m 6
5 Daryl Delgado Okkodo HS 21.29m 5
6 Zion Ferrera Okkodo HS 20.69m 4
7 Christian Ecijan JFK 20.65m 3
8 Yvan Oftana Okkodo HS 19.46m 2
9 Ricardo Olandez Jr Okkodo HS 19.37m 1
10 Raymond Cortez Okkodo HS 18.12m
11 Justin Mariano Okkodo HS 16.92m
12 Derick Logarta Okkodo HS 15.40m
13 Vann James Okkodo HS 13.98m
Open Women Discus Throw
=================================================================
Name Yr Team Mark Pts
—————————————————————–
1 Genie Gerardo GCA 27.63m 10
2 Amanda Cruz Atletiks Matua 27.26m 8
3 Diana Alicto GCA 24.42m 6
4 Jonah Santos JFK 16.28m 5
5 Janelle Balecha Okkodo HS 14.09m 4
6 Maria Guadalupe Okkodo HS 13.17m 3
7 Maeyah Soberano Okkodo HS 12.93m 2
8 Alexandria Cruz Okkodo HS 12.74m 1
9 Marshelly Borja Okkodo HS 12.72m
Open Men Javelin Throw
=================================================================
Name Yr Team Mark Pts
—————————————————————–
1 Jake Piano Akasuki 32.48m 10
2 Edwin Espino Okkodo HS 29.36m 8
3 Isaac Barasi SSHS 26.87m 6
4 Zion Ferrera Okkodo HS 26.73m 5
5 Emil Estabillo JFK 26.49m 4
6 Ricardo Olandez Jr Okkodo HS 25.92m 3
7 Clent Mortes SSHS 25.79m 2
8 Joshua Navarro Okkodo HS 24.26m 1
9 Yvan Oftana Okkodo HS 20.86m
10 Raymond Cortez Okkodo HS 17.43m
11 Sam Lairopi Okkodo HS 16.17m
12 Daryl Delgado Okkodo HS 14.77m
13 Justin Mariano Okkodo HS 13.35m
14 Derick Logarta Okkodo HS 13.26m
15 Vann James Okkodo HS 10.43m
Open Women Javelin Throw
=================================================================
Name Yr Team Mark Pts
—————————————————————–
1 Genie Gerardo GCA 24.11m 10
2 Alexandria Cruz Okkodo HS 20.95m 8
3 Maeyah Soberano Okkodo HS 16.48m 6
4 Janelle Balecha Okkodo HS 16.19m 5
5 Danica Cabrera Okkodo HS 14.14m 4
6 Maria Guadalupe Okkodo HS 11.61m 3
7 Marshelly Borja Okkodo HS 9.22m
Open Men Team Scores (4 Events Scored)
==========================================================================
Team Pts Spr Dst Hrd Rel Thr Jmp Oth
————————————————————————–
1 Okkodo HS 69 0 0 0 0 51 18 0
2 SSHS 40 0 0 0 0 40 0 0
3 JFK 22 0 0 0 0 15 7 0
4 Akasuki 14 0 0 0 0 10 4 0
5 GCA 10 0 0 0 0 0 10 0
Open Women Team Scores (4 Events Scored)
==========================================================================
Team Pts Spr Dst Hrd Rel Thr Jmp Oth
————————————————————————–
1 Okkodo HS 69 0 0 0 0 50 19 0
2 GCA 42 0 0 0 0 42 0 0
3 Atletiks Matua 16 0 0 0 0 16 0 0
4 SSHS 10 0 0 0 0 0 10 0
5 JFK 5 0 0 0 0 5 0 0
6 Koko Track Club 4 0 0 0 0 0 4 0
Open Meet 3 – 3/18/2018 5:00:31 PM
Guam High
Event #1 – Open Men 5000 Meter Run
——
Name Time
——
1 Ben Middlebrook 17:28.42
2 Peter Olandez Okkodo HS 21:50.54
Event #2 – Open Men 110 Meter Hurdles
—–
Name Time
—–
1 Erjel Sanchez SSHS 18.50
2 Aaron Serrano Okkodo HS 19.40
Event #4 – Open Women 100 Meter Hurdles
—–
Name Time
—–
Danica Cacayan Koko Track Club 18.65
Marurine De la Paz GTFA 19.34
Kiana Rivera JFK 21.30
Event #5 – Open Mixed 60 Meter Hurdles
—–
Name Time
—–
Owen Zura 11.66
Ayden Anderson 11.66
Rynier Diramos Liguan Elementary 11.88
Naomi Powell 13.54
Myles David Macaluso 26.00
Event #6 – Open Men 100 Meter Dash
——
Name Time
——
1 Paul John Dimalanta GCA 12.08
2 Pedro Garrido 12.33
3 Aljie Alcantara Okkodo HS 12.36
4 Erjel Sanchez SSHS 12.41
5 Jake Piano Akasuki 12.66
6 Rizaldy Tugade JFK 12.74
7 Franklin Tindugan Okkodo HS 13.28
8 Luke Bukikosa 13.51
9 Calvin Reyes Okkodo HS 13.67
10 Melvin Reyes JFK 13.69
11 Dreyvin Apatang Okkodo HS 13.76
12 Kanta Yamazaki St.Paul 13.81
13 Jeric Alcantara Okkodo HS 13.86
14 John Joriz Ignacio Okkodo HS 13.87
15 Mo Refugia 13.89
16 Franklin Santos JFK 13.95
17 Christian Leonor Okkodo HS 14.07
18 Charles Manacmul Okkodo HS 14.15
19 Bernardo Angelo 14.67
20 Emil Estabillo JFK 14.94
21 Christian Ferrera Okkodo HS 16.64
Event #7 – Open Women 100 Meter Dash
———-
Name Time
———-
1 Shania Bulala 13.38
2 Anna Garrido Okkodo HS 14.46
3 Vanezza Gustillo Okkodo HS 14.66
4 Danica Cabrera Okkodo HS 14.71
5 Joy Lazaga SSHS 15.05
6 Seiana Nedlic Okkodo HS 15.47
7 Jastine Samson Okkodo HS 15.59
8 Crescelle Vicente Okkodo HS 15.71
9 Michelle Kalgren 16.80
10 Kyran Abad 17.52
Event #8 – Open Mixed 60 Meter Dash
——
Name Time
——
1 Rynier Diramos 10.11
2 Owen Zura 10.11
3 Darren Tamondong 10.77
4 Ayden Anderson 10.80
5 Naomi Powell 11.67
6 Tighe Keefe 12.50
7 Myles David Macaluso 18.94
Event #9 – Open Men 1500 Meter Run
——-
Name Time
——-
1 Derek Mandell Koko Track Club 4:21.44
2 Josh Illustre 4:30.26
3 Ryan Matienzo 4:35.04
4 Zachary Criss 4:38.87
5 Nick Keefe 4:40.83
6 Kyle Delos Santos Okkodo HS 4:50.72
7 Arwin Oftana Koko Track Club 4:52.61
8 Ren Dorion Okkodo HS 4:54.00
9 Tyler Atogiue Okkodo HS 5:00.93
10 Adrian Lacap Okkodo HS 5:01.54
11 John Paul Sanchez JFK 5:05.17
12 Ryniel Diramos SSHS 5:05.51
13 Randy Attao 5:05.81
14 Russendyll Dulay Okkodo HS 5:07.62
15 Mason Edrosa Okkodo HS 5:08.97
16 Darren Tamondong Okkodo HS 5:09.49
17 Christian Ecijan JFK 5:15.11
18 Lorenz Melliza Okkodo HS 5:15.33
19 Herman Palacios 5:16.04
20 Luke Bukikosa 5:16.73
21 Ricardo Olandez Jr Okkodo HS 5:17.65
22 Jayvee Elomina Okkodo HS 5:19.66
23 Josh Jireh Castro Okkodo HS 5:20.17
24 Jeremy Borja Koko Track Club 5:21.61
25 Rhogie Cayanan Okkodo HS 5:32.81
26 Darius Palad Okkodo HS 5:46.38
27 Yuma Ichikawa JFK 5:46.91
28 Thomas Haas 5:54.99
29 Andrew Kilgore Okkodo HS 6:00.09
30 Matthew Rivera JFK 6:18.56
31 Christian Estrada 6:27.52
32 Joren Jurilla Koko Track Club 7:16.62
Event #10 – Open Women 1500 Meter Run
—–
Name Time
—–
1 Genina Piolo Criss Koko Track Club 5:18.56
2 Hannah Zura 5:37.08
3 Madison Packbrier 5:56.46
4 Jackie Cabusi Okkodo HS 5:58.47
5 Aniah Pangilinan Koko Track Club 6:01.07
6 Celynn Lacsina Okkodo HS 6:06.65
7 Minami Cramer 6:33.72
8 Genesis Aquino Okkodo HS 6:48.12
9 Kerida Quinata SSHS 6:48.24
Event #11 – Open Men 400 Meter Dash
—–
Name Time
—–
1 Darin Pascua Koko Track Club 54.12
2 Paul John Dimalanta GCA 56.08
3 Jonas Oyardo 58.25
4 Rizaldy Tugade JFK 58.30
5 Jake Piano Akasuki 58.32
6 John Halili JFK 58.46
7 Arwin Oftana Koko Track Club 58.60
8 Aaron Serrano Okkodo HS 59.20
9 Kanta Yamazaki St.Paul 1:04.49
10 Keith Nauta St.Paul 1:06.80
11 Matthew Olandez 1:07.88
12 Josh Jireh Castro Okkodo HS 1:08.02
13 Charles Manacmul Okkodo HS 1:08.46
14 Rhogie Cayanan Okkodo HS 1:09.89
15 Jensen Giger St.Paul 1:24.01
Event #12 – Open Women 400 Meter Dash
—–
Name Time
—–
1 Celine Amparo 1:06.61
2 Ross Irish Gonzales 1:12.27
3 Nicole Glory 1:19.15
Event #13 – Open Men 400 Meter Hurdles
—–
Name Time
—–
1 Jeofry Limtiaco GCA 1:01.31
2 Kyle Delos Santos Okkodo HS 1:05.87
Event #14 – Open Women 400 Meter Hurdles
—–
Name Time
—–
1 Danica Cacayan Koko Track Club 1:17.11
2 Kiana Rivera 1:17.62
3 Ashley Jean Villanueva Koko Track Club 1:21.09
4 Marurine De la Paz GTFA 1:24.80
Event #15 – Open Men 800 Meter Run
—–
Name Time
—–
1 Marc Rajesh JFK 2:11.25
2 Kyle Collera 2:14.78
3 Casey Johnson 2:17.22
4 Zachary Criss 2:18.39
5 Carlson Ponce Okkodo HS 2:21.98
6 Arwin Oftana Koko Track Club 2:22.02
7 Ren Dorion Okkodo HS 2:24.15
8 Randy Attao 2:25.02
9 Franklin Tindugan Okkodo HS 2:27.60
10 Tyler Atogiue Okkodo HS 2:27.66
11 Mason Edrosa Okkodo HS 2:28.15
12 Jeremy Borja Koko Track Club 2:30.76
13 Adrian Lacap Okkodo HS 2:31.12
14 Russendyll Dulay Okkodo HS 2:31.55
15 Lorenz Melliza Okkodo HS 2:35.62
16 Darren Tamondong Okkodo HS 2:36.13
17 Jayvee Elomina Okkodo HS 2:36.70
18 Josh Jireh Castro Okkodo HS 2:39.73
19 Rhogie Cayanan Okkodo HS 2:40.10
20 Darius Palad Okkodo HS 2:43.12
21 Thomas Haas 2:45.62
22 Andrew Kilgore Okkodo HS 2:50.77
Event #16 – Open Women 800 Meter Run
—–
Name Time
—–
1 Genina Piolo Criss Koko Track Club 2:37.27
3 Madison Packbier Koko Track Club 2:45.40
4 Hannah Zura 2:48.59
7 Aniah Pangilinan Koko Track Club 2:51.38
2 Mikayla Piolo Criss Koko Track Club 2:52.89
8 Celynn Lacsina Okkodo HS 2:53.23
5 Minami Cramer 3:04.96
6 Genesis Aquino Okkodo HS 3:06.63
Event #17 – Open Men 200 Meter Dash
—–
Name Yr Team Seed
—–
1 Darin Pascua Koko Track Club 24.98
2 Pedro Garrido 25.73
3 Jake Piano Akasuki 26.01
4 Aljie Alcantara Okkodo HS 26.21
5 Aaron Serrano 26.70
6 Kyle Collera 27.18
7 Paul John Dimalanta GCA 28.01
8 Jeric Alcantara Okkodo HS 28.51
9 Franklin Santos JFK 28.82
10 John Joriz Ignacio Okkodo HS 29.15
11 Dreyvin Apatang Okkodo HS 29.28
12 Kanta Yamazaki St.Paul 29.86
13 Matthew Olandez 30.28
14 Keith Nauta St.Paul 31.64
15 Jensen Giger St.Paul 38.36
Event #18 – Open Women 200 Meter Dash
—–
Name Yr Team Seed
—–
1 Shania Bulala 27.97
2 Celine Amparo Koko Track Club 29.26
3 Vanezza Gustillo Okkodo HS 30.46
4 Kiana Rivera JFK 30.94
5 Danica Cabrera Okkodo HS 31.49
6 He'kaila Santos Okkodo HS 31.70
7 Ashley Jean Villanueva Koko Track Club 31.84
8 Ross Irish Gonzales Okkodo HS 31.92
9 D'Shanae Cruz 33.24
10 Seiana Nedlic Okkodo HS 33.52
11 Jastine Samson Okkodo HS 33.76
12 Jonah Santos JFK 33.97