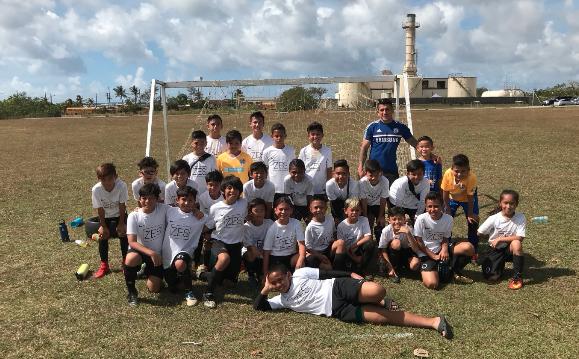 PRESS RELEASE – (Adelup, Guam) ZES FC is headed to Saipan to participate in a Spring Break Tournament hosted by Saipan Soccer School. This tournament is a friendly invitational match aimed to strengthen friendship and to immerse our players in the local culture. This will be the first time for most of these U13 and U11 players to visit the island of Saipan.
The team departs Saturday, March 24 on United Airlines, the teams travel partner. They will be playing matches on March 25th and 26th. Day 1 matches take place at the TSL Sports Complex which is an indoor soccer facility with a turf surface. Day 2 matches will be played at the San Antonio Middle School field. Participating Saipan teams include Tan Holdings FC, Southern United FC, Matansa FC, and Kanoa FC. The team returns to Guam on Tuesday, March 27th.
ZES FC will be led by coaches Jonahan Romero and Jason Cunliffe. The total contingent consists of 15 players, two coaches and 19 parents. This will be the second trip for ZES FC since its inception last summer 2017. They participated in friendly matches in Manila, Philippines which were very successful and the team hopes to repeat their performance in Saipan. International play and off island travel are all a part of the developmental strategy for the ZES FC organization.
As part of the preparation, ZES FC has been setting up friendly matches with local soccer clubs to include Wings FC, Guam Shipyard Wolverines and the Community First Dededo FC. ZES FC also hosted the LA Galaxy Camp last November and is already in the planning stages for the camp to return again this coming November. Future travel plans for the club include the Singa Cup in Singapore, Asia's premier international youth football tournament.