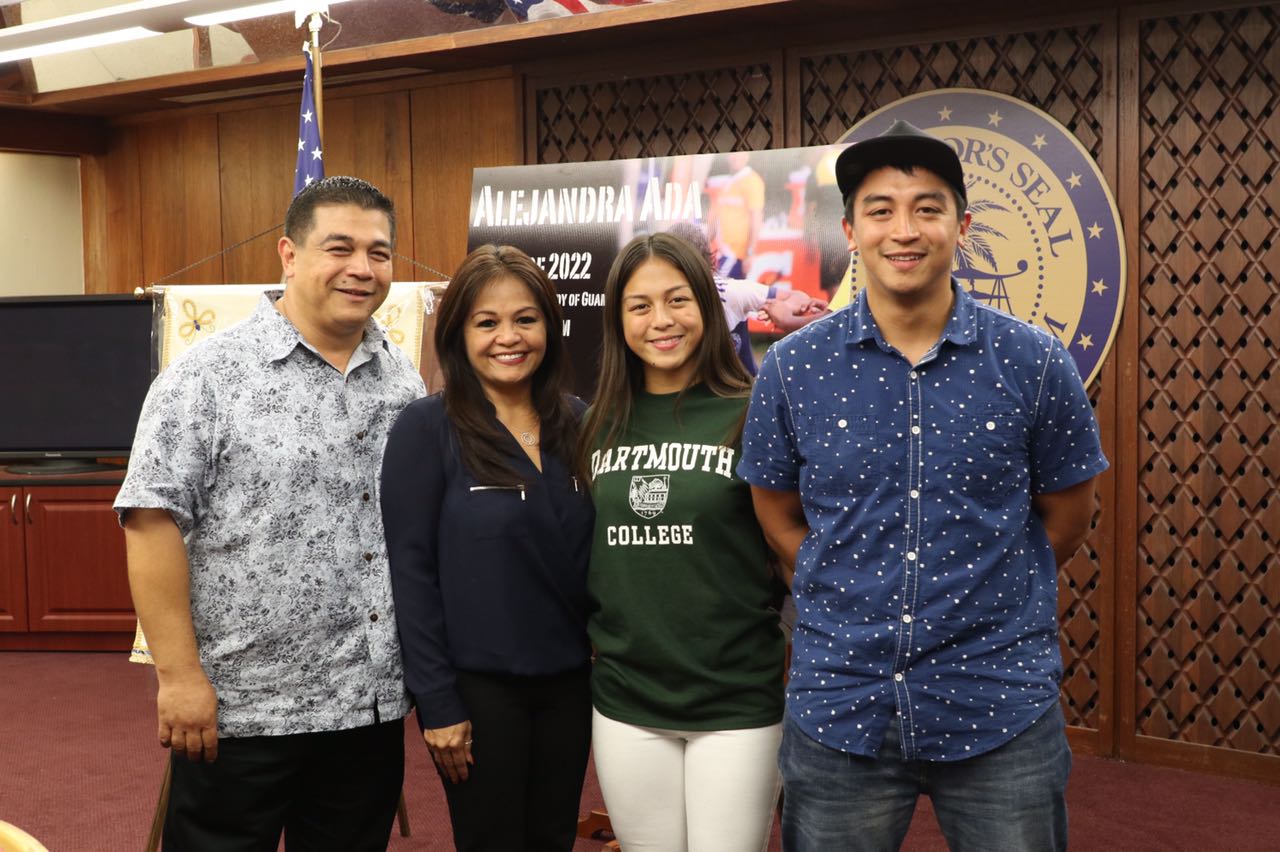 By Robert Balajadia
2018's biggest collegiate sport signing from Guam has been flying so low under the radar that if it wasn't for her Thursday afternoon official signing, not many people would have known about it.
Rugby star Alejandra Ada officially signed her letter of intent to attend schooling and play rugby for Dartmouth College, a Division I Ivy League College  in New Hampshire. Ada held her signing at the Governor's Conference Room with Governor Eddie Baza Calvo, first Lady Christine Calvo, Lt. Governor Ray Tenorio, father Tony and mother Annette and brother Boo, friends and family in attendance.
Ada's signing was a big day for the Cougar rugby star, but the Dartmouth decision was made in 2017 after Dartmouth's head coach Katie Dowty went out of her way to recruit Ale. Ada was attending a Nike Rugby camp in Danton where Dowty so happened to be, and Ada's skills were enough to generate a conversation with Dowty on her plan for schooling.
Ada did research on Dartmouth after her conversation with Dowty and she was immediately hit with the intimidation of applying to an DI ivy league school. But like her rugby prowess, Ada put forth her application into a college that has a 10% acceptance rate.
Getting into Dartmouth on an academic level would be tough enough, but Ada's recruitment as a rugby player on top of her grades is a truly astounding accomplishment. Academics proved no issue for Ada as she's always been on top of her studies.
"I've always been about school. Academics has always been my thing; I loved getting good grades. My parents stressed that my grades are really going to count in high school so I always made sure to be on top of it. It was difficult, but I always made sure I did my school work," said Ale.
Ada had applied in December and was told verbally that she was accepted in February. Ale received her official acceptance letter in March and wrestled with the idea of having a signing before finally submitting to do one after parents and peers egged her on.
Over the Spring Break, Ale took a trip to Dartmouth to meet her future teammates and she's already getting to work on preparing for collegiate rugby.
"I watched their practices and gym sessions and I know I have to work my way there. I'm going to start hitting the gym and they're going to send me a regimen, so I'll be ready," said Ada.
Ale will depart on August 14th to officially begin off-season training with her team.
The Journey
Ada isn't the tallest player as she stands 5'1″ and weighs just North of 100 lbs, but she's tough as nails and her coaches call her a 'coaches dream' with her ability to execute what's being taught.
"I like surprising people," said Ada on her small stature.
Ada's rugby story began after first cousin and current Guam Rugby Vice President Conrad Kerber introduced her to the sport during Ale's 6th grade year at Bishop. Girls middle school rugby is flag, but Ada was hooked after being immersed in the sport.
"I liked the team aspect of the game and how we all worked to achieve one goal. I liked the physicality and coming up with different ways to reach that goal," added Ale.
And playing varsity rugby since a freshman was no shock to her as Kerber would put Ada on his women's teams to get her used to the speed and physicality that high school would present.
Even though Ada wasn't able to hoist up a IIAAG rugby trophy, her senior season was by far her most memorable.
"Our chemistry just got a lot stronger and we accomplished a lot of things that we planned to at the beginning of the season. We come up with standings and we placed ourselves around 5th and below to finish 2nd was great because we worked so hard to get there."
PHOTO GALLERY BROUGHT TO YOU BY:

COMING SOON …
GUAM SPORTS ON HOLD DUE TO SUPER TYPHOON MAWAR
QUICK HITS
Bishop Obispos beat Mt. Carmel for the IIAAG Middle School Girls Basketball championship 37-25.
—————————————-
The Benavente Roadrunners crushed the Agueda Pirates 17-1 to win the 76 PONY Middle School Baseball League. Rodney San Nicolas was a beat, striking out 13 batters in a complete game while going 4-for-4 at the plate, including a homer and 4 RBI.