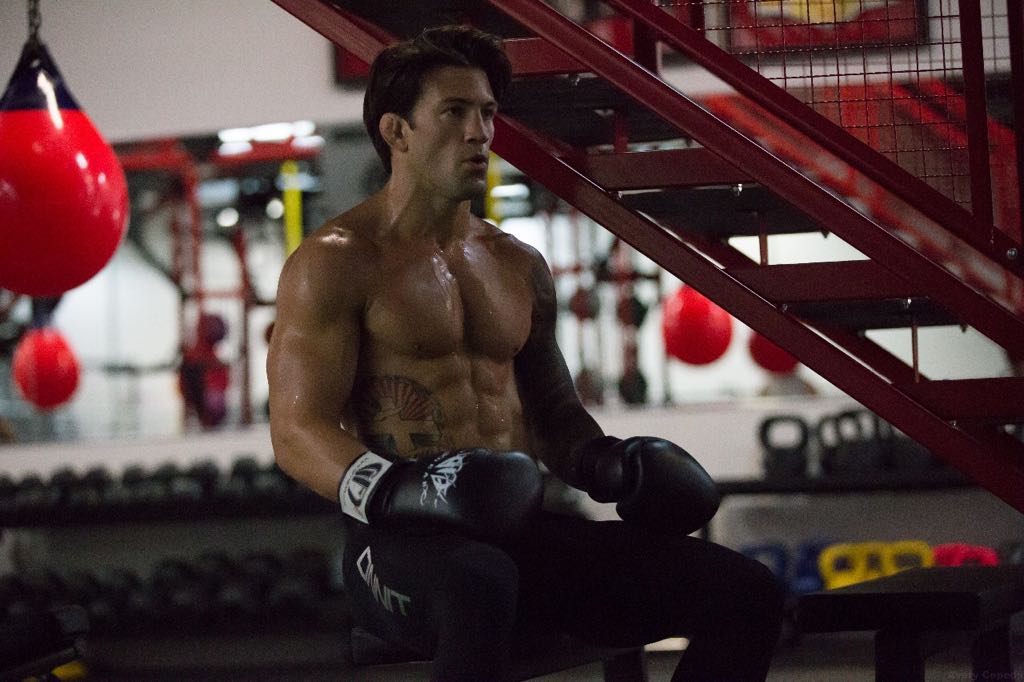 By Patrick Lujan
JJ 'Superman' Ambrose has been in the fight game for a dozen years already and this weekend, he makes his return back into the Bellator cage in Temecula, CA.
Ambrose fought twice with Bellator in 2013, splitting both fights for a 1-1 mark with the promotion (28-7 overall). Since then, he's moved to Guam with his wife Francesca and daughter Juliet and set up his very own Steel Athletics gym last year.
As a more mature fighter almost five years later, Ambrose looks to make his mark with the new-look Bellator this time around. With a full fight camp all done locally, Ambrose spoke to GSPN prior to leaving island for fight week gearing for Bellator 193. Cornering Ambrose will be Ricky Camp and Dan O'Connor.
GSPN: It's been six months since you last fought; more than four years since your last Bellator fight. How pumped are you for this one?
Ambrose: Man I'm excited to get back in there! I've matured so much since the last time I stepped in the Bellator cage and look forward to showing what the team and I are capable of, this is the first step in the journey.
GSPN: Bellator is a different promotion since you last fought with them and Scott Coker took over with some big names and big moves. How important is it for you to make a big splash on your return to Bellator?
Ambrose: It's very important for me to make our presence known. Like I've said since the beginning of our opening, the goal isn't to be the best gym on Guam, it's to show the world how strong the people of this island are. I'm here to help pave the way for more fighters to get signed into Bellator.
GSPN: You're 30 years old now after fighting professionally for 12 years. What advice would you give to the 18 year old J.J.?
Ambrose:: I would tell a young me to trust the process and don't "spar" to get in shape. I can't tell you how many needless gym wars I've been in that would have been better saved for the cage. Train more conditioning, more technique, etc.
GSPN: You and teammate Frank Camacho are fighting the same weekend just a day apart. Has that made camp easier with both of you targeting virtually the same time to fight?
Ambrose: Having the same schedule has been ideal. We're both lightweights and dedicated to our profession, putting us the same weekend allowed us to "peak" at the same time, so training camp has been a dream. We're both physically and mentally in our prime.
GSPN: Have you two put any side bets on the better performance? 🙂
Ambrose: Frank is the better showman by far. When he took a shot in his first UFC appearance and yelled for more at his opponent, his destiny was sealed. He truly is a great warrior and a testament to the strength of this island. No side bets, I concede!
GSPN:. Your opponent Saad Awad is a crafty veteran who is 1-1 against Guam's Joe Duarte (they fought in 2011 and 2014). Where do you see yourself better than he is in your game?
Ambrose: Joe actually won the first fight in what probably should have been a trilogy. After dropping Saad in that second fight, he just got caught in a bad position. In this sport that's all it takes, one slip up and it's over. Since this fight was signed I felt I needed to bring a very tactical approach with Saad. I've worked on the areas where I felt I was weakest, it's just been all around the best fight camp I've had to date. That's the goal, always improve upon the last one.
GSPN: Go ahead and thank everyone you need to.
Ambrose: I'm nothing without my team and the people around me. I go in the cage alone but I am not alone. The sponsors who believe in me and support this dream. My wife and daughter who shower me with love and headaches. My staff at the gym who keep the ship sailing while I'm gone.
I've been elevated by the people of Guam in many ways lately, I feel the energy. The man who stopped me on the beach yesterday and said best of luck, the immigration officer in the Payless produce department who saw me running and gave me a fist bump. That's the every day stuff that encourages and inspires me to continue when I can't. My wife's grandma says it best; Only on Guam. Thank you friends, family, and the perfect strangers of this island. Be blessed.

QUICK HITS
Guam MTB National Championship: Edward Oingerang and Jennifer Camacho are your 2023 MTB national champions. Oingerang finished the course in 1:13:24 while Camacho won her second straight title in 54:08.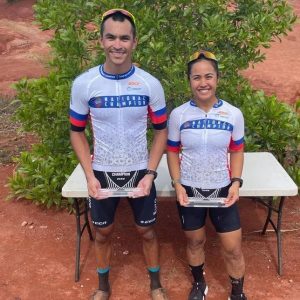 ——————————————
Kobe Miyashita, with St. John's coach Arvin Flores, was named the 2023 IIAAG Middle School Boys Volleyball MVP!