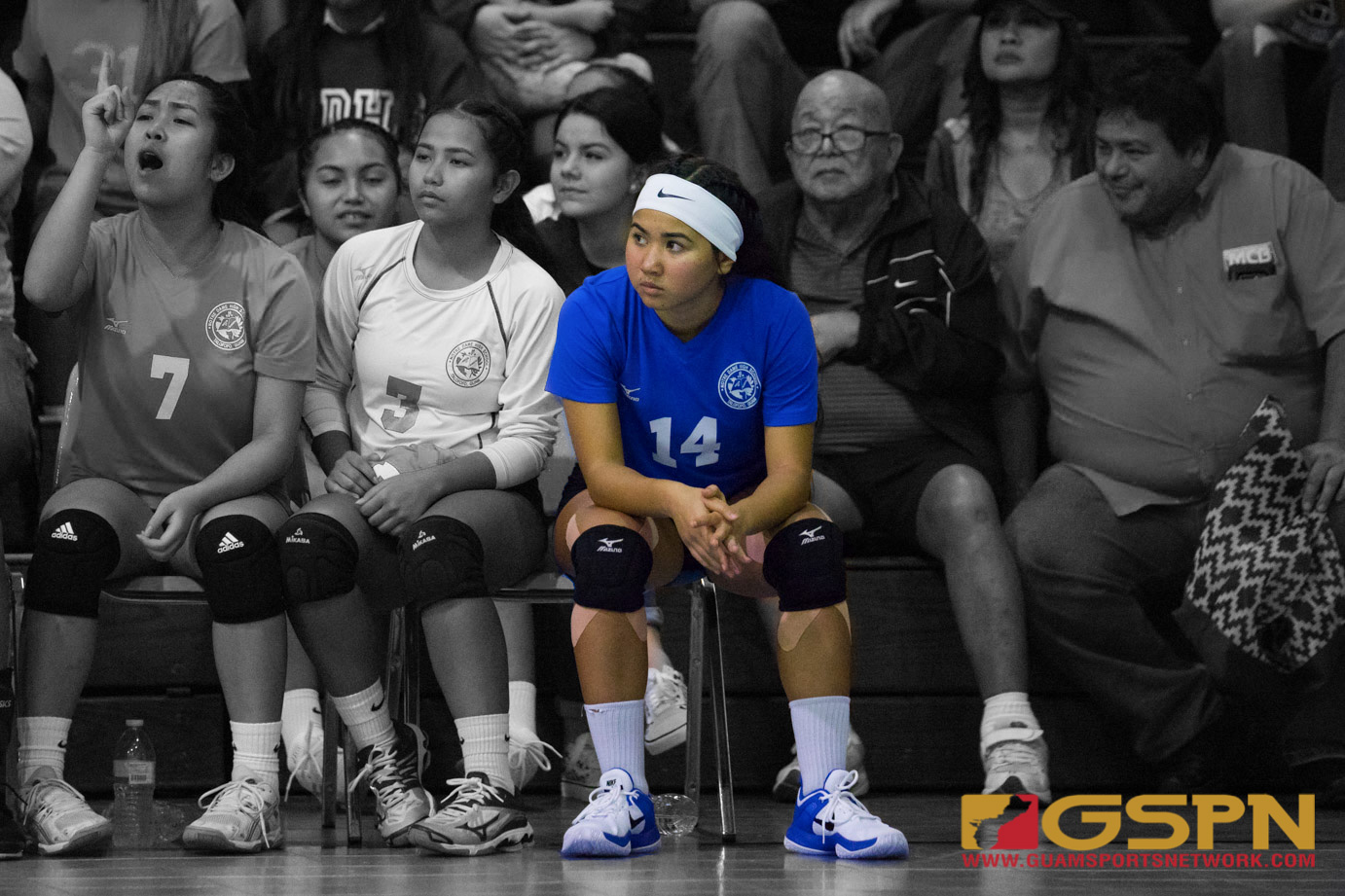 By Robert Balajadia
The Notre Dame Royals had just ended a 21-year girls volleyball title drought in 2017 and the first words team leader Carlie Quinata could think of post championship game were simple, "It feels like all the hard work finally paid off."
The statement itself has become an unavoidable sports cliche, but Quinata's story is far from the average athlete.
'Hard work' just barely describes what went into molding Quinata as she went from keeping benches warm to the hottest topic of the 2017 season, which eventually led to her earning the girls volleyball MVP award that season. Throw that into a 17-kill performance in the championship game and the birth of her nickname 'Hand Quake', Quinata has truly come a long way.
The come up
Carlie's name was forever absent whenever there was chatter about the best middle school athletes getting ready to take the leap into high school, which is mostly expected from someone who almost never saw playing time. Quinata barely made the B-Team in 6th grade playing for Bishop Baumgartner, but managed to get into the A-Team for 7th and 8th grades.
"I would just watch some of the older girls play and wish I could be like them and be as good," said Quinata of her middle school days. "But wishing wasn't going to get me anywhere, only hard work and commitment was."
Nothing Carlie experienced in middle school prepared her for high school, which was a big shock for an incoming freshman. Gone were the simple rotations and just 'getting the ball over' mentality as Quinata was exposed to roles, systems and schemes.
"In middle school it's usually a bump, set, spike kind of deal. It was very different," said Carlie.
"Understanding the system was very hard for her. I don't dumb down the game for freshmen. She had a hard time knowing rotations and her fundamentals were off. She had some skill, but it wasn't enough to earn a lot of playing time," said ND assistant and JV coach Art Stanley, who started coaching at ND during Quinata's freshman year.
Carlie made the JV team for ND, but still didn't find much court time. Seniors Destiny Castro, Demi Brennan and Kristi Stone were able to lead the Royals to the championship game that year where they would fall to the GW Geckos. Quinata was one of three freshmen called up to the championship game roster, including Brianne Leon Guerrero. But not to play, instead to just get a feel of what it means to be in a championship setting.
Quinata realized two important things from that title-losing game:
"Passing was very weak and we couldn't get into our system and we just shut down. After we lost, I knew the team would be losing all the starters the following season so I told coach Art [Stanley] that I wanted to be better and work on my skills. I told him I'll do whatever it takes and whatever he wanted me to do."
The Art of success
Coach Art Stanley is no stranger to winning. Stanley was the head coach of the former 2011 girls volleyball champion Sanchez Sharks and has since become a staple in coaching the Bishop Obispos. His role in Quinata's rise to volleyball stardom was most instrumental.
Stanley had just picked up the head coaching gig for the Obispos after his first year under ND and told Quinata to meet him at his middle school practices to get to work on bettering her game. Quinata had her eyes set on becoming a lethal hitter, like most of the stars in volleyball, but coach Art had very different plans.
"I remember walking into the gym the first day and I started warming up preparing to do some hitting. Coach looked at me and goes 'what are you doing?'. I told him I was warming up to get some hitting done and he said 'no you're not, you're going to work out,'" said Carlie.
Quinata didn't even touch a volleyball her first week into off-season training. Instead, she had to push shirts around the gym in a sweeping fashion while the middle school girls would be looking on. Carlie was even given her own box to do step ups, calf raises and all sorts of plyometrics that she didn't even know existed. Some days, coach Art would tack on an extra 50 lbs. of weights for her to push around the gym.
"I wanted to try and see if she would even be back after the first day," said Stanley.
But Carlie would come back, everyday, for the whole season.
"She would get really irritated because she really wanted to hit, but I'd make her do 1000 passes before she could even get five minutes of hitting," said Stanley.
There were a few instances through Stanley's first season coaching Carlie that made him understand that mentally she was no normal player. But the most memorable moment came in a mid-season game against the St. John's Knights where Carlie was having a bad night. She came in during the 2nd set and couldn't get anything going, causing her to be benched in the 3rd as ND eventually lost that game.
"She came up to me and said 'I don't ever want to be benched again'. I was shocked, like 'who is this freshman?' so I wanted to see if she was challenging me. I asked her straight up what did she mean by that, but she said she was just talking to herself about herself. She never wanted to have the feeling of being benched again and she was challenging herself. Her way of communicating isn't standard, but I would challenge her time and again and she's always proven that she can handle it," said Stanley.
Quinata's volleyball strength would end up being her defense and passing all the while developing a consistent stroke as a hitter.
The fruits of her labor
Fast forward to Quinata's sophomore season. With a new attitude and wealth of off-season work, Carlie wasn't just gunning for a spot on the varsity team, she was trying to take starting positions that weren't supposed to be for her.
"I knew no one else had been working as hard as I was which gave me the advantage. I fell in love with the sport and developed the drive," said Carlie.
Carlie ended up making the varsity team, being named a team captain and the team's starting outside hitter, a spot that was supposed to belong to then junior Davie Rae LeFever, who was moved to middle.
Quinata's hard work and dedication all started to come into fruition. Coach Art played no part in getting Carlie into varsity as he wanted to truly see what became of his first solo-project in Carlie.
"I just told her that she had to be first in line for each drill and execute well. Her attitude was showing through and that's what made her destined for greatness," said Art.
The decision to bring up Carlie came down from head coach Mike Rabago, who witnessed Carlie putting in the off-season work when he would pick his daughter Manami up from middle school volleyball practice at Bishop.
"Carlie is a special kind of beast. From hitting the gym, getting extra reps passing/hitting and then playing club ball under coach Art; what I saw from her was someone determined to start," said Coach Rabago.
Carlie would get extra workout times during the ND boys practice everyday and she got a taste of off-island competition which made her more aggressive and competitive.
"Her and Bri (Leon Guerrero) came up to me after that championship game and told me 'don't worry coach, we'll get you one', but I didn't entertain that comment coming from freshmen. The following year, we set a goal to make it to the top four and we did. That wasn't bad for being led by a couple of bench players. And after that year, she repeated the cycle to continue to train and get better," said Rabago.
2017 would be an unforgettable year for Quinata and the Royals as they successfully ended the 21-year drought with Carlie being named the season MVP.
The injury; the return
Quinata was completing her junior year playing soccer for the Royals. Just two weeks into the season, she would suffer a torn ACL in April, which ended her soccer season and put in jeopardy her senior year of volleyball.
"I was terrified when I found out the news. My whole world just collapsed," said Carlie.
"We just sat there for about 30 minutes. I didn't know what to say to her because I knew how hard she worked for this," said Art.
Carlie responded in the most Carlie way: "I'm going to get my surgery next week. I'll be ready for the season."
Quinata would get surgery done on May 4th and the only thing on her mind was to be ready for the upcoming season. Coming back from the injury so soon is ludicrous to most, but Quinata is wired differently, a 'Mamba Mentality' if you will. She uses a quote from the great Kobe Bryant issued to Gordon Hayward on his season ending injury to get through the toughest days.
So now, Carlie puts in time at Custom Fitness to try and get back to her MVP self and has since been regulated to backline defense and serving for ND in the season's early goings.
"People ask me why I still go to practice even if I can't play like before, but it's more than just a sport to me, it's practically my life. I go to support my team even if I can't be on the court with them. It kills me to just stand there and watch, but it would hurt more to cause a permanent injury and never go back on the court," said Quinata.
The injury has caused Carlie to reflect on her journey. She advises all athletes and competitors to not take playing the sport they love for granted.
"When you're playing, cherish every second of the games, practices and playing for a crowd because you never know when that opportunity will be taken away from you."
Incorporating Carlie hasn't been difficult from Rabago's stand point given her willingness to accept her new role.
"Don't get me wrong, we really need her, but having her on the bench as a second voice allows her to reach the team from a players level where she continues to guide and give pointers. Sometimes I even have to tell her to shut it," laughed Rabago.
"She really wants to get on the court this season, but she has a future. She can play for our national team or even another college team once she's 100% healthy."
Carlie is still getting used to her newest role on the team, but she's approaching this challenge the same way she approached getting better in volleyball – working her ass off harder than anyone else.
(photos shot and edited by Michael Blas)