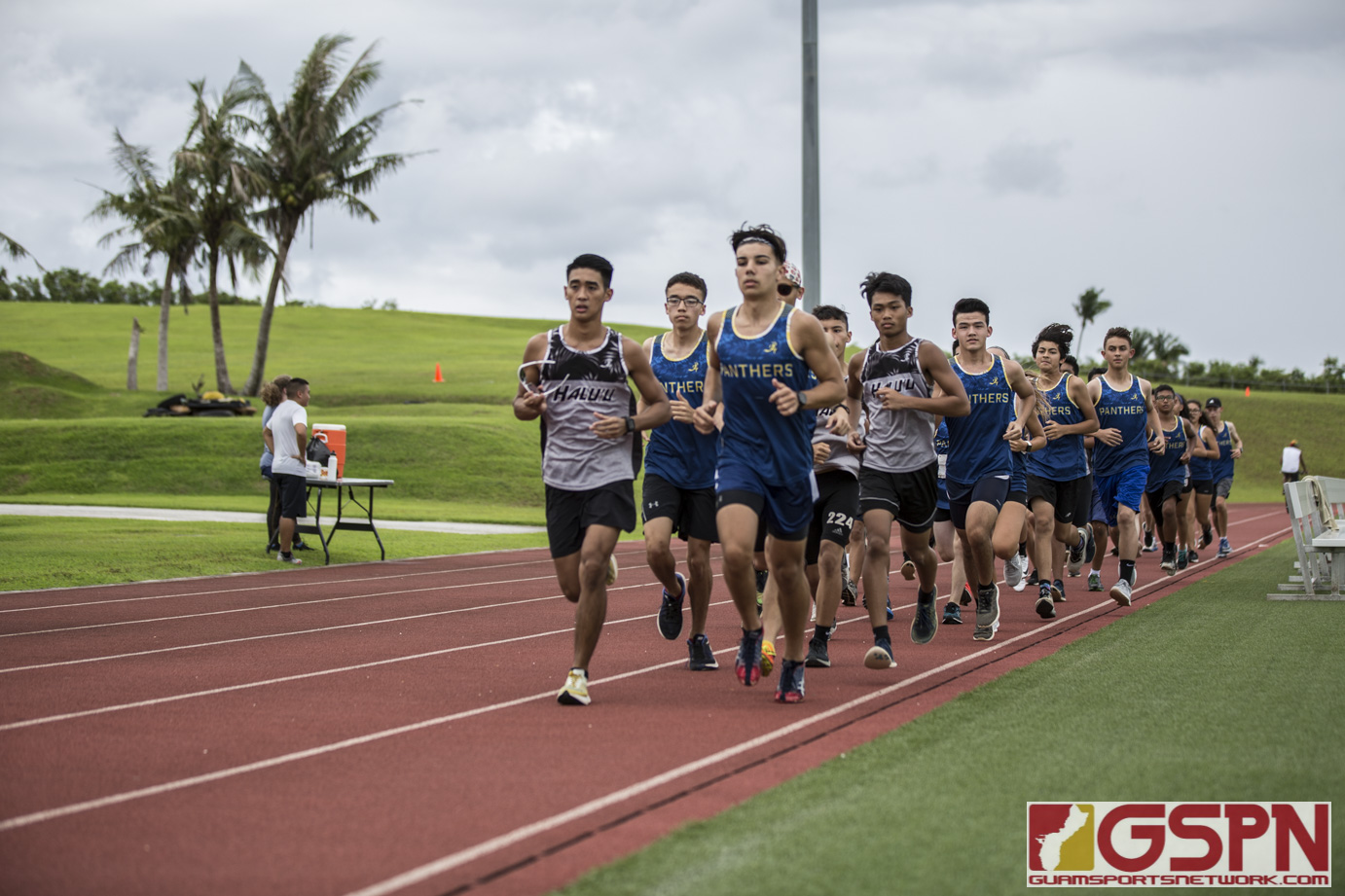 Thursday evening's cross country meet proved to be a nail-biter, but the Sanchez Sharks defeated the defending champion, Guam High Panthers in the boys race after securing the 2nd, 3rd, 4th and 7th spot for a 27-29 edge. The Lady Panthers won their match via forfeit.
Panther Nicholas Keefe (18:41:27) locked up the top spot for the Sharks but the trio of Cody Villegas (19:16:44), Rico Castro (19:21:63) and Grandville Tandoc (19:30:03) cashed in big times for crucial points.
Check out the full results and race times below the gallery!
PHOTO GALLERY BROUGHT TO YOU BY:
RaceTab by MileSplit/FloSports Guam Central Athletics, Guam Centr
IIAAG 18-19 Cross-Country Meet #2 August 30 – 8/30/2018 11:57:26
St. John, , Guam
5,000m SJS vs SHS
=================================================================
Name Yr Team Time Pts
—————————————————————–
Girls
—————————————————————–
1 JENNA HAN 12 St. John School 20:58.82
2 KAILEA WIESE 12 St. John School 22:41.88
3 Geordyn Santos 11 Southern High School 23:21.95 1
4 JENNY MANN 10 St. John School 26:48.27
5 Edyn Santos 9 Southern High School 27:16.32 2
6 OLIVIA WEN 10 St. John School 30:15.71
7 Agatha Vaughan 11 Southern High School 31:03.53 3
8 Raina Okada 11 Southern High School 31:46.80 4
9 Maryann Vaughan 10 Southern High School 32:57.46 5
10 Raisa Sinel 11 Southern High School 33:22.08 6
—————————————————————–
Boys
—————————————————————–
1 LeonGuerrero Carlos 11 Southern High School 17:33.97 1
2 MARC RAJESH 11 St. John School 17:53.10 2
3 PHILIP SUHR 12 St. John School 18:08.49 3
4 ADAM CRUZ 9 St. John School 18:19.92 4
5 THOMAS YSRAEL 9 St. John School 19:33.50 5
6 LeonGuerrero Ramon 11 Southern High School 19:34.70 6
7 Wolfe Zach 11 Southern High School 19:55.09 7
8 Vegafria Craig 11 Southern High School 20:29.61 8
9 Layon Peter 12 Southern High School 21:11.55 9
10 ERREN CHEN 9 St. John School 21:30.19 10
11 Gumataotao Skyler 11 Southern High School 21:38.44 11
12 TREY LARSEN 12 St. John School 22:01.98 12
13 HONGWEI LIU 12 St. John School 22:15.08 13
14 Diaz Joaquin 11 Southern High School 22:32.64 14
15 DERRICK YEN 10 St. John School 22:42.33
16 Vegafria Christian 11 Southern High School 22:46.12
17 Quinata Levi 10 Southern High School 23:12.80
18 BRIAN JOSEPH 10 St. John School 23:22.45
19 LUKE JOHNSON 12 St. John School 24:42.89
20 BRIAN LEE 10 St. John School 26:17.04
21 Fejeran Joshua 11 Southern High School 29:02.87
22 FRED OTTE 9 St. John School 32:58.97
Girls IIAAG 5,000m SJS vs SHS Team Scores
=================================================================
Team Pts 1 2 3 4 5 (6) (7)
=================================================================
1 Southern High School 15 1 2 3 4 5 6 –
Total Time: 2:26:27 Average: 29:17.22 1-5 Split: 9:36
Boys IIAAG 5,000m SJS vs SHS Team Scores
=================================================================
Team Pts 1 2 3 4 5 (6) (7)
=================================================================
1 St. John School 24 2 3 4 5 10 12 13
Total Time: 1:35:26 Average: 19:05.04 1-5 Split: 3:38
2 Southern High School 31 1 6 7 8 9 11 14
Total Time: 1:38:45 Average: 19:44.99 1-5 Split: 3:38
5,000m JFK vs THS
=================================================================
Name Yr Team Time Pts
—————————————————————–
Girls
—————————————————————–
1 Chasity Tenorio 9t John F Kennedy High 22:37.14 1
2 Mya Tolerson 10 John F Kennedy High 24:31.83 2
3 Viannka Leon Guerrero 12 John F Kennedy High 25:51.03 3
4 Ariya Limtiaco 12 John F Kennedy High 29:00.68 4
5 Jonah Ry Santos 10 John F Kennedy High 29:27.73 5
6 Elaine Cases 12 John F Kennedy High 31:03.02 6
7 Laryn Techaira 10 John F Kennedy High 39:47.10 7
—————————————————————–
Boys
—————————————————————–
1 Jerimiah Rosario 11 John F Kennedy High 18:53.63 1
2 John Paul Sanchez 12 John F Kennedy High 19:30.94 2
3 Joseph Aguon 11 John F Kennedy High 19:33.56 3
4 Terrence Johnson 10 Tiyan High School 19:50.14
5 Jovan Pineda 10 John F Kennedy High 20:07.42 4
6 Mark Imazu* 9t John F Kennedy High 20:28.75 5
7 Cain Pamintuan 12 John F Kennedy High 20:57.68 6
8 Melvin Reyes 10 John F Kennedy High 21:04.10 7
9 Rizaldy Tugade 10 John F Kennedy High 21:24.40
10 Andre Pancho 11 John F Kennedy High 22:02.52
11 Yuma Ichikawa 10 John F Kennedy High 22:23.07
12 Yvan Fan Chu 12 John F Kennedy High 22:25.62
13 Jesse Jean-Louis 9t John F Kennedy High 22:32.46
14 Edward Canales 12 John F Kennedy High 23:28.43
15 Angelo Bernardo 12 John F Kennedy High 23:50.77
16 Michael Sampang 10 Tiyan High School 23:50.82
17 Gian Villanueva 12 John F Kennedy High 24:12.96
18 Czar Rosas 9t John F Kennedy High 24:29.13
19 Aiden Flory Tiyan High School 24:50.31
20 Matthew Rivera 10 John F Kennedy High 25:17.07
21 Matthew Hix 11 John F Kennedy High 26:02.35
22 Taiga Sato 11 John F Kennedy High 28:33.13
Girls IIAAG 5,000m JFK vs THS Team Scores
=================================================================
Team Pts 1 2 3 4 5 (6) (7)
=================================================================
1 John F Kennedy High 15 1 2 3 4 5 6 7
Total Time: 2:11:29 Average: 26:17.69 1-5 Split: 6:51
Boys IIAAG 5,000m JFK vs THS Team Scores
=================================================================
Team Pts 1 2 3 4 5 (6) (7)
=================================================================
1 John F Kennedy High 15 1 2 3 4 5 6 7
Total Time: 1:38:35 Average: 19:42.86 1-5 Split: 1:36
5,000m GHS vs SSHS
=================================================================
Name Yr Team Time Pts
—————————————————————–
Girls
—————————————————————–
1 Chloe Hayes So Guam High School 24:24.58
2 Sameha Wilbank So Guam High School 27:02.48
3 Isabella Salcepuedes 12 Simon Sanchez High S 27:43.26 1
4 Kirsten Riley Ju Guam High School 31:36.77
5 Raven Leonen 10 Simon Sanchez High S 32:05.78 2
6 Jerymae Segovia 9 Simon Sanchez High S 32:07.70 3
7 Edeenalyn Gatmen 12 Simon Sanchez High S 32:53.43 4
8 Audra Middelbrook Ju Guam High School 33:17.58
9 Ruth Bautista 12 Simon Sanchez High S 37:40.64 5
—————————————————————–
Boys
—————————————————————–
1 Nicholas Keefe Ju Guam High School 18:41.27 1
2 Cody Villegas 10 Simon Sanchez High S 19:16.44 2
3 Rico Castro 11 Simon Sanchez High S 19:21.63 3
4 Granville Tandoc 11 Simon Sanchez High S 19:30.03 4
5 Mason Calma Guam High School 20:02.18 5
6 Ethan Garcia Ju Guam High School 20:02.69 6
7 Ryniel DiRamos 12 Simon Sanchez High S 20:28.73 7
8 GianCarlo Hemerlein So Guam High School 20:31.06 8
9 Ronan Perry Fr Guam High School 20:32.02 9
10 Alex Rink Fr Guam High School 20:51.90 10
11 Jerald Bagain 11 Simon Sanchez High S 20:52.22 11
12 Marvin Mendoza 9 Simon Sanchez High S 21:06.57 12
13 John Danieli Se Guam High School 21:06.93 13
14 Tucker Pullen Fr Guam High School 21:30.00
15 John Medina 10 Simon Sanchez High S 21:34.16 14
16 Dru Sangueza 9 Simon Sanchez High S 21:51.38
17 Nathan Paz So Guam High School 22:49.88
18 Caleb Santiago 9 Simon Sanchez High S 22:51.46
19 Remoh Nel Sanchez 12 Simon Sanchez High S 23:23.03
20 Isaiah Malig 11 Simon Sanchez High S 23:29.13
21 Anthony Pellosma Fr Guam High School 23:58.09
22 Jimmy Castro Fr Guam High School 24:16.07
23 Vincent Suamer Simon Sanchez High S 24:29.87
24 Julio Devera 12 Simon Sanchez High S 25:37.25
25 Richard Grant So Guam High School 27:19.55
26 Teo Galvez 9 Simon Sanchez High S 27:38.98
27 Jon Lordios 10 Simon Sanchez High S 27:40.52
28 Kevin Paat 10 Simon Sanchez High S 30:54.77
29 Denniel Taloyo 9 Simon Sanchez High S 32:30.73
Girls IIAAG 5,000m GHS vs SSHS Team Scores
=================================================================
Team Pts 1 2 3 4 5 (6) (7)
=================================================================
1 Simon Sanchez High S 15 1 2 3 4 5 – –
Total Time: 2:42:31 Average: 32:30.17 1-5 Split: 9:58
Boys IIAAG 5,000m GHS vs SSHS Team Scores
=================================================================
Team Pts 1 2 3 4 5 (6) (7)
=================================================================
1 Simon Sanchez High S 27 2 3 4 7 11 12 14
Total Time: 1:39:30 Average: 19:53.81 1-5 Split: 1:36
2 Guam High School 29 1 5 6 8 9 10 13
Total Time: 1:39:50 Average: 19:57.85 1-5 Split: 1:51
2.5 miles FD/AOLG vs GWHS
=================================================================
Name Yr Team Time Pts
—————————————————————–
Girls
—————————————————————–
1 Anika Almario 9t Academy of Our Lady 19:32.08 1
2 Gissa Dumaroag 9 George Washington Hi 19:57.54
3 Lola Martin 9t Academy of Our Lady 20:15.24 2
4 Rian Guzman 9t Academy of Our Lady 20:55.37 3
5 Sheila Dumaraog Academy of Our Lady 21:04.96 4
6 Sierra Tenorio 9t Academy of Our Lady 21:41.23 5
7 Elizabeth Desingano 9 George Washington Hi 22:18.66
8 Maria Egurrola 9t Academy of Our Lady 23:16.04 6
9 Ave Santos 9 George Washington Hi 23:48.03
10 Railee Webb 10 George Washington Hi 24:27.55
11 Ave Borja 9t Academy of Our Lady 30:24.91 7
—————————————————————–
Boys
—————————————————————–
1 Christian Ruder 10 George Washington Hi 15:49.64 1
2 Luke Bukikosa 12 George Washington Hi 15:50.16 2
3 Roy Manaloto Father Duenas Memori 16:46.17 3
4 Aaron Gumataota Father Duenas Memori 17:34.18 4
5 Ethan Storie Father Duenas Memori 17:40.64 5
6 Stephen Sttentenbenz Father Duenas Memori 17:48.32 6
7 Alexander Hernandez Father Duenas Memori 18:30.56 7
8 Matthew Cadiz Father Duenas Memori 18:39.43 8
9 Kai Suzuki Father Duenas Memori 18:54.62 9
10 Matrix Dydasco 12 George Washington Hi 18:55.77 10
11 Devin Lamb Father Duenas Memori 19:13.71
12 Andrew Alconaba 9 George Washington Hi 19:43.28 11
13 Jacob Herrera Father Duenas Memori 19:45.42
14 Nathaniel Canlas Father Duenas Memori 20:02.40
15 John Tenorio Father Duenas Memori 20:25.18
16 BRian Songco Father Duenas Memori 20:31.04
17 Dayton Damian Father Duenas Memori 20:44.97
18 Nathan Perez 9 George Washington Hi 20:46.28 12
19 Luke Taisapic Father Duenas Memori 21:02.67
20 Resty Versario 9 George Washington Hi 21:29.73 13
21 Michael Flisco 10 George Washington Hi 21:32.00 14
22 Geoffrey Gersaniba Father Duenas Memori 21:38.73
23 Jonan Fejeran Father Duenas Memori 22:10.79
24 Justin Callang Father Duenas Memori 23:38.42
25 Nathaniel Manglona Father Duenas Memori 23:42.36
26 Ethan Guzman Father Duenas Memori 23:44.54
27 Jarred Anulao Father Duenas Memori 24:08.32
28 Andrian Baluyut Father Duenas Memori 24:17.83
29 Jacob Aguon Father Duenas Memori 25:05.55
30 Andrian Edusada Father Duenas Memori 27:25.55
31 Brian Mochida Father Duenas Memori 29:49.86
32 Carlo Granillo Father Duenas Memori 31:04.91
33 Ethan Umagat Father Duenas Memori 39:33.44
Girls IIAAG 2.5 miles FD/AOLG vs GWHS Team Scores
=================================================================
Team Pts 1 2 3 4 5 (6) (7)
=================================================================
1 Academy of Our Lady 15 1 2 3 4 5 6 7
Total Time: 1:43:29 Average: 20:41.78 1-5 Split: 2:10
Boys IIAAG 2.5 miles FD/AOLG vs GWHS Team Scores
=================================================================
Team Pts 1 2 3 4 5 (6) (7)
=================================================================
1 Father Duenas Memori 25 3 4 5 6 7 8 9
Total Time: 1:28:20 Average: 17:39.98 1-5 Split: 1:45
2 George Washington Hi 36 1 2 10 11 12 13 14
Total Time: 1:31:06 Average: 18:13.03 1-5 Split: 4:57
5,000m HCA vs SPCS
=================================================================
Name Yr Team Time Pts
—————————————————————–
Girls
—————————————————————–
1 Minami Cramer 10 Harvest Christian Ac 23:28.38
2 Jazmin Samonte 11 St. Paul Christian S 23:50.54 1
3 Jiao Wen 12 St. Paul Christian S 25:01.00 2
4 Hannah Cathey 12 Harvest Christian Ac 25:05.10
5 Carlene Blailes 11 St. Paul Christian S 27:45.27 3
6 Breanne Jamindang 9 St. Paul Christian S 29:55.36 4
7 Deborah Mangabat 10 St. Paul Christian S 34:21.41 5
—————————————————————–
Boys
—————————————————————–
1 Brandon Miranda 11 St. Paul Christian S 18:37.36 1
2 Kanta Yamazaki 9 St. Paul Christian S 18:49.74 2
3 Jacob Miranda 9 St. Paul Christian S 18:50.74 3
4 Masato Tsujii 9 St. Paul Christian S 19:33.66 4
5 Keith Nauta 10 St. Paul Christian S 19:42.65 5
6 James Labanza 11 St. Paul Christian S 20:20.04 6
7 Audrey Dela Cruz 11 St. Paul Christian S 20:22.41 7
8 Hayato Tsujii 11 St. Paul Christian S 20:33.13
9 Elijah Garrido 10 St. Paul Christian S 21:23.68
10 Jeffrey Labanza 10 St. Paul Christian S 21:35.56
11 Illac Lalic 11 St. Paul Christian S 21:51.24
12 Jin Lim 11 St. Paul Christian S 21:58.66
13 Masaki Tsuboyama 12 Harvest Christian Ac 22:04.27 8
14 Damian Raigalipiy 11 St. Paul Christian S 22:14.91
15 Khan Vongjalorn 12 Harvest Christian Ac 22:25.10 9
16 Charles Jackson 9 St. Paul Christian S 23:03.33
17 Aaron Root 9 Harvest Christian Ac 23:12.24 10
18 Jordan Duenas 11 St. Paul Christian S 23:39.19
19 Jacob Perez 11 St. Paul Christian S 24:35.82
20 Redentor Borja 11 St. Paul Christian S 25:02.75
21 Brandon Deliguin 12 Harvest Christian Ac 26:35.79 11
22 Chauncey Jamindang 11 St. Paul Christian S 28:29.99
23 Christian Hotelling 11 St. Paul Christian S 28:47.74
24 Kaito Atsuta 12 Harvest Christian Ac 28:57.01 12
25 Caleb Agustin 12 St. Paul Christian S 29:48.90
26 Travis Blas 12 St. Paul Christian S 30:57.83
27 Caleb Centeno 12 St. Paul Christian S 35:37.71
Girls IIAAG 5,000m HCA vs SPCS Team Scores
=================================================================
Team Pts 1 2 3 4 5 (6) (7)
=================================================================
1 St. Paul Christian S 15 1 2 3 4 5 – –
Total Time: 2:20:54 Average: 28:10.72 1-5 Split: 10:31
Boys IIAAG 5,000m HCA vs SPCS Team Scores
=================================================================
Team Pts 1 2 3 4 5 (6) (7)
=================================================================
1 St. Paul Christian S 15 1 2 3 4 5 6 7
Total Time: 1:35:35 Average: 19:06.83 1-5 Split: 1:06
2 Harvest Christian Ac 50 8 9 10 11 12 – –
Total Time: 2:03:15 Average: 24:38.89 1-5 Split: 6:53
—–

2022 GSPN I MÅS METGOT COMPETITION
2022 GSPN I Mås Metgot Competition Recap
2022 GSPN I MÅS METGOT COMPETITION
2022 GSPN I Mås Metgot Competition Recap
2022 GSPN I MÅS METGOT COMPETITION
2022 GSPN I Mås Metgot Competition Recap