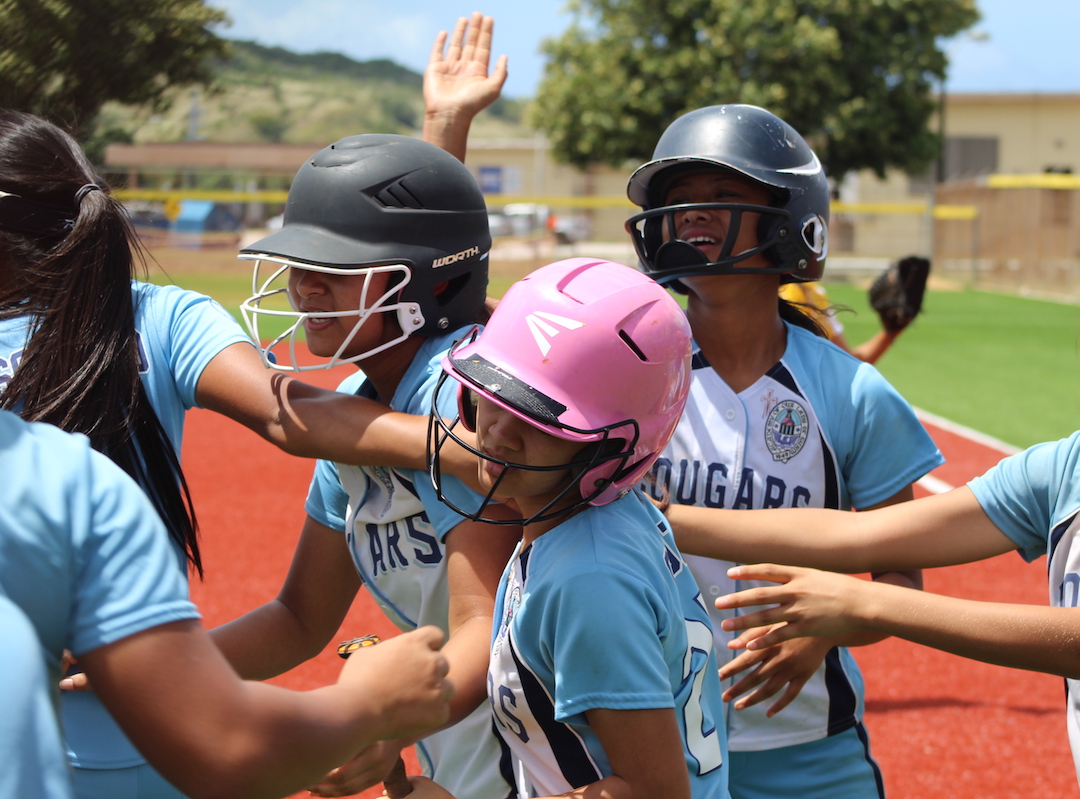 By Robert Balajadia
The window on the Academy Cougars 2018 softball season was closing fast as they walked in to the 7th inning of the semifinals trailing 3-1 against the home team Guam High Panthers. The Cougars brought their bats and best plays in that inning as they smashed that metaphoric window, forcing an 8th inning, where they rallied to stun the Panthers for an 8-3 final score.
The Academy strategy when facing a deficit Saturday: bunt.
The Cougars were two outs away from going home while down 3-1 in the top of the 7th when Bella Muna stepped up to bat, laying a perfect bunt into the ground that allowed her to beat the throw to first. Cougar Chloe Analista got on base due to an infield error from the Panthers as Muna managed to get to third on the next at bat.
The bunts continued for the Cougars as Kaeliah Guerrero let a soft shot ride the turf that paved the way for Muna to score, all the while getting to first before the throw to pull within 3-2.
Cougar Jordan Limtiaco grounded another bunt to load the bases for the Cougars, but a coaching instruction to float between first and second base forced the Panthers to make a play on the stranded Cougar Limtiaco. That played perfect for Analista at third to steal home off the fielders choice to tie the game at three runs with the Panthers catching Limtiaco for out number two.
"We held out bunting until the later part after we tried to tire down the Panthers before we started working them. Just like fighters do, they tire out their opponents and then go after it. These girls are hard working girls and they play hard like they do in practice," said Cougars coach Jon Calvo.
The Panther defense would give their offense a chance to win the game in the bottom of the 7th, but the rally had completely shifted momentum in favor of the Cougars as Mendiola picked apart the Panthers for two strikeouts to force an 8th inning.
"I was super nervous and I had huge butterflies," said Mendiola of the 7th inning drama. "Even though some of our sticks got out, I believed that's when it started to turn for us. We were able to comeback and show them that we weren't going down without a fight."
Mendiola's day wasn't done as she smashed a two-run in-the-park homer to put the Cougars up 5-3.
"I just had to calm down and remember that I was doing it for my team, family and God. I had to show my team that I had their back no matter what. I just had to go out there, have fun, and believe in myself," added Mendiola on the homer.
Mendiola was fishing for a bunt after teammate Doriaun Calvo hit a lead single, followed by a stolen second base. Cougars head coach Jon Calvo turned and got a call from assistant coach Marissa Maratita to let Mendiola swing which led to the tie-breaking play.
"These returnees make the judgement calls and you can see it in their eyes. [Ashley] has never been one to bunt and she has that fire where she wants to hit, so we know when to let her go. If the girls look like they want to hit then they have that green light," said Maratita on the call.
Incoming Protest
The Cougars were rocking a 5-3 lead with Muna at bat and just one out away. Muna laid a hit on the ball which bounced off the ground and into her chest before rolling out of play to which the umpire called a foul ball allowing Muna the opportunity to stay in the box. The Panther sideline claimed the ball hit the bat and then her chest which would have kept the ball in play to where the Panthers could have tagged Muna out.
Instead, the Cougars turned in a run off a successful Muna bunt a play later to grab a 6-3 lead.
Confusion ensued which forced the Panthers to call for a late protest on the situation.
Limtiaco put the finishing touches on the Cougars big 8th inning after a 2RBI single to turn an unanswered 7-0 run into an 8-3 lead. Mendiola held down the Panthers in the 8th to secure their shot at the 2018 title.
The Panthers capitalized on a series of 5th inning errors after Panther pitcher Kaley Camacho used a lead single to start a run. An errant throw on a fielders choice allowed the Panthers to take a 2-1 lead with Lexi Blyth rounding out a double that led to the 3-1 lead.
"The Panthers really brought a fight to us and they made us play our hearts out today. We have to bring it in the Championship game and show our hearts out."
The Cougars will play the JFK Islanders for the title next Saturday, March 10 at the Guam High Field at 12:30 pm. JFK picked up a 9-4 win over the Southern Dolphins in the other semifinals game.
PHOTO GALLERY BROUGHT TO YOU BY:

GPS Sports Calendar
SU

MO

TU

WE

TH

FR

SA
28

29

30

1

2

3

4
Events for July
1st
No Events
Events for July
2nd
No Events
Events for July
3rd
No Events
Events for July
4th
No Events
5

6

7

8

9

10

11
Events for July
5th
No Events
Events for July
6th
No Events
Events for July
7th
No Events
Events for July
8th
No Events
Events for July
9th
No Events
Events for July
10th
No Events
Events for July
11th
No Events
12

13

14

15

16

17

18
Events for July
12th
No Events
Events for July
13th
No Events
Events for July
14th
No Events
Events for July
15th
No Events
Events for July
16th
No Events
Events for July
17th
No Events
Events for July
18th
No Events
19

20

21

22

23

24

25
Events for July
19th
No Events
Events for July
20th
No Events
Events for July
21st
No Events
Events for July
22nd
No Events
Events for July
23rd
No Events
Events for July
24th
No Events
Events for July
25th
No Events
26

27

28

29

30

31

1
Events for July
26th
No Events
Events for July
27th
No Events
Events for July
28th
No Events
Events for July
29th
No Events
Events for July
30th
No Events
Events for July
31st
No Events
Foody's 5 Fun Facts
St. John's Knight Aarman Sachdev
DID U KNOW?
Since forming the GNYFF in 2009, the league has never gone without a season until 2020. The league announced their plans to cancel the 2020 season amidst the COVID-19 pandemic.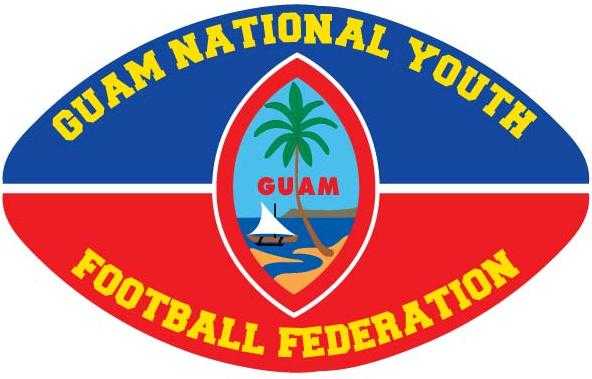 COMING SOON …
ALL SPORTING EVENTS HALTED DUE TO THE CORONAVIRUS ISSUE
QUICK HITS
Former Guam resident and UFC fighter Jon Delos Reyes received his jiu-jitsu black belt in Las Vegas from Professor Raul Jimenez. Congratulations JDR!