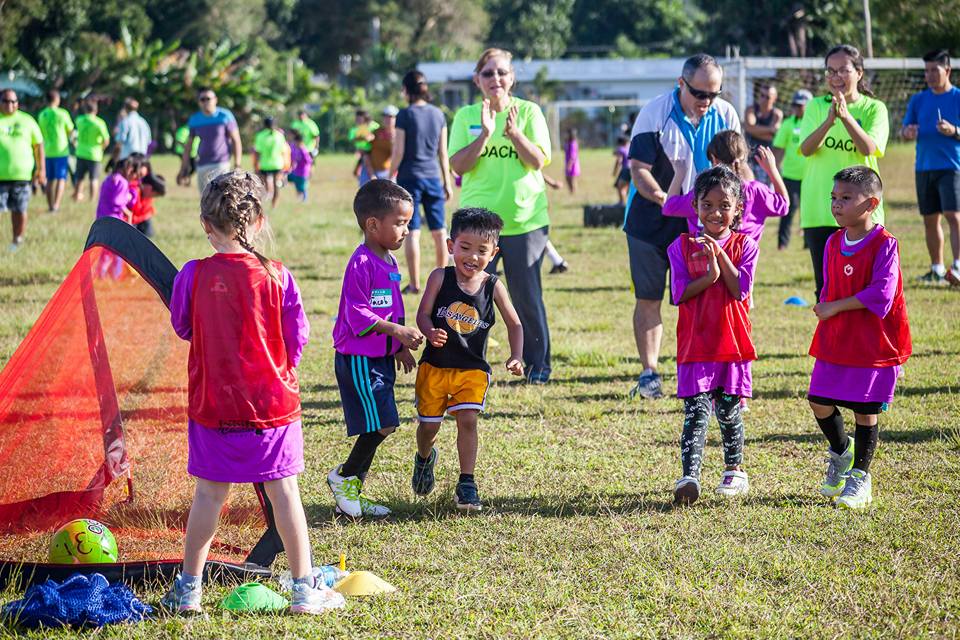 DEDEDO, GUAM (March 23, 2018) –  Guam's only sports program offering a one-team environment for "typical" kids and kids with special needs opens its Spring 2018 season tomorrow with team orientation activities and the first scrimmages.  A training ground for character development, community building, and inclusiveness in sports, E-soccer allows kids of all abilities to participate as players or as trained, volunteer junior coaches.  The program is designed to enable players, coaches and fans to experience a higher goal for sports, where — more than personal success and skill performance — it is diversity and inclusion that make excellent athletes and winning teams.
The Spring 2018 season of E-soccer kicks off tomorrow from 4 p.m. until 5 p.m. at the Dededo Sports Complex Soccer Field in Harmon.  Media are invited to cover this one-of-a-kind event and interview program directors, coaches, junior coaches, players and parents.
Ten teams totaling sixty players ages 4 to 18 years, along with over thirty coaches and junior coaches will kick-off the 6-week season, which runs March 24ththrough April 28th.
E-Soccer's Spring 2018 season is made possible by generous donations from these community-minded sponsors:  Coast 360, C2 Social, Cost U Less, DcSigns, Department of Parks & Recreation, and One-Stop Auto Care & Tire Outlet.
About E-Soccer Guam
Guam's Spring 2018 E-Soccer season runs from March 24th through April 28th 2018 at the Dededo Sports Complex soccer field in Harmon.  E-Soccer partners typically developing children and special needs children alongside each other in various athletic capacities.  The program's core philosophy is that diversity and inclusion make excellent athletes and winning teams.   For all coaches and children in E-Soccer, the inclusive environment teaches and trains special qualities of heart and character education: empathy, compassion, leadership, and selfless service, just to name a few.  Started in the San Francisco Bay Area in 2000, E-sports programs have revolutionized and pioneered the inclusive sports philosophy and have made an impact on special needs and typical families around the world.  On Guam, E-soccer was inaugurated in the Fall of 2016, and is a ministry of the Guam Christian Church.  For more information visit http://guamchristianchurch.org/e-soccer/.  For inquiries, call Brian McMillan at 482-0577, or email [email protected].
PHOTO GALLERY BROUGHT TO YOU BY:

2022 GSPN I MÅS METGOT COMPETITION
I Mås Metgot Athlete Spotlight: Tim Nauta
2022 GSPN I MÅS METGOT COMPETITION
I Mås Metgot Athlete Spotlight: Tim Nauta
2022 GSPN I MÅS METGOT COMPETITION
I Mås Metgot Athlete Spotlight: Tim Nauta
QUICK HITS
Guam boys Kekoa Toves and Matias Calvo went head-to-head on the rugby pitch as American International College took on Dartmouth College, both top-ranked men's rugby programs in the country.
Calvo (FD) is the captain of Dartmouth and scored, but Toves (Sanchez) and his AIC squad came away with the win in Springfield, Mass.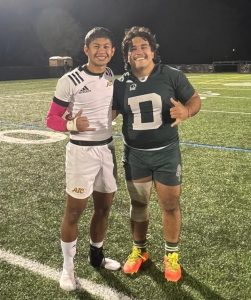 ———————————————–
1LT Belizabeth Nicole V. Rengiil is known to be the first female from Guam and Palau to make the All-Army Women's Rugby Team. She is an active duty Signal Officer with the US Army and is stationed at Joint Base Lewis-McChord in Washington.
Her team won the Armed Forces Women's Rugby Championship with a 4-0 record.
Belizabeth is the daughter of Edwin and Juliana Rengiil with siblings Johanna and Edwin-Isaiah Rengiil from Mangilao.