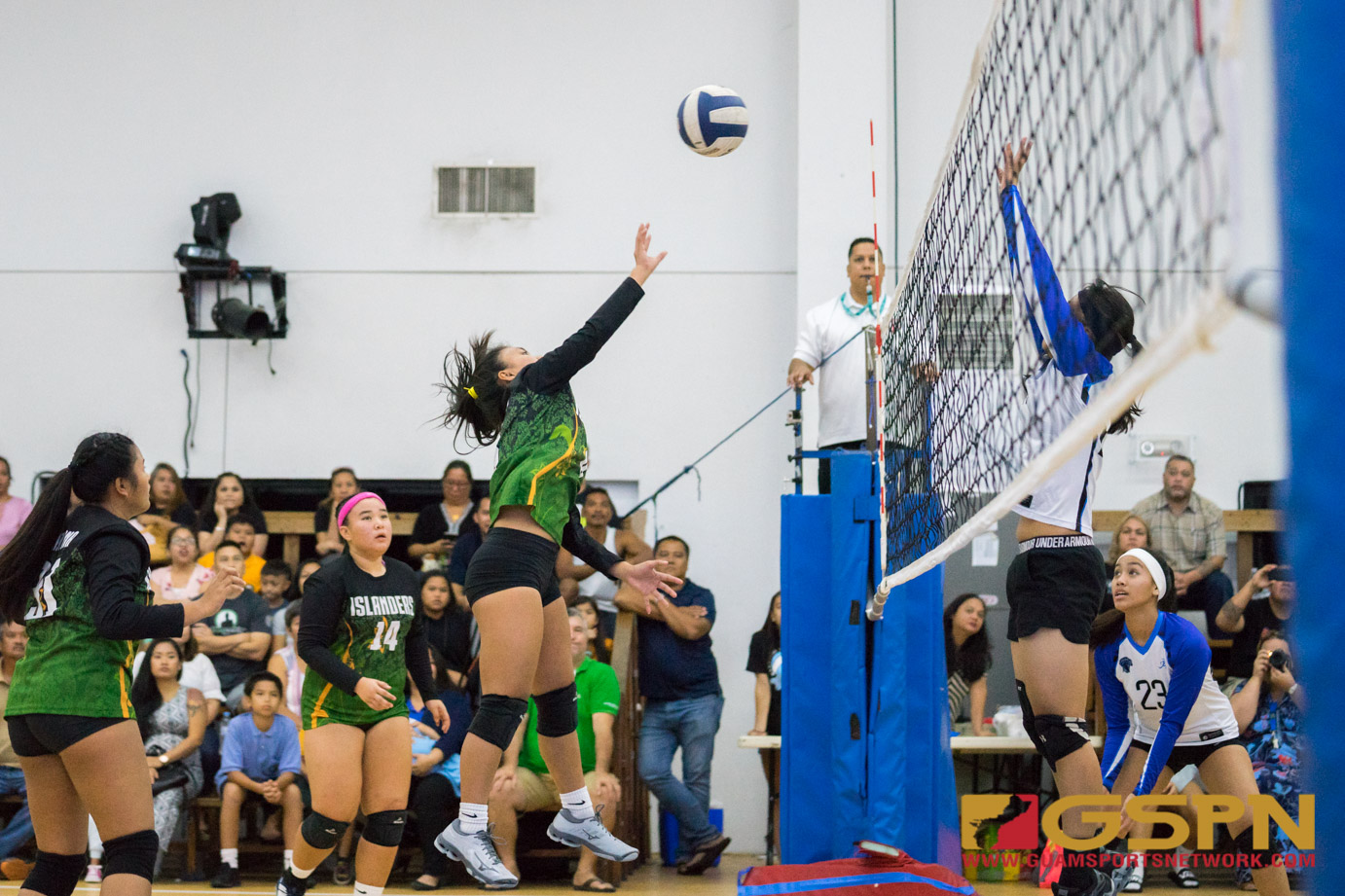 By Blake Watson
Excitement was in the air as IIAAG girls volleyball returned for the 2019 season. The St. Paul Lady Warriors hosted the JFK Lady Islanders in Dededo in front of a full gym. St. Paul was looking to their experience to prevail while the undersized, less seasoned, Islander squad had other plans.
JFK held tough against the veteran Warriors to steal a home victory over St. Paul in straight sets 25-20, and 25-23 the final.
The Islanders came up big on the front line as Junior setter Kiana Rivera's composure shined through.
"We knew they were going to be tough. We just needed to shake off our mistakes, and just do what we needed to do to win," said Rivera. Fellow Junior Maiya Taijeron added, "readiness was much needed."
1st Set
The home crowd was determined to have their presence felt early and the Lady Warriors didn't disappoint. St. Paul was first on the board as they looked to be the more prepared squad. The Islanders held their own, however, as the green and gold turned in big blocks at the net and permeate themselves on the scoreboard.
The Warriors had some communication breakdown throughout and JFK capitalized on the opportunities. Mid-set the lady Islanders came from behind of the hot serving hand of Kiyoni Yamaguchi, who finished the streak with four straight points. Kiana Rivera liking what she saw, made sure that her team held onto the lead retiring two straight kills to advance the JFK lead even further.
Cue St. Paul's Keiani Pangelinan, who seemingly said "My Gym" with her effort resulting in a four-point streak herself and giving the Warriors the lead in the process. However, the run would be short-lived. JFK needing to re-group did just that, after taking a timeout the Islander offense locked in and it pays off. Islanders take the first set, 25-20.
2nd Set
The Warriors woes continued into the second set. St. Paul left uncovered holes in the middle as well as struggled with their passes. Luckily though, the Islanders weren't much better, until they were.
JFK clicked after a few minutes in and turned it up on defense. The Warriors refused to go quietly into the August night and gave a solid effort late. Monica Geiger finally found her groove mid-set, but it was too little too late. Standout veteran Niah Siguenza chipped in as well but in the end, the Lady Islanders outlasted a tired St. Paul Warrior squad and win the match in straight sets. 25-23 the final from the second.
JV SCORE
JFK JV won over St. Paul JV in straight sets 27-25, 28-26
PHOTO GALLERY BROUGHT TO YOU BY: