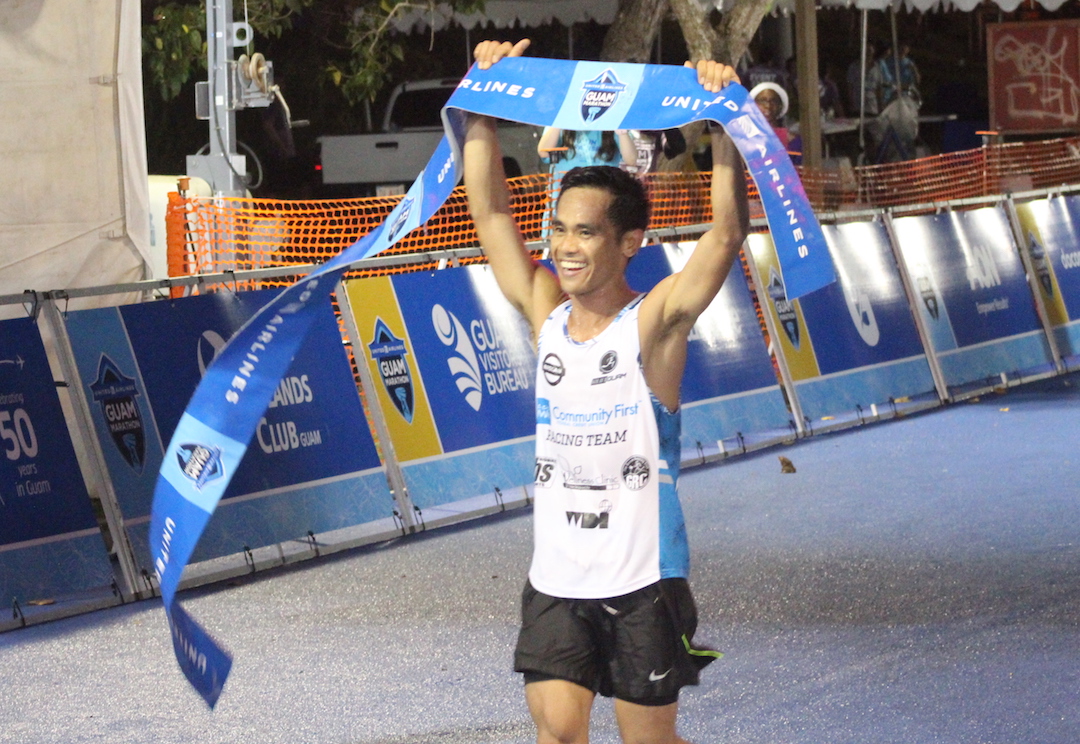 The 2018 United Airlines Guam Marathon was a wet and rainy morning, but it didn't stop the near 4000 total runners from 15 different countries from participating in the event.
Runners from Japan dominated the top spots on both the male and female divisions with the 2018 top male finisher being a familiar face. Shun Goroutani from Japan took 1st place after coming in 1st place in the 2017 Half Marathon.
Guam featured two top finishers in the half marathon with Ryan Matienzo and Manami Iijima claiming the top spots. Matienzo finished in 1:19:09 while Iijima finished shortly after at 1:25:25.
Official Presser
Guam Sports Events Inc. (GSE) announced the winners of the sixth annual United Airlines Guam Marathon (UGM) on April 8, 2018. Almost 4,000 runners from 15 countries in Asia and as far as Ireland, converged in Tumon for Guam's premier international running event that includes marathon, half marathon, 10K and 5K race distances. Twenty-five percent of runners came from Japan and half of all participants were local.
MARATHON
Shun Goroutani from Japan took first place in the men's marathon, with a time of 2:32:14. Goroutani is a return runner, who won the 2017 UGM half marathon race. The men's marathon race remained competitive from the start, with Hisaki Yajima crossing the finish line only 51 seconds later. Yajima finished with a time of 2:33:05. Yosuke Maeda came in third place in the men's overall at 2:35:57. Hiroki Nakajima, the 2017 men's marathon winner who set the course record last year with a time of 2:30:37, returned and took fourth place overall in 2:36:51.
Tomomi Sawahata from Japan took and held the lead early in the women's marathon race to finish in first place with a time of 2:47:31. Sawahata finished more than 12 minutes ahead of second place finisher from Korea, Sunghwa Ryu (3:00:09). Kasumi Takaham finished in third place with a time of 3:07:18. Ryu won the women's division in the 2017 marathon and even set a course record with her time of 3:01:58. Impressively, Sawahata and Ryu surpassed the 2017 course record. Sawahata's time of 2:47:31 established a new course record.
Former Guam olympian Brent Butler (3:20:52, 20th place) and fellow Guam resident and elite runner, Kristina Ingvarsson (3:39:45, 8th place), were the first local marathon runners to cross the finish line in the men's and women's races, respectively.
MALE MARATHON – TOP THREE FINISHERS
SHUN GOROUTANI    2:32:14    JAPAN

HISAKI YAJIMA        2:33:05    JAPAN

YOSUKE MAEDA        2:35:57    JAPAN
FEMALE MARATHON – TOP THREE FINISHERS
TOMOMI SAWAHATA    2:47:31    JAPAN

SUNGHWA RYU        3:00:09    CHUN AN, KOREA

KASUMI TAKAHAMA     3:07:18    JAPAN
HALF MARATHON
Local runners took top spots for the male and female half marathon races. Guam's elite runner Ryan Matienzo held the solo lead in the men's half marathon race through the turnaround point near Adelup. Matienzo finished more than three minutes ahead of second place finisher, Masaki Teshima, who crossed the finish line in 1:22:52. Benjamin Middlebrooke, also a runner from Guam, took third place with a time of 1:25:10.
The UGM marathon course record of 1:09:20 is currently held by the 2017 half marathon male winner, Shun Gorotani from Japan.
Manami Iijima, Guam tri-athlete and UGM race ambassador, finished 34 seconds faster than second place half marathon female runner from Japan, Yuko Kusunose. Both Iijima and Kusunose dominated the exciting women's race, with Iijima pulling ahead to claim the top spot. Iijima won the race with her time of 1:25:25, beating her 2017 second place finish time of 1:28:29. Kusonose took second place with a time of 1:25:59. Laura Nadeau from Guam rounded out the top three, finishing with a time of 1:34:51.
The current women's course record is held by Maria Yano from Japan, who won the women's division in 2017 with a time of 1:22:29.
MALE HALF MARATHON
RYAN MATIENZO            1:19:09    GUAM

MASAKI TESHIMA            1:22:52    JAPAN

BENJAMIN MIDDLEBROOKE    1:25:10    GUAM
FEMALE HALF MARATHON
MANAMI IIJIMA            1:25:25    GUAM

YUKO KUSUNOSE    1:25:59    JAPAN

LAURA NADEAU          1:34:51    GUAM
10K
The top two finishers for the 10K men's race were from Japan with Wataru Okamoto taking the top spot 34:42  and Shuya Tsuda finishing second with a time of 35:21. Japan runner Io Akashi finished first overall in the 10K women's race with a time of 40:48. Sunok Hwang from Korea finished second at 42:20. Guam runner, 20 -year-old Genina Piolo Criss took third place with a time of 42:50. Criss took third place last year in the 2017 5K race.
MALE 10K
WATARU OKAMOTO        34:29        JAPAN

SHUYA TSUDA        35:41        JAPAN

DEREK MANDELL        37:40        GUAM
FEMALE 10K
IO AKASHI            40:48        JAPAN

SUNOK HWANG        42:20        KOREA

GENINA PIOLO CRISS    42:50        GUAM
5K
The men's and women's 5K races were swept by runners from Japan. Winners for the men's overall 5K race include first place winner Kenta Arase (16:47); second place winner Fukase Masafumi (17:08); and third place winner Kenji Ono (17:13). Fukase won the men's 5K division last year and his time by 24 seconds.
For the women's 5K race, Mio Sakka took first place with a time of 21:12. The 2017 5K winner, Tomoe Yokoyama, returned in 2018 and took second place overall with her time of 21:19. Seika Hasumi took third place, finishing in 22:35.
MALE 5K
KENTA ARASE        16:47        JAPAN

FUKASE MASAFUMI        17:08        JAPAN

KENJI ONO            17:13        JAPAN
FEMALE 5K
MIO SAKKA            21:12        JAPAN

TOMOE YOKOYAMA        21:19        JAPAN

SEIKA HASUMI        22:35        JAPAN
"This is the second year of United's title sponsorship, and we've enjoyed a close working relationship with them and Guam Visitors Bureau (GVB) this past year to promote UGM overseas. We had good international participation. Half of our participants traveled to Guam to enjoy the event and vacation on island," said Ben Ferguson, managing director of Guam Sports events, Inc., organizers of UGM.
"It's humbling to see our community come together with such energy and great Hafa Adai spirit to support this international event that all of our residents can be proud of," he added. "We'd like to recognize and thank all our sponsors, community partners, participants and volunteers who made UGM 2018 a great event. We hope to see everyone at the seventh annual United Airlines Guam Marathon on April 14, 2019!"
Sam Shinohara, United's managing director of operations Asia/Pacific, said, "United is very proud of our UGM title sponsorship. This event means so much to our company and almost 1,000 employees that call Guam home, because it allows us to proudly carry out our role as Guam's hometown airline. We are excited to have kicked off United Airlines' 50th anniversary celebration at UGM, giving away roundtrip tickets at the start of each race. We thank Guam Sports Events for putting on such a great event. We look forward to getting back to work to promote UGM 2019."
Nate Denight, president and CEO of Guam Visitors Bureau, said, "We've been working since last year to promote UGM in our source markets. Sports events such as UGM are great for the island, because it allows the community to come together with our visitors to share our Hafa Adai spirit. Thousands of international visitors are now enjoying our beautiful island after the race and contributing millions of dollars to our local economy. We thank Gov. Calvo, Lt. Gov. Tenorio, the Guam Legislature, and the many government agencies and tourism industry partners that have supported this GVB signature event."
UGM welcomed Naoko Takahashi, a 2000 Sydney Olympics gold medalist, returned as the 2018 international race ambassador. Ms. Takahashi held running workshops at the two-day Håfa Adai Expo and cheered runners throughout out the course.
Sponsors and race volunteers took on a total of 15 aid stations, offering runners local snacks such as apigigi and coconut candy. After the race, runners and their families enjoyed the BBQ Beach Party that featured live local entertainment and food and beverages at Ypao Beach  overlooking the beautiful Tumon Bay and Two Lovers Point.
Complete race results will be posted on unitedguammarathon.com and on the UGM app.

QUICK HITS
3rd place: Big ups to the Para Todu Rugby Club for finishing 3rd out of 16 teams in the Manila 10's Rugby Tournament today. Biba Guam Rugby!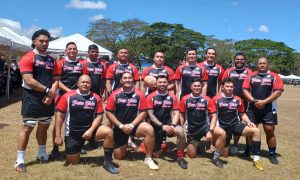 ——————————————
Guam MTB National Championship: Edward Oingerang and Jennifer Camacho are your 2023 MTB national champions. Oingerang finished the course in 1:13:24 while Camacho won her second straight title in 54:08.