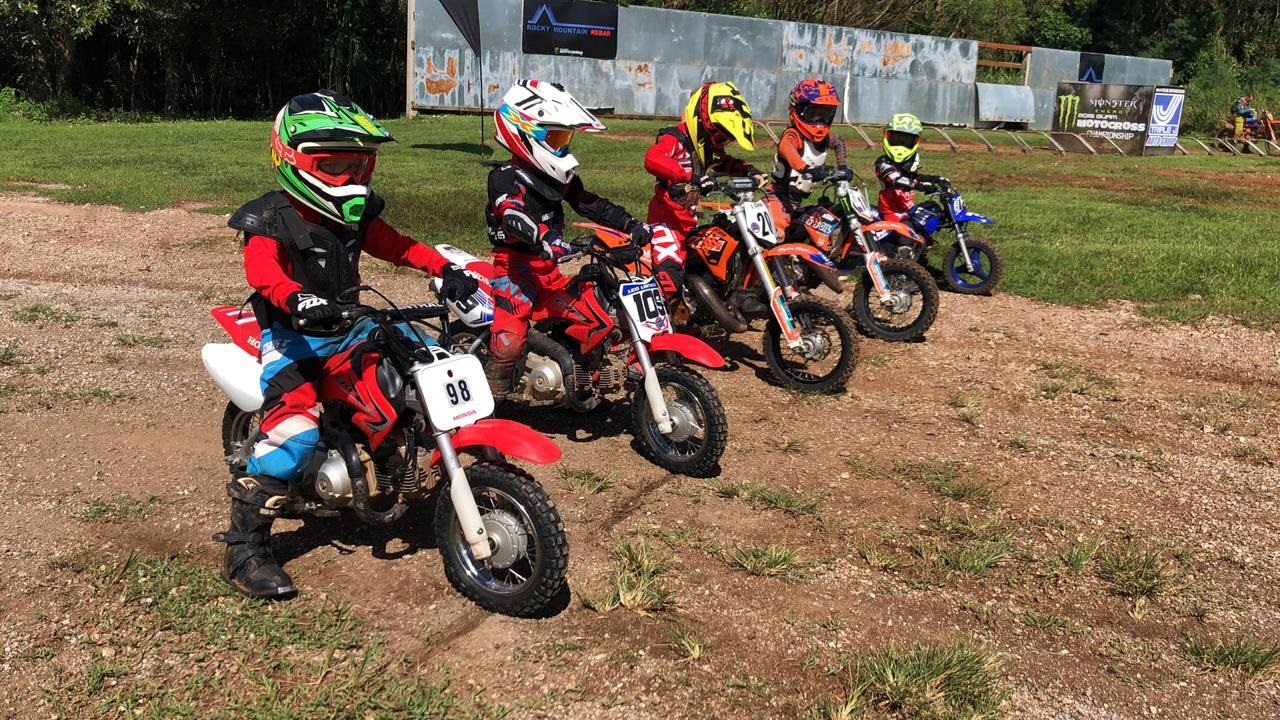 PRESS RELEASE – Guam International Raceway Motorcycle and Atv Corporation
2018 Monster Energy Guam Motocross Championships Round 10 of 10
Class championships were crowned this past Sunday at round 10 the final round of the ten round 2018 Monster Energy Guam Motocross Championship. Held at the Guam International Raceway located in the northern village of Yigo under ideal conditions for what was a full day of high flying mud slinging motocross. The field of competitors included both several mini bike and atv youth classes ranging from ages 4 years up to 15 and by the the full sized machines of the Open Atv and Motorcycle classes that saw competitors ages ranging from 16 years and up. Racing kicked off at just before noon.
Highlights and results
In the Open Motorcycle division #31 Tim Wenden on a Rocky Mountain Precast supported Ktm took the win in both heats over another hard charge by the #1 Yamaha mounted Lil John Aguon who took a solid second. Third place went to #11 Mike Limtiaco on a Kawasaki with #24 Jonathan Aguon on a Yamaha in fourth and #51 Yamaha Mounted Frank Reese in fifth.
Wenden defends his 2017 championship
Taking the 2018 Monster Energy Guam Motocross Open Motorcycle Championship was #31 Tim Wenden aboard his Rocky Mountain Precast supported KTM who was the defending champion. Placing second was #1 Lil John Agoun on his Ground Tech Services Yamaha with #75 Jeff Rios on an Autoworks supported Honda third in the final championship standings.
The momentum in the Open Atv class which has in the past been dominated by the veterans has during the 2018 championship season seemed to be swinging towards a younger rookie group of riders as the new force of the class. Leading the rookie charge late has been #75 Georger Santos on his Yamaha having swept both heats to take yet another round win over multi time champ Robert Bucek aboard the #4 Cycles Plus Suzuki who had been entrenched in a battle for second with another rookie George Santos jr. aboard the #64 Yamaha. Bucek took second with the #64 Yamaha of Santos taking third.
Bucek adds another Open Atv championship
After ten rounds it was still the old man of the class #4 Robert Bucek on the Cycles Plus Suzuki who walked away with 2018 Monster Energy Guam Motocross Open Atv championship. Finishing second was #83 Daniel Champion who had gone undefeated for the first six rounds before dropping out of the championships. Third in the final standings went to second year rookie #22 Ken Tedtaotao on a Yamaha.
In the 50cc class which includes riders from 4 to 8 years of age #18 Jonathon Aguon and #20 Jace Calvo immediatly went to the front of the pack with the #18 of Agoun sweeping both heats to take the win. The #20 of Jace Calvo took second with #12 Ynapu Agoun in third.
Taking the 2018 championship in the 50cc minibike class was #18 Jon Agoun on his Ground Tech Services supported KTM. Second was another KTM pilot #20 Jace Calvo with #10 Jerisha Guzman third in the final championship standings.
The 65cc Kids minibike class saw another sweeping win by the #31 of #31 Richard Wenden who went on to claim the 2018 65cc class championship. Second and third for the round were #21 Jessani Leon Guerrero in second and #33 Mariana Wenden in third. It was the #33 of Mariana Wenden who claimed second in the final 2018 65cc Kids Minibike championship with #21 Jessani Leon Guerrero third.
In the Open Minibike class #23 Jordan Leon Gurrero took the win with #25 Lawrence Limtiaco in second and #10 Jerrin Nauta in third. Taking the 2018 Monster Energy Guam Motocross Open Minibike championship was #23 Jordan Leon Guerrero with #25 Lawrence Limtiaco in second and #10 Jerrin Nauta third in the final standings.
The Kids Open Mini atv class saw a close wheel to wheel race for first as the #12 of Gabriel Calvo battled with the #27 of Camerish Chaco. The two swapped heat wins with Chaco coming out with the round win and claiming her first Guam motocross class championship. Second in the final 2018 championship standings was #23 Caleb Cruz with #12 Gabriel Claco in third.
Other 2018 Monster Energy Guam Motocross class champions crowned Sunday
450cc Motorcycle class – #1 Lil John Aguon
250cc Motorcycle class – #31 Tim Wenden
Over 40 Vet class – #75 Jeff Rios
Novice Motorcyle class – #59 Robert Terrel
Schoolboy class – #75 Owen Rios
150cc Kids Minibike class – #23 Jordan Leon Guerrero
85cc Kids Minibike class – #25 Lawrence Limtiaco
The 2019 Guam Motocross championships is tentetively scheduled for mid to late January 2019. The motocross course at the Guam International Raceway will remain open but all interested new or experienced riders are encouraged for more information to visit https://girmac.teamapp.com or contact public information officer Robert Bucek by call or text at 727-5381.
PHOTO GALLERY BROUGHT TO YOU BY:

Foody's Fun Facts
Favorites From Year 2
COMING SOON …
SATURDAY
Boys Volleyball: Champion vs. Champion
Saturday 6 pm: FD vs. Tiyan
UFC Fight
July 25: Trevin Jones vs. Tony Kelley
QUICK HITS
Nadine Del Carmen graduated from Santa Clara University on June 11. She was named captain of the Santa Clara women's tennis team in her senior year and she will be attending Georgetown University in the fall to pursue her masters and will be playing for the Hoyas women's tennis team.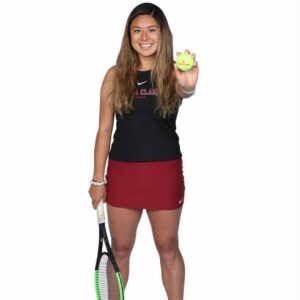 ——————————————————–
After a star-studded collegiate career at UCLA, Bubba Nickles turns her focus on the Tokyo Olympics with Team USA after the Bruins were eliminated in the College World Series. Nickles endured a broken arm on April 7 and worked her way back into the Bruins lineup for the WCWS. She will go down as one of UCLA's best softball players in its storied history.