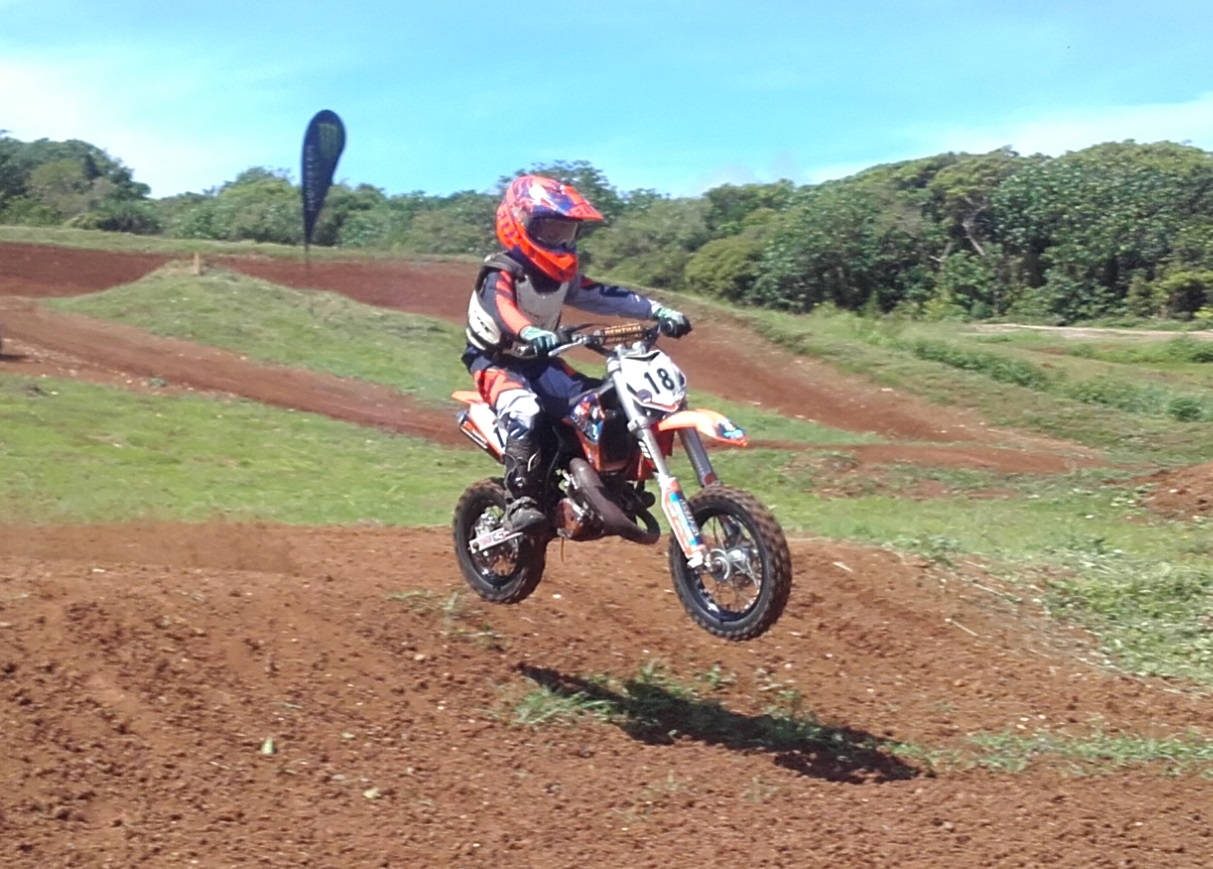 Press Release – Guam International Raceway Motorcycle and Atv Corporation
2018 Monster Energy Guam Motocross Championships Round 6
This past Sunday, Round 6 of the ten round 2018 Monster Energy Guam Motocross Championship was held at the Guam International Raceway located in the northern village of Yigo. With a few early morning showers that had cleared up to become sunny skies the race course was left at its best thanks to Mother Nature with a challenging layout that had competitors banging and bumping as they soared high over the many jumps that infest the course. Free to come out and watch with the racing having kicked off at 11:30 that morning and went on late into the afternoon. Classes ranged from 50cc on up motorcycle and atv kids classes to the novice and expert classes on the full sized motorcycle and atv machines.
Highlights and results
In the Open Motorcycle class in heat one #31 Tim Wenden aboard his Rocky Mountain Precast supported KTM took the early lead off the start but was quickly being challenged by #1 "little" John Aguon aboard his Ground Tech Services supported Yamaha. Following up in third was #59 Honda mounted Robert Terrel.  The #31 Wenden originally from New Zealand and making Guam now his home was on fire hitting the jumps faster and harder each lap as he pulled away from the rest of the field. Wenden easily took the round 6 win with #1 "Little" John Aguon in second and #59 Robert Terrel in third. Wenden with 269 points has now closed up to a single point behind the current Monster Energy Guam Motocross Championship Open Motorcycle class points leader #1 John Aguon with 270 points with four more rounds yet to be contested.
In the Open Atv class #83 Daniel Champion aboard a TJ Enterprises/Gold Speed supported Suzuki was flawless taking the lead over the field right from the start gate and leading all the way to the finish. Taking second was #4 Robert Bucek on the Cycles Plus Suzuki with Yamaha mounted #8 Mike Taimanglo in third. With his win the #83 of Dan Champion has taken the win in every round held this year and leads the championship with 300 points a perfect score over the Cycles Plus Suzuki of #4 Robert Bucek with 264 points and the charging #22 Yamaha of Kenneth Tedtaotao with 198 points.
In the Open Minibike class #23 Jordan Leon Guerrero aboard the LG Racing Kawasaki took the class win with #10 Jerrin Nauta on a Kawasaki in second and #33 Ethan Blyth on a Kawasaki placing third.
In other class results
85cc Kids Minibike class first #10 Jerrin Nauta on a Kawasaki, second was #33 Ethan Blythe on a Kawasaki.
65cc Kids Minibike class first was #22 Wyett Santos on a Kawasaki, second was #31 Richard Wenden on a KTM, third #21 Jessani Leon Guerrero on a Kawasaki, fourth was #33 Mariana Wenden.
50cc Kids Minibike class first #20 Jace Calvo on a KTM, second #18 John Aguon on a KTM, third was #10 Jerrisha Guzman on a Yamaha, fourth was #12 Ynapu Aguon and #98 was fifth.
Kids Mini Atv class first #2 Wyett Santos, and second was #27 Camerish Chaco.
Next up on the motocross race schedule will be a non championship points event that is perfect for all riders from the first timer looking to get started in the sport to any old crusty vet racer who may be looking to knock off some of the rust. The Guam Independence Super Sprint Motocross will take place on Sunday July 8th at the Guam International Raceway in Yigo and will be free to come out and spectate.  The ten round Guam championship will continue with round 7 of the 2018 Monster Energy Guam Motocross Championships on Sunday July 29th at the Guam International Raceway in Yigo. Gates open at 9am and the racing kicks off at 11:30am. Interested new or experienced riders are encouraged for more information to visit https://girmac.teamapp.com  or contact public information officer Robert Bucek by call or text at 727-5381.
PHOTO GALLERY BROUGHT TO YOU BY:

COMING SOON …
GUAM SPORTS ON HOLD DUE TO SUPER TYPHOON MAWAR
QUICK HITS
Bishop Obispos beat Mt. Carmel for the IIAAG Middle School Girls Basketball championship 37-25.
—————————————-
The Benavente Roadrunners crushed the Agueda Pirates 17-1 to win the 76 PONY Middle School Baseball League. Rodney San Nicolas was a beat, striking out 13 batters in a complete game while going 4-for-4 at the plate, including a homer and 4 RBI.