By Nolan Miles
For the third consecutive season the IIAAG Girls Soccer Championship trophy was lifted by the ND Royals. Led by league MVP Brianne Leon Guerrero's hat trick, the Royals dominated as they had all season long, culminating in a resounding 4-0 victory over the GW Geckos.
In a rematch of the 2017 championship game, the Royals proved once again why they deserve to be champions. In an all-around team effort, they imposed their will and controlled the game from start to finish. The Royals finish the season undefeated and solidify their status as a new soccer dynasty.
"I'm just so proud of all the girls, we wished this since the beginning (of the season). Our 4 "W's" payed off which is wish, will, want, and work. We wished for this championship, and we had the willpower and the want to put in the work for it," said Royals head coach Sam San Gil.
Royals get into groove early
The game started off intense with both teams going at it from the start. Shyann Roberto pushed the Royals forward in the 8th minute of the game, blasting her shot past the GW keeper for the early 1-0 lead.
Both teams continued to apply early offensive pressure with Leon Guerrero and Abigail San Gil attacking for ND and Jalana Garcia and Autumn Cruz doing the same for GW.
Leon Guerrero's first goal of the night came in the 24th minute, with the ND star getting past the GW defensive line and slotting it into the goal to stretch her team's lead to 2-0. Notre Dame continued to push forward and nearly got another goal when midfielder, Hannah Cruz's sailing effort hit the crossbar and bounced out.
The Geckos tried to mount a comeback late in the first half but ND goalkeeper, Aeryn Aunulao, made a couple of solid saves to preserve her clean sheet and keep GW scoreless.
With the half winding down, Leon Guerrero scored a thriller in stoppage time.. Her long-range effort from about 35 yards out soared past the GW keeper and found the back of the net, giving ND the comfortable 3-0 lead going into halftime,and prompting chants of "MVBri"from the Royal fan base.
Notre Dame kept their foot on the gas in the second half using their speed and passing to get past the GW defensive line and keep GW's keeper busy with multiple shots on goal.
The usually potent attack of GW, led by Garcia, was relatively quiet for most of the game thanks to great defensive efforts by the entire Royal defense.
"We just played our game, which is passing, and keeping possession of the ball; if we can keep the ball away from them, then it's a win for us," said San Gil when asked what the game plan was for them defensively.
With the championship already within reach, Leon Guerrero sealed her hat trick and the game with a goal in the 65th minute. Her third goal of the night pushed the lead to 4-0 and capped off a dream season for Leon Guerrero and the Royals.
Leon Guerrero and Roberto led ND's offense all season long and tonight was no different, as they accounted for all four goals. A common theme to the Royals offense though, is their unselfishness with the ball.
"We played how we always play, which is trying to get everyone involved." said Roberto " At the end of the day it comes down to our passing, and that really opened things up for me and allowed me to score today," added Leon Guerrero.
Coming into the season as two-time defending champions, there was a lot of pressure and high expectations for this Royals team to prove themselves.
"It's such a relief, with all the pressure, to win the three-peat, it was amazing and to do it with this team was great," said Roberto.
When asked about the potential of adding more championships to this soccer dynasty, Leon Guerrero said she's just happy to be apart of it.
"I'm just really happy to be a member of all three championship teams so far, and I'm looking forward to going for it and doing it all again next year."
Speaking of next year, the Royals don't show any signs of slowing down in the coming seasons with a lot of their young team coming back next year, including league MVP Leon Guerrero who is a junior and fellow goalscorer, Roberto, who is a sophomore.
"I'm looking forward to next season, we're getting some new girls that will strengthen our team and we'll have the experience of those returning," said coach San Gil.
PHOTO GALLERY BROUGHT TO YOU BY:

2022 GSPN I MÅS METGOT COMPETITION
2022 GSPN I MÅS METGOT COMPETITION
2022 GSPN I MÅS METGOT COMPETITION
2022 GSPN I MÅS METGOT COMPETITION
2022 GSPN I MÅS METGOT COMPETITION
2022 GSPN I MÅS METGOT COMPETITION
COMING SOON …
GNYFF Championship Saturday
2nd Annual Greg D. Perez Fishing Tournament on Saturday
GML Playoffs
1st Quarter Sports
QUICK HITS
Team Onslaught represented Guam at the National X-Ball League paintball tournament in Sacramento, CA. The squad finished in 3rd place out of 12 teams in the Division 5 category.
Front L-R: Frankie Borja, Robert Delos Reyes
Back L-R: Marvin Reyes, Ericka Camacho, Gavin Santos, Nick Rivera, Nikki Tan, Adrian Mora, Ralph Sgambelluri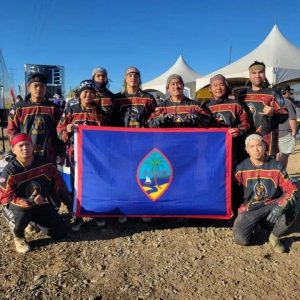 ———————————————–
Purebred Jiu-Jitsu Guam adds three more to their black belt stable. Daniel Cayanan, Cameron Mantanona and Peter Ungacta received their black belts on Saturday from Professor Stephen Roberto.