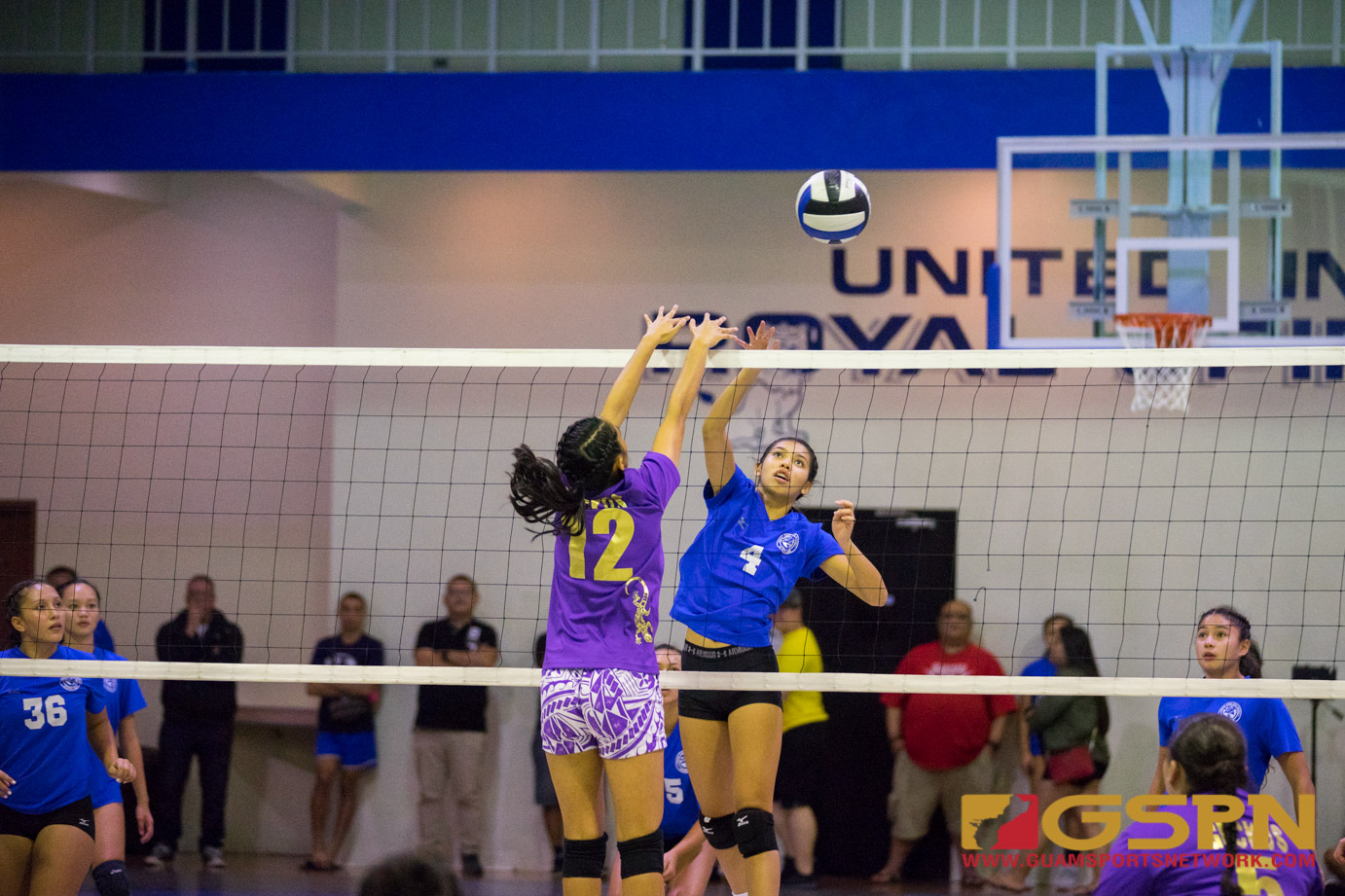 By Robert Balajadia
IIAAG sports is officially back for 2018!
The defending champion ND Royals played host to the GW Geckos Tuesday evening in the official tip-off of the girls volleyball season. ND defended home court in straights sets 31-29, 25-22 while featuring some new faces filling big roles from their title-winning team a year ago.
Royals star athlete in now senior Brianne Leon Guerrero proved instrumental in crunch time as the Geckos managed to hold leads in both sets. With former MVP Carlie Quinata still working her way back into the line-up after tearing her ACL in soccer, the Royals turned to Brie.
"We just needed to keep our composure," said Brianne during those tense moments. "We had to keep our poker face on and not show our opponents that we were getting down. I think we did a good job at picking each other up. I think we did alright in our first game, but we still have a lot to work on."
Leon Guerrero led the night with nine total kills while sophomore standout Austia Mendiola aided with four kills, three aces and three blocks. The Royal offense seemed slow to start each set, but new starting setter Gabby Piper, who's taking over for Mariana Kier, was able to get online with her hitters when it mattered most.
"[Gabby] listens to what you say and she works hard on trying to do what's best for you. Getting on the same page as our hitters has been going really well," said Mendiola.
Sophomores like Mendiola and Minami Rabago have transitioned into more demanding roles on a Royals team that has a great balance of veteran and fresh talent. Being asked to do more is something Mendiola fully expected after a stellar freshman campaign, and Tuesday evening was just the start.
"It's been a little difficult mending the team since we have a lot of new players, but our coaches and veterans have been doing a great job at helping everybody out," said Austia.
Though the Royals title defense is officially underway, members from their championship-winning team, like Mendiola, are just happy to get back to the always competitive high school volleyball scene.
"It feels so good to be back; There's no other team quite like this one. I love these girls and I just can't wait to go through the season with them again to see if we have what it takes."
GAME RECAP
The Geckos appeared unphased by the loud roars from the Royal home crowd in the opening set as they jumped out to an 11-5 lead with a pair of kills coming from freshman Bonita Castro. The Royals started to chip away at the lead with a pair of kills from Brie and a pair of aces from the service line by Mendiola to get within 13-11.
Leon Guerrero would strike again for her third kill of the set to get within 18-16.
Carlie Quinata made her first appearance of the night while trailing 21-17 after a Leon Guerrero kill, and Quinata's presence was immediately felt. Quinata lined up a serve-ace that got the crowd cheering before making an exit a play later after a GW hitting error.
Sophomore Minami Rabago knotted the game at 22 with an ace and Mendiola would give ND their first lead off a big kill from the middle 23-22. Gecko Mikayla Castro answered back with a kill of her own to ignite what would turn into a wild back-and-forth for the 1st set.
Mendiola would get two hands in on a block to tie the game at 25 followed by an ace for a 26-25 advantage. Castro answered once more to push the game to 26-all. Royals Ella Balajadia continued to make plays after a strong start by scoring two kills in a three-point span with the score still tied at 29.
An error from GW set up a final shot from Leon Guerrero to put the 1st set away 31-29.
The 2nd set got off to an error filled start for the Royals as they surrendered the lead 7-6 after a net error, and a string of four more ND errors pushed GW ahead 14-10. Errors would catch up to the Geckos after they committed three errors in a row to allow ND back into the set as the Royals trailed 19-18.
Quinata checked in to the game again, this time giving a wide set to Rabago for a big kill to tie the game at 20 each. Leon Guerrero would give the Royals a 21-20 lead on a kill from the outside followed by a closed-fist smash from Mendiola up the middle a player later to get up 23-20.
Mendiola would get the final say as she stuffed a tip at the middle of the net for the Royals final point 25-22.
PHOTO GALLERY BROUGHT TO YOU BY:

QUICK HITS
Bishop Obispos beat Mt. Carmel for the IIAAG Middle School Girls Basketball championship 37-25.
—————————————-
The Benavente Roadrunners crushed the Agueda Pirates 17-1 to win the 76 PONY Middle School Baseball League. Rodney San Nicolas was a beat, striking out 13 batters in a complete game while going 4-for-4 at the plate, including a homer and 4 RBI.