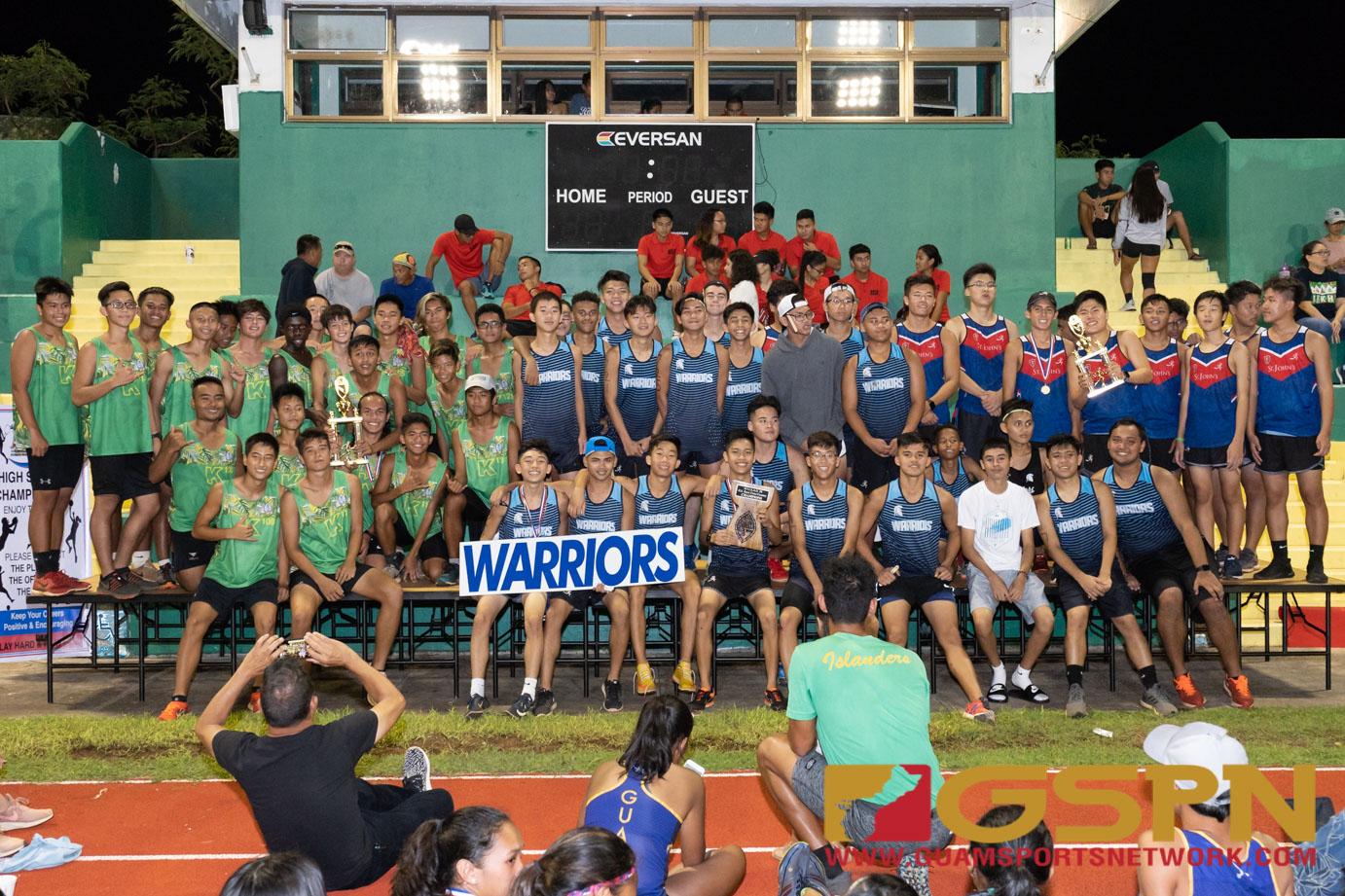 By Jay Leon Guerrero
History was made for two teams that celebrated a championship Friday at the 2018 All-Island Cross Country Meet held at JFK in Upper Tumon. The St. Paul Warriors, under head coach Sherwin Paet, made history and won their first ever IIAAG championship with the boys team winning the title. The St. John's Knights won the girls championship with only six runners racing in the meet, winning their first title in 20 years (97-98). The Knights celebrate the title under new head coach Desmond Mandell III, his first cross country title as a head coach.
Han dynasty continues
The Knight's Jenna Han won first overall in the girls division with a time of 21:46. Han stayed at the front of the pack to start the race and pulled away after the jungle portion of the course for the victory. This is Han's second All-Island title, winning the race as a freshman.
"It's been an unbelievable experience, the team has worked so hard to become one of the top teams," said Han. "Our coaches (Desmond Mandell III and Derek Mandell) helped us learn about hard work and dedication. They also prepared us to come into meets with the right mentality," said Han.
"This is actually the first cross county championship I have won as a coach, so I couldn't be more proud of my team. And for our boys to secure third (only one point away from 2nd place) was extraordinary. I am very excited to share this moment with these kids," said Mandell III.
Acquiring valuable points for the Knights was fourth place finisher Madison Packbier (22:34), ninth place finisher Kailea Wiese (23:35), 18th place finisher Janalyn Criss (24:41) and 21st place finisher Jenny Mann (25:16).
The Knights finished with 49 points, followed by the JFK Islanders with 72 points and the Academy Cougars rounding out the top three with 86 points.
Taneea Henderson from Guam High finished second overall with a time of 22:16. Henderson is a freshman basketball phenom and joined cross country to prepare herself for the upcoming season.
"I really didn't expect to come in second place. I learned so much from Coach Joe Taitano this season especially pacing myself and keeping my composure during the races," said Henderson.
The Panthers were also defending champions last year and finish in fourth place for the team event with 93 points.
JFK's Mya Tolerson (22:27) and Chasity Minor (22:37) finished third and fifth place, respectively, to help the Islanders win 2nd place. The Academy Cougars were ecstatic to make the top three in the overall team event. The Cougars were led by Annika Almario with a time of 23:15 and a fifth place overall placement.
Mirandas lead the Warriors
Brandon Miranda finished the season undefeated, winning the boys race with a time of 17:54 to take the first overall honors. Not too far behind him, was his first cousin Jacob Miranda finishing fourth with a time of 18:15. The Mirandas 1-4 finish was huge for the Warriors who ended up winning the title with 72 points.
"First of all, I give all glory and honor to God; I've trained for this for four months now. I never let up during my training and put all trust in my coach, my family and school," said Brandon Miranda.
The Warrior top five finished 1st, 4th, 12th, 22nd, and 33rd for a grand total of 72 points, JFK finished second with 82 points barely edging out St. John's with 83 points.
Future looks bright for the Warriors
Paet's St. Paul squad is destined to repeat next year with four of their top five players listed as underclassmen. Jacob Miranda is a freshman, Kanta Yamazaki (12th) and Masato Tsuji (22nd) are also freshman. Keith Nauta (33rd) capped the top five from St. Paul's is a sophomore.
"We couldn't have done any of this without the guidance of our coach (Paet), he deserves much of the credit for our success this season," added Brandon Miranda.
The Miranda family was proud of their boys and their contribution to the Warrior squad. Brandon, a junior, was especially proud of his younger primo.
"Im like a big brother to Jacob and I'm so proud of him and his performance. He pushes me to do better and I see him as being the next phenom," said Brandon Miranda.
Nick Keefe from the defending boys champion Guam High Panthers finished second overall with a time of 18:00.
"My competitive mindset will not be satisfied with nothing less than a first-place finish but I'm still proud of the performance and my team. We came a long way from being undefeated last season and only winning two Meets this year," said Keefe.
Okkodo's Kyle Delos Santos finished third with a time of 18:12, Marc Rajesh from St. John's was fifth with a time of 18:24. The Knights boy's team almost pulled off a huge upset and settled for third place by one point.
API next week
Running doesn't stop this week, the Asian Pacific Invitational will take place next week. The two event featuring the top cross country schools in the region will take place on October 19-20.
PHOTO GALLERY BROUGHT TO YOU BY:
RESULTS
All Island
=================================================================
Name Yr Team Time Pts
—————————————————————–
Boys
—————————————————————–
1 Brandon Miranda 11 St. Paul Christian S 17:54.84 1
2 Nicholas Keefe Ju Guam High School 18:00.35 2
3 Delos Santos Kyle 12 Okkodo High School 18:12.72 3
4 Jacob Miranda 9 St. Paul Christian S 18:15.62 4
5 MARC RAJESH 11 St. John School 18:24.81 5
6 Luke Bukikosa 12 George Washington Hi 18:32.18 6
7 ZACHARY CRISS 12 St. John School 18:35.34 7
8 Terrence Johnson 10 Tiyan High School 18:38.40 8
9 LeonGuerrero Carlos 11 Southern High School 18:51.71 9
10 Jerimiah Rosario 11 John F Kennedy High 18:58.00 10
11 Cody Villegas 10 Simon Sanchez High S 19:08.24 11
12 Kanta Yamazaki 9 St. Paul Christian S 19:11.95 12
13 PHILIP SUHR 12 St. John School 19:15.12 13
14 ADAM CRUZ 9 St. John School 19:16.83 14
15 Ryniel DiRamos 12 Simon Sanchez High S 19:19.37 15
16 Ryan Kent 11 John F Kennedy High 19:24.73 16
17 John Paul Sanchez 12 John F Kennedy High 19:31.04 17
18 Melvin Reyes 10 John F Kennedy High 19:41.25 18
19 Ethan Garcia Ju Guam High School 19:43.17 19
20 Christian Ruder 10 George Washington Hi 19:43.52 20
21 Joseph Aguon 11 John F Kennedy High 19:44.68 21
22 Masato Tsujii 9 St. Paul Christian S 19:45.07 22
23 Melliza Lorenz 11 Okkodo High School 19:45.77 23
24 Joey Vinch Ju Guam High School 19:49.28 24
25 Tucker Pullen Fr Guam High School 19:51.87 25
26 Ronan Perry Fr Guam High School 19:54.15 26
27 Taiga Sato 11 John F Kennedy High 20:01.88 27
28 Cain Pamintuan 12 John F Kennedy High 20:05.73 28
29 Granville Tandoc 11 Simon Sanchez High S 20:06.91 29
30 Keanu Hada 10 Harvest Christian Ac 20:07.41 30
31 Tamondong Darren 11 Okkodo High School 20:09.74 31
32 John Medina 10 Simon Sanchez High S 20:11.52 32
33 Mark Imazu* 9t John F Kennedy High 20:17.32
34 Keith Nauta 10 St. Paul Christian S 20:21.61 33
35 Rico Castro 11 Simon Sanchez High S 20:23.70 34
36 GianCarlo Hemerlein So Guam High School 20:24.48 35
37 Roy Manaloto Father Duenas Memori 20:24.79 36
38 Jerald Bagain 11 Simon Sanchez High S 20:27.83 37
39 Jovan Pineda 10 John F Kennedy High 20:32.80
40 James Labanza 11 St. Paul Christian S 20:33.49 38
41 Jesse Jean-Louis 9t John F Kennedy High 20:35.80
42 Mason Calma Guam High School 20:36.21 39
43 Jim Pamplona 10 Simon Sanchez High S 20:50.29 40
44 Caleb Santiago 9 Simon Sanchez High S 20:56.39
45 Dru Sangueza 9 Simon Sanchez High S 20:58.84
46 Lacap Adrian 11 Okkodo High School 20:59.84 41
47 Olandez Peter 11 Okkodo High School 21:09.05 42
48 Pangelinan Gerald 12 Okkodo High School 21:14.29 43
49 THOMAS YSRAEL 9 St. John School 21:18.28 44
50 Alex Rink Fr Guam High School 21:23.19
51 Hayato Tsujii 11 St. Paul Christian S 21:24.83 45
52 Edrosa Mason 11 Okkodo High School 21:32.55 46
53 Vegafria Craig 11 Southern High School 21:33.34 47
54 Aaron Torres 11 Southern High School 21:36.78 48
55 Ethan Storie Father Duenas Memori 21:39.57 49
56 John Danieli Se Guam High School 21:40.19
57 Andrew Alconaba 9 George Washington Hi 21:42.14 50
58 Illac Lalic 11 St. Paul Christian S 21:44.12
59 Christopher Chiguina 11 Southern High School 21:53.03 51
60 Audrey Dela Cruz 11 St. Paul Christian S 21:53.74
61 Remoh Nel Sanchez 12 Simon Sanchez High S 21:54.33
62 Stephen Stettenbenz Father Duenas Memori 21:55.35 52
63 Vegafria Christian 11 Southern High School 21:55.70 53
64 Konosuke Yoshida 12 Harvest Christian Ac 21:59.73 54
65 Pangelinan Gabriel 10 Okkodo High School 22:00.45
66 Juico Jadrian 9t Okkodo High School 22:02.82
67 LeonGuerrero Ramon 11 Southern High School 22:04.07 55
68 Nathan Chomel 11 Harvest Christian Ac 22:04.51 56
69 Elomina Jayvee 11 Okkodo High School 22:06.86
70 Kai Suzuki Father Duenas Memori 22:11.61 57
71 Desomon Nixon Guam High School 22:15.97
72 Diaz Joaquin 11 Southern High School 22:19.65 58
73 Alexander Hernandez Father Duenas Memori 22:24.50 59
74 Jeffrey Labanza 10 St. Paul Christian S 22:27.06
75 ERREN CHEN 9 St. John School 22:28.61 60
76 Wolfe Zach 11 Southern High School 22:33.91
77 Devin Lamb Father Duenas Memori 22:41.30 61
78 BRIAN JOSEPH 10 St. John School 22:45.78 62
79 Matthew Cadiz Father Duenas Memori 22:47.61 63
80 Aiden Flory Tiyan High School 22:52.65 64
81 Masaki Tsuboyama 12 Harvest Christian Ac 23:07.31 65
82 TREY LARSEN 12 St. John School 23:08.14
83 Michael Sampang 10 Tiyan High School 23:09.81 66
84 Jonan Fejeran Father Duenas Memori 23:44.51
85 Resty Versario 9 George Washington Hi 23:51.06 67
86 Nathaniel Canlas Father Duenas Memori 24:12.07
87 Brandon Deliguin 12 Harvest Christian Ac 24:15.60 68
88 Nathan Perez 9 George Washington Hi 24:16.31 69
89 Layon Peter 12 Southern High School 24:17.18
90 Aaron Gumataota Father Duenas Memori 24:26.77
91 Khan Vongjalorn 12 Harvest Christian Ac 24:37.22 70
92 Jonathan Xu 11 Harvest Christian Ac 24:47.14 71
93 HONGWEI LIU 12 St. John School 24:48.85
94 Evan Bradley 9 Harvest Christian Ac 24:51.97
95 Matrix Dydasco 12 George Washington Hi 24:55.01 72
96 Keisi Clark 9 Harvest Christian Ac 25:32.97
97 Michael Flisco 10 George Washington Hi 25:46.95 73
98 Nathaniel Sejaldo Tiyan High School 26:05.14 74
99 John Antipolo Tiyan High School 27:50.11 75
100 Zachary Cabrera 12 George Washington Hi 34:00.71
101 Aaron Olkeriil 10 George Washington Hi 34:12.96
Boys IIAAG All Island Team Scores
=================================================================
Team Pts 1 2 3 4 5 (6) (7)
=================================================================
1 St. Paul Christian S 72 1 4 12 22 33 38 45
Total Time: 1:35:30 Average: 19:05.82 1-5 Split: 2:27
2 John F Kennedy High 82 10 16 17 18 21 27 28
Total Time: 1:37:20 Average: 19:27.94 1-5 Split: 47
3 St. John School 83 5 7 13 14 44 60 62
Total Time: 1:36:51 Average: 19:22.08 1-5 Split: 2:54
4 Guam High School 96 2 19 24 25 26 35 39
Total Time: 1:37:19 Average: 19:27.77 1-5 Split: 1:54
5 Simon Sanchez High S 121 11 15 29 32 34 37 40
Total Time: 1:39:10 Average: 19:49.95 1-5 Split: 1:16
6 Okkodo High School 140 3 23 31 41 42 43 46
Total Time: 1:40:18 Average: 20:03.43 1-5 Split: 2:57
7 Southern High School 208 9 47 48 51 53 55 58
Total Time: 1:45:51 Average: 21:10.12 1-5 Split: 3:04
8 George Washington Hi 212 6 20 50 67 69 72 73
Total Time: 1:48:06 Average: 21:37.05 1-5 Split: 5:45
9 Father Duenas Memori 253 36 49 52 57 59 61 63
Total Time: 1:48:36 Average: 21:43.17 1-5 Split: 2:00
10 Harvest Christian Ac 273 30 54 56 65 68 70 71
Total Time: 1:51:35 Average: 22:18.92 1-5 Split: 4:09
11 Tiyan High School 287 8 64 66 74 75 – –
Total Time: 1:58:37 Average: 23:43.23 1-5 Split: 9:12
—–
All Island Females
=================================================================
Name Yr Team Time Pts
—————————————————————–
Girls
—————————————————————–
1 JENNA HAN 12 St. John School 21:46.21 1
2 Tanea Henderson Guam High School 22:16.64 2
3 Mya Tolerson 10 John F Kennedy High 22:27.06 3
4 MADISON PACKBIER 11 St. John School 22:34.95 4
5 Chasity Minor 9t John F Kennedy High 22:37.60 5
6 Annika Almario 9t Academy of Our Lady 23:15.52 6
7 Letycia Lynch Guam High School 23:27.82 7
8 Jazmin Samonte 11 St. Paul Christian S 23:32.39 8
9 KAILEA WIESE 12 St. John School 23:35.36 9
10 Gissa Dumaroag 9 George Washington Hi 23:37.26 10
11 Sameha Wilbank So Guam High School 23:39.29 11
12 Arika Wada 12 John F Kennedy High 23:40.60 12
13 Minami Cramer 10 Harvest Christian Ac 24:06.36
14 Lola Martin 9t Academy of Our Lady 24:10.38 13
15 Farnaz Farahani 12 Harvest Christian Ac 24:23.24
16 Viannka Leon Guerrero 12 John F Kennedy High 24:34.62 14
17 Geordyn Santos 11 Southern High School 24:40.47 15
18 JANALYN CRISS 9 St. John School 24:41.13 16
19 Sheila Dumaraog Academy of Our Lady 24:50.86 17
20 Castor Jania 11 Okkodo High School 24:56.53 18
21 JENNY MANN 10 St. John School 25:16.32 19
22 Carlene Blailes 11 St. Paul Christian S 25:17.61 20
23 Lacsina Celynn 10 Okkodo High School 25:18.86 21
24 Cuabo Chloe 11 Okkodo High School 25:23.84 22
25 Leila Arroyo 11 St. Paul Christian S 25:26.16 23
26 Rian Guzman 9t Academy of Our Lady 25:27.10 24
27 Lily Franklin 11 St. Paul Christian S 25:28.26 25
28 Sierra Tenorio 9t Academy of Our Lady 25:33.79 26
29 Alana Aguon 12 St. Paul Christian S 25:34.86 27
30 Hannah Cathey 12 Harvest Christian Ac 25:36.28
31 Elizabeth Desingano 9 George Washington Hi 25:37.58 28
32 Dae Pangelinan 10 George Washington Hi 25:46.29 29
33 Nierra Ubaldo 9 Academy of Our Lady 25:47.16 30
34 Kyristen Farrior So Guam High School 26:08.55 31
35 Jiao Wen 12 St. Paul Christian S 26:11.83 32
36 Rivera Kyona 11 Okkodo High School 26:39.48 33
37 Bantugan Alyanna 11 Okkodo High School 27:07.06 34
38 Kerida Quinata 10 Simon Sanchez High S 27:16.62
39 Edyn Santos 9 Southern High School 27:46.70 35
40 Maria Egurrola 9t Academy of Our Lady 27:54.35 36
41 Isabella Salcepuedes 12 Simon Sanchez High S 28:00.63
42 Raianne Quichocho 10 George Washington Hi 28:04.31 37
43 Ariya Limtiaco 12 John F Kennedy High 28:06.11 38
44 Railee Webb 10 George Washington Hi 28:20.04 39
45 Adriana Caraig 11 St. Paul Christian S 28:27.04 40
46 Kayla Arellano 9t Academy of Our Lady 28:28.34
47 Breanne Jamindang 9 St. Paul Christian S 28:39.37
48 Ave Santos 10 George Washington Hi 28:44.34 41
49 Chloe Hayes So Guam High School 28:55.44 42
50 Audra Middelbrook Ju Guam High School 29:04.64 43
51 OLIVIA WEN 10 St. John School 29:05.25 44
52 Quichocho Jayna 9t Okkodo High School 29:24.58 45
53 Aquino Genesis 10 Okkodo High School 29:37.07 46
54 Jerymae Segovia 9 Simon Sanchez High S 29:44.59
55 Elaine Cases 12 John F Kennedy High 29:56.53 47
56 Edeenalyn Gatmen 12 Simon Sanchez High S 30:08.50
57 Jonah Ry Santos 10 John F Kennedy High 30:37.33 48
58 Raina Okada 11 Southern High School 30:46.60 49
59 Magsombol Leigh 11 Okkodo High School 31:07.66
60 Maryann Vaughan 10 Southern High School 31:16.52 50
61 Kirsten Riley Ju Guam High School 31:49.65 51
62 Clark Kiana 10 Okkodo High School 32:24.44
63 Gabby Kranz Guam High School 32:34.38
64 Deborah Mangabat 10 St. Paul Christian S 32:49.24
65 Agatha Vaughan 11 Southern High School 33:06.83 52
66 Denelle Aldan George Washington Hi 34:35.59 53
67 Raisa Sinel 11 Southern High School 35:00.10 54
68 Ave Borja 9t Academy of Our Lady 35:36.00
69 Hannah Cepeda George Washington Hi 36:32.57
70 Laryn Techaira 10 John F Kennedy High 37:46.58
71 Kohana Fejeran 9t Academy of Our Lady 37:47.65
72 Olarte Paulliene 9t Okkodo High School 37:50.25
—————————————————————–
Boys
—————————————————————–
1 Aaron Duenas 9 George Washington Hi 32:58.98
Girls IIAAG All Island Females Team Scores
=================================================================
Team Pts 1 2 3 4 5 (6) (7)
=================================================================
1 St. John School 49 1 4 9 16 19 44 –
Total Time: 1:57:54 Average: 23:34.80 1-5 Split: 3:31
2 John F Kennedy High 72 3 5 12 14 38 47 48
Total Time: 2:01:26 Average: 24:17.20 1-5 Split: 5:40
3 Academy of Our Lady 86 6 13 17 24 26 30 36
Total Time: 2:03:18 Average: 24:39.53 1-5 Split: 2:19
4 Guam High School 93 2 7 11 31 42 43 51
Total Time: 2:04:28 Average: 24:53.55 1-5 Split: 6:39
5 St. Paul Christian S 103 8 20 23 25 27 32 40
Total Time: 2:05:20 Average: 25:03.86 1-5 Split: 2:03
6 Okkodo High School 128 18 21 22 33 34 45 46
Total Time: 2:09:26 Average: 25:53.16 1-5 Split: 2:11
7 George Washington Hi 143 10 28 29 37 39 41 53
Total Time: 2:11:26 Average: 26:17.10 1-5 Split: 4:43
8 Southern High School 201 15 35 49 50 52 54 –
Total Time: 2:27:38 Average: 29:31.43 1-5 Split: 8:27

2022 GSPN I MÅS METGOT COMPETITION
2022 GSPN I Mås Metgot Competition Recap
2022 GSPN I MÅS METGOT COMPETITION
2022 GSPN I Mås Metgot Competition Recap
2022 GSPN I MÅS METGOT COMPETITION
2022 GSPN I Mås Metgot Competition Recap