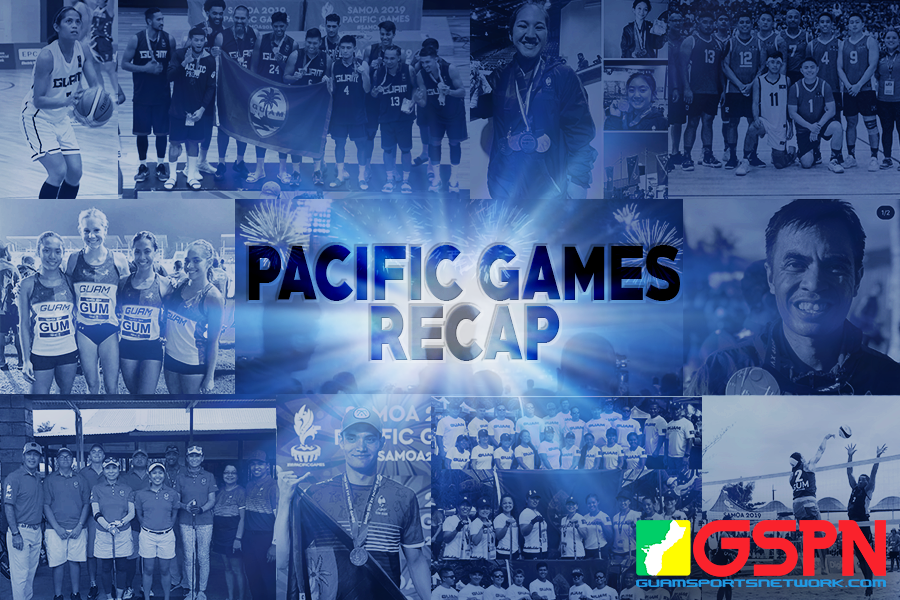 By GSPN
Guam's 2019 Pacific Games journey came to an end last week and more than a handful of athletes came back with medals from Samoa. Outside the podium, Guam records were broken in Track & Field and many athletes got the taste of what the Pacific Islands has to offer with plenty participating in the Pacific Games for the very first time.
Gold Medals (3)
Men's Basketball (5×5)
Men's Basketball (3×3)
Judo 81 kg – Joshter Andrew
Silver Medals (10)
Taekwondo – Alex Allen
Taekwondo – Tierra Lyn Chargualaf
Taekwondo – Amber Toves
Swimming 50m Breaststroke – Benji Schulte
Track & Field 5000m – Genina Criss
Weightlifting 55kg Snatch, Clean & Jerk, Total- Jacinta Sumagaysay
Weightlifting 49kg Snatch, Total – Dayamaya Calma
Bronze Medals (6)
Weightlifting 45kg Clean & Jerk – Dayalani Calma
Weightlifting 49kg Clean & Jerk – Dayamaya Calma
Taekwondo – Leon Ho
Taekwondo – Joseph Ho
Athletics Half Marathon – Derek Mandell
Athletics 3000m Steeplechase – Allison Bowman
Athletics
Thirteen athletes went up against the best in the Pacific which was highlighted by a 1500m silver medal from Genina Criss. Guam Olympian Derek Mandell recovered from what he considered a disappointing 5000m to grab bronze in the half marathon. The 4×400 relay team of Richelle Tugade, Regine Tugade, Allison Bowman and Madison Packbier broke the Guam National Record which stood for over 20 years.
Basketball
The men's team looked like an unstoppable force all tourney long, but ran into a really tough Tahiti team for the gold medal. Guam powered through to defend the gold behind memorable performances from JP Cruz and Tai Wesley.
Guam then followed up their 5×5 medal with a 3×3 medal with a fantastic four of Ben Borja, Mike Sakazaki, AJ Carlos and Seve Susuico.
Guam's ladies fell to Fiji in the Quarterfinals and lost a close one in the bronze medal game to Samoa.
Judo
Guam's Joshter Andrew brought in the very first gold for the island with a masterful performance in Samoa in the 81 kg division defeating Tahiti's Toanui Lucas.
Swimming
Guam's Olympian Benji Schulte was split seconds between gold and bronze after a highly competitive 50m breaststroke.
Taekwondo
For the first time ever in Guam's history, every member from Guam's Taekwondo team managed to medal in Samoa for a total of seven medals coming from the martial artists!
Weightlifting
More than a handful of medals came from the lifters led by an outstanding triple silver from Jacinta Sumagaysay in the 55kg division. The Calma sisters were also rocking the podium with the youngest Dayamaya taking two silver medals in the 49kg and one Bronze.  Dayalani Calma took a bronze in the 45kg.
Volleyball
The men's team finished 9th place of 13 teams and the women's team finished 7th of 10. For beach volleyball, Guam's duo finished 9th of 16 teams.

QUICK HITS
The Figo Islanders 40s women's softball team took gold in the Senior Softball World Championship in Las Vegas. Figo came out of the loser's bracket and beat the Arizona Belles 17-3 in the AA division championship game Sunday afternoon.
Other Guam teams that played in the 40s tournament were: Team SOTTA (women's) and Bud Light Guam, Friars 671 and Sindalun Guahan (men's).
Sindalu finished a respectable 4th out of 24 AAA division teams.