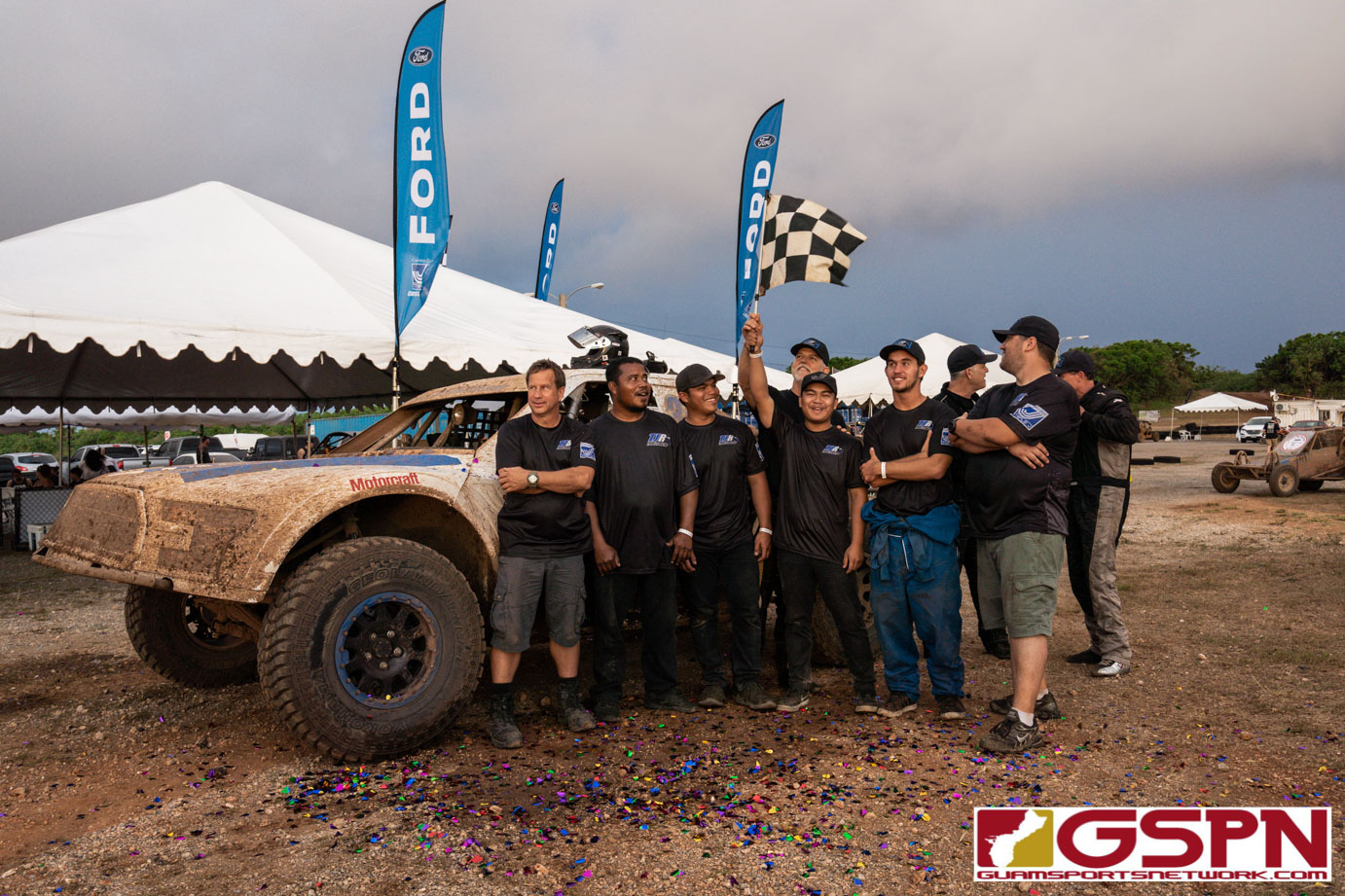 By Robert Balajadia
A normal weekend at the Yigo Raceway Park can't be matched during the annual Smokin' Wheels event and their takeover from April 12-14 in 2019 was no different. The legend Ivan Stewart made his way back to Guam for the first time since 2005 giving fans an opportunity to take a ride with the legend around the tracks.
The drag racers owned the evening Friday while the MX and ATV Racers dominated the track Saturday, along with the long line of food trucks and rock climbers. The highly touted endurance race closed out the off-road circuit Sunday evening while the mud-drags got down and dirty under the blazing sun.
Making headway in the much anticipated race were the Jones brothers Jeff and Jay and Rick Johnson of the Triple J team, who brought home the checkered flag for the first time since getting back into the competitive scene.
Triple J had debuted the Raptor and raced it for three years before making the switch to a more competitive machine in 2017. But neither 2017 nor 2018's truck even saw the finish line with problems forcing them to retire the truck early.
"You only get one shot a year here so winning this validates all the hard work the whole team has put into this and it's a big pay off. The Raptor was great, but at some point we wanted to win so we felt we needed the next generation of 'The Raptor'," said Jay Jones.
Jeff Jones took the track first before Jay with the Triple J team nestled right in 3rd place. Johnson would be the anchor after the reset with the lead right in their grasp.
"I obviously didn't want to disappoint [Jeff & Jay] because they did such a great job so it was just a matter of keeping the truck going, which is something I'm pretty good at. It held up great!," said Johnson.
Guam's tracks are often considered one of the tougher racing scenes for off-road racers, and the endurance race didn't let up on even the vets.
"It started out really nice, but as the hours tack on and more and more people are racing, it starts to get pretty rough," said Jeff.
The Jones family also wanted to extend their gratitude towards the Triple J crew who help put it all together met with unwavering support.
"Everybody made sacrifices to allow us to get here so we really appreciate everything the whole Triple J team did. They worked many hours, even late last night, just to make sure everything got done," said Jay Jones on his team.
SMOKING' WHEELS DAY 1
SMOKIN' WHEELS DAY 2