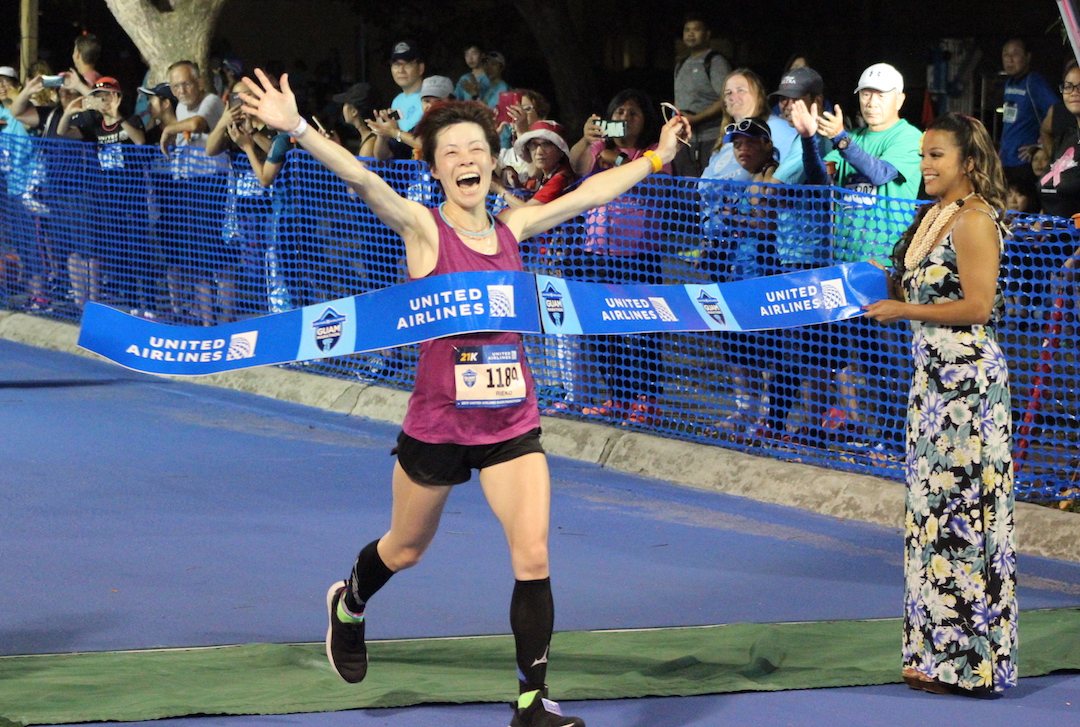 By Robert Balajadia
A record setting number of over 4000 runners from 20 countries made for a big accomplishment by the United Guam Marathon, making it the biggest event in UGM history to date. Guam's visitors from Asia took all but one top spot in each race, but Guam's ladies dominated the 10k with Rhea Macaluso leading the run.
In a press release, Sam Shinohara, managing director of airport operations, Asia/Pacific for United Airlines noted that the United team was pleased with the event's growth.
"We understand UGM's valuable contribution to tourism and the economy. We were able to create greater excitement for the event this year. In our source markets, we worked closer with our partners Guam Visitors Bureau and Guam Sports Events, Inc. to leverage our resources in the markets. We have already identified opportunities to grow UGM 2020 through more aggressive goals. We are excited about what we can achieve for next year, and United will have a greater opportunity to anticipate the demand and capacity for 2020," said Shinohara.
The very first finisher of the event came from the Half Marathon with a course-breaking time from Japan's Takumo Hasebe in 1:12:00. The course also saw the first local finisher in Guam's Derek Mandell, who didn't quite hit a PR despite still finishing in the top three.
"I felt okay for what today was and I found a steady pace I could hold on to. Even if other runs hit fast times, running on Guam is a whole lot different. I always feel like I have a chance somehow given my familiarity with the weather," said Mandell.
Guam's Manami Iijima was forced to withdraw from the race as she originally signed up to run the Half. Iijima suffered an injury after recently competing in the Tagaman event which forced her to make an emergency withdrawal.
TOP FINISHERS
MALE MARATHON – TOP THREE FINISHERS
YOSHIKI NAKAMURA            2:32:31            JAPAN
YASUO ITO                            2:36:46            JAPAN
SHUN GOROUTANI               2:40:54            JAPAN
FEMALE MARATHON – TOP THREE FINISHERS
TOMOMI SAWAHATA            3:01:18            JAPAN
KRIS LAWRENCE                  3:11:31            GUAM
MEGUMI MATSUII                 3:31:10            HONG KONG
MALE HALF MARATHON
TAKUMI HASEBE                               1:12:00            JAPAN
MASAKI SASAKI                                1:17:25            JAPAN
DEREK MANDELL                             1:18:01            GUAM
FEMALE HALF MARATHON
RIEKO KOSHI                                    1:29:22            JAPAN
LAURA NADEAU                                1:31:27            GUAM
YUKO KUSUNOSE                            1:31:50            JAPAN
MALE 10K
HIKARU KUMAGAI                 31:53               JAPAN
WAN CHUN WONG               33:22               HONG KONG
MAKAE MAKOTO                   35:55               JAPAN
FEMALE 10K
RHEA MACALUSO                 44:32               GUAM
SHAKEERA ESMA                 44:41               GUAM
YUMIKA SUGAHARA             45:16               GUAM
MALE 5K
SEOKGEUN JEONG              16:58               SOUTH KOREA
FUKASE MASAFUMI             17:11               JAPAN
KENTA ARASE                       17:32               JAPAN
FEMALE 5K
SUNOK HWANG                    19:50               SOUTH KOREA
AYAKA UEDA                         20:14               JAPAN
GENINA PIOLO CRISS          20:48               GUAM
PHOTO GALLERY BROUGHT TO YOU BY:

2022 GSPN I MÅS METGOT COMPETITION
2022 GSPN I Mås Metgot Competition Recap
2022 GSPN I MÅS METGOT COMPETITION
2022 GSPN I Mås Metgot Competition Recap
2022 GSPN I MÅS METGOT COMPETITION
2022 GSPN I Mås Metgot Competition Recap
COMING SOON …