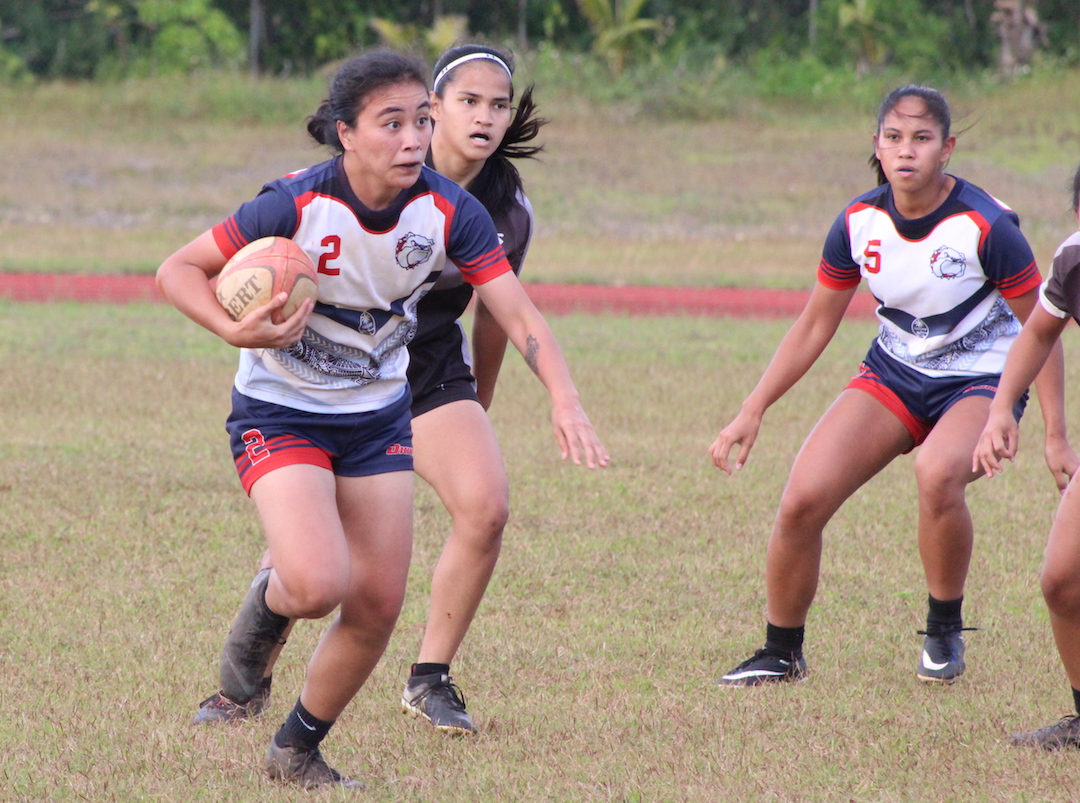 By Robert Balajadia
Love may have been in the air, but rugby was all over the Okkodo Field Thursday evening on Valentines. The ladies in IIAAG Varsity Rugby showed their love with aggressive hugs and trying for scores with all eight teams getting a double-dose of action.
The Okkodo Bulldogs were locked in to a three-way tie for 2nd place between the GW Geckos and Sanchez Sharks, but two convincing wins on their home field coupled with losses from the Sharks and Geckos, have given the Bulldogs sole possession.
Okkodo grabbed a big surge from Shermia Cruz in the first half against their showdown with Sanchez as Cruz scored the teams first two tries to get up 14-0. The scores opened the flood gates for the Bulldogs as they added 21 second half scores while blanking the Sharks 35-0.
Okkodo would pick up a 22-0 win over the JFK Islanders to improve their standing.
The ND Royals gave up more points Thursday than they have all season. 12-0 entering the day and only allowing 12 points all season, the Royals got an early test from the JFK Islanders after going down 7-0 in the first two minutes of action. JFK Islander Palani Aflague broke through the ND line for the games first try, and nearly did so again moments later before getting stopped just yards short by Austia Mendiola. Aflague would get shaken up on the hit and would leave the game and not return.
The Royals got a big surge off the bench from Gia Camacho who provided the answer on a scamper up the left sideline for the teams first try, tying the game at seven all. Camacho would score her second try to go up 14-7 and never looked back. Hana Takano and Taylor Aguon got into the scoring action in the second half to final the score 26-7.
The GW Geckos picked up a 28-0 win over the Cougars as they eyed a rematch with the Royals. ND would go up 17-0 after a tries from Faith Moylan, Aguon and Brianne Leon Guerrero, but scores from the Geckos Frankie Fejeran would keep it close at 17-14.
Moylan would get the final try to close the game as the Royals would escape 22-14 in their closest battle all season.
Boys varsity rugby mixed with junior varsity will take over Saturday as the girls will have a rare weekend off.
Final standings and full scores will be posted soon!
PHOTO GALLERY BROUGHT TO YOU BY:

QUICK HITS
Bishop Obispos beat Mt. Carmel for the IIAAG Middle School Girls Basketball championship 37-25.
—————————————-
The Benavente Roadrunners crushed the Agueda Pirates 17-1 to win the 76 PONY Middle School Baseball League. Rodney San Nicolas was a beat, striking out 13 batters in a complete game while going 4-for-4 at the plate, including a homer and 4 RBI.