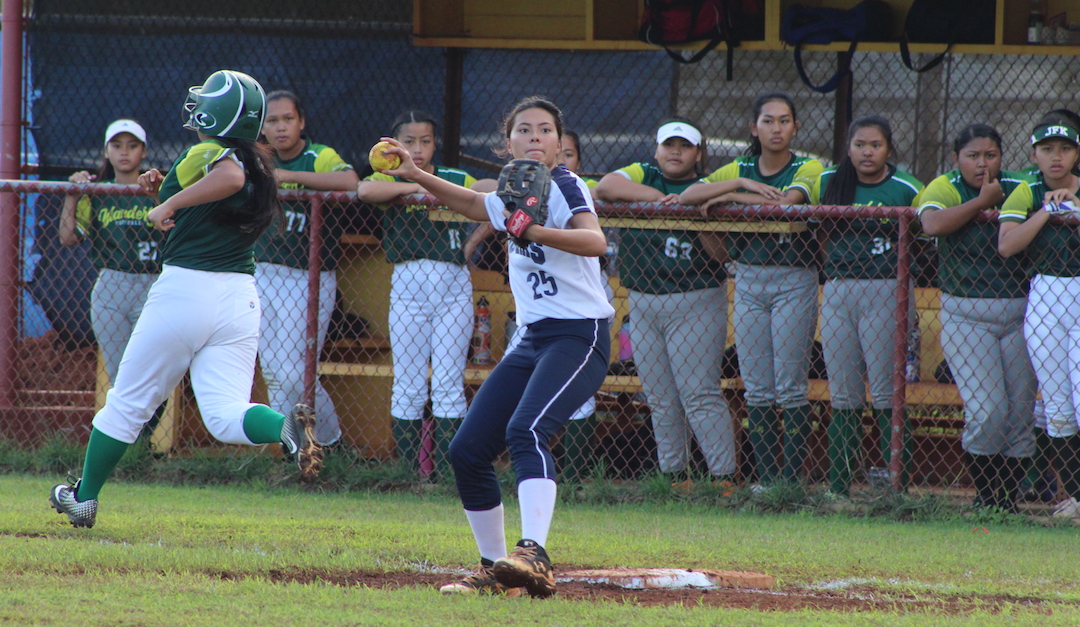 By Robert Balajadia
The Academy Cougars got to play their first home game of the season Wednesday at the Tai Field as they hosted the defending champion JFK Islanders in a rematch of last season's championship game. The Cougars would win the rematch in just the second game for both teams this season, beating the Islanders 10-5 in a game that didn't feature much offense despite the score.
The Islanders struggled in the early goings at the mound after two wild pitches and two hit-by-pitches turned into runs that quickly put JFK down 6-1 in just the second inning. Hit by pitches would be a theme as Islanders pitcher Emani Gutierrez gave up 11 total in the game.
"JFK is a tough team and we have to respect that; they were the champs last year! We knew that they had a new pitcher and we just had to feel her out. But when it comes to getting hit [by pitch] you just gotta wear it," said Cougar junior Isabella Muna, who led the team scoring three total runs.
Academy started to pick up their hitting in the later innings, which was highlighted by an RBI double from Olivia Salas to go up 8-4 after the Islanders started creeping back into the game in the 5th. Salas's hit paved the way for the Cougars in the 6th inning as their first three batters secured base hits to load the bases.
"My coach said to take our sisters home and so I did. I had to give it 110%," said Salas.
Gutierrez would tag three more batters with hit by pitches that turned into the final two runs for the Cougars in the 6th inning.
JFK needed six runs trailing 10-4 to extend the game in the 7th. The Cougars defense would lock up the first two outs before JFK tried their hand at a two-out rally. Islander Jaeda Aguon secured a hit to advance teammate Alexcis Evangelista, setting up an RBI single from Kianna Songsong to get within 10-5.
Aguon would try to make her way home on the hit, but a grab and throw from Muna in the outfield to home would allow catcher Almiah Cruz enough time to tag Aguon for the final out.
The game plan for the Cougars on the defensive side is to try and relieve as much of the work load as they can for senior leader Ashley Mendiola. Mendiola is arguably the league's best at the mound and Academy will do everything they can to preserve their leading lady.
"We think about our pitcher all the time and we know that she's working really hard. Our main focus is having her throw less so we have to protect her and finish off those plays. Doing that helps the whole team calm down," added Muna.
There's already been four rain outs this softball season and Guam's unpredictable weather can easily call for more. The lack of field time will show in the season's early goings, but Salas believes in her teams ability to grow despite missing out on some valuable game time.
"We grow in practice each day and we practice everyday, rain or shine. We try and get as much field time together as we can and it helps that we all come out to practice. We work hard to try and fix our errors and that's all we can do, keep trying," said Salas.
Cougar Ashley Mendiola gets the win for the Cougars with four total strikeouts and Gutierrez takes the loss with two strikeouts.
PHOTO GALLERY BROUGHT TO YOU BY:

QUICK HITS
3rd place: Big ups to the Para Todu Rugby Club for finishing 3rd out of 16 teams in the Manila 10's Rugby Tournament today. Biba Guam Rugby!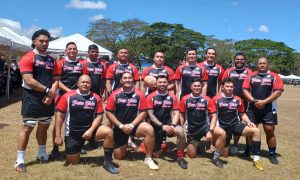 ——————————————
Guam MTB National Championship: Edward Oingerang and Jennifer Camacho are your 2023 MTB national champions. Oingerang finished the course in 1:13:24 while Camacho won her second straight title in 54:08.