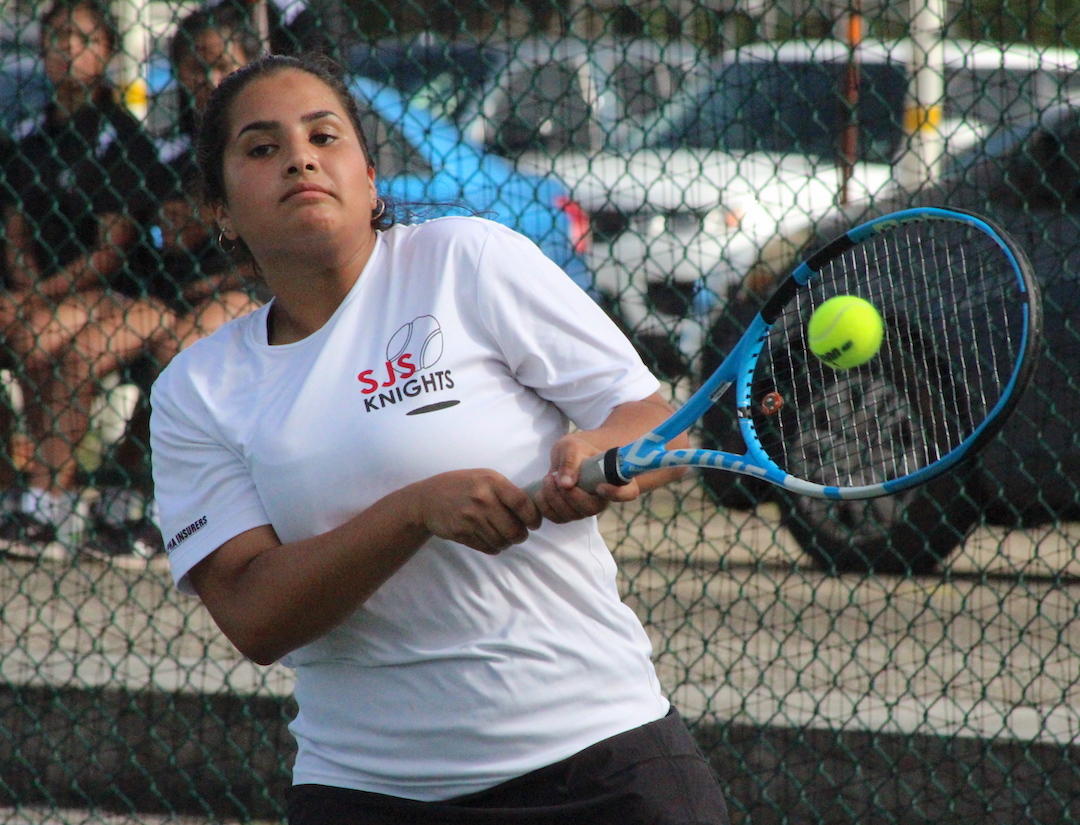 By Robert Balajadia
The St. John's Knights won three of four matches Thursday afternoon in convincing fashion as they defeated the Academy Cougars 30-13 at the Ninete Tennis Court. The big match-up of the day was the singles showdown between Knight Anika Sachdev and Joycelyn Tenai, two of the four finalists in last years All-Island Tournament.
Sachdev, a senior, is starting her final campaign on a strong note by adding a big win over Tenai with an 8-2 final in their singles match. Thursday's match proved to be a milestone for Anika as she's never been able to get a win against the Cougars until now.
Facing off against former Cougars like Tara Usita-Lee and Victoria Smith, who went on to win MVP titles, has only hardened Sachdev for her final stretch. Facing the Cougars in the regular season one last time was quite different this time around for Anika.
"I'm always nervous when it comes to facing Academy. My record against them hasn't been very good. I was nervous at first, but all I was thinking was that I had nothing to lose. As long as I played my best then it wouldn't really matter the outcome. I wasn't overthinking it today, not trying to kill every ball and ace every serve, I was just trying to play the game that I know that I've been building up for the past four years," admitted Anika.
In fact, preparing for her final season has been a completely different approach.
"It's bittersweet, but I'm trying to set a record for myself. Of course I want to keep my scores and record good, but I really just want to enjoy my last high school season."
The Cougars didn't grab the team win but Mika Alcantara's close victory over St. Knight Ayuka Lin was as meaningful and emotional as they come. Alcantara has been a doubles player up until her now final season and winning her first match with her dad and older sister in attendance was enough to let out some post game tears.
"I didn't grow up playing tennis and I only played in high school because my sister played. It wasn't something that I thought I could do before and I've surprised myself. My sister even skipped her class today to watch me and this is her first time seeing my play singles. And the fact that I won when she was here was emotional," said Alcantara.
Results
Singles
St. John's – Anika Sachdev 8, AOLG – Joycelyn Tenai 2
AOLG – Mika Alcantara 8, St. John's – Ayuka Lin – 6
Doubles
St. John's – Luna Puangco/Kaia Malakooti 8, AOLG – Christabelle Basto/Emilee Yamamoto 1
St. John's – Aprile Kim/Rachel Seo 8, AOLG – Andrea Cruz/Maria Egurrola
PHOTO GALLERY BROUGHT TO YOU BY: