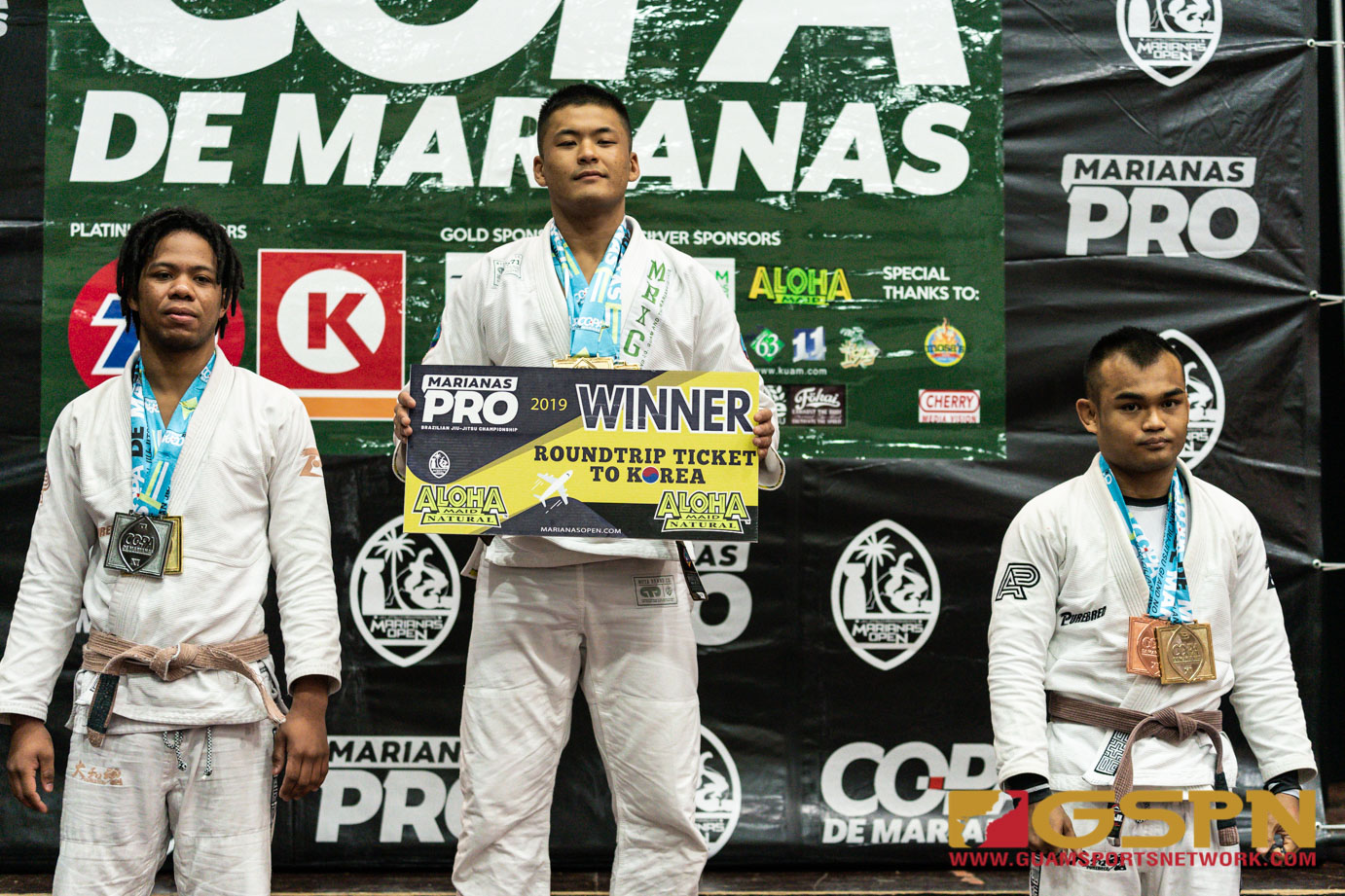 The 2019 Copa De Marianas took over the Phoenix Center Saturday with a trip to compete in the 2019 Marians Pro in Korea on the line. This particular event didn't feature any world-class black belt matches, unlike their previous few events, instead highlighting Guam's competitive brown belt divisions.
Carlson Gracie's Anthony Cruz was the days biggest winner after climbing out of fight fights to claim the 176-190 lbs brown belt champion as well as the open belt champion, securing his trip to compete in the 2019 Marianas Pro.
The Gracie team also made a big splash by taking home the overall team title, which had been previously dominated by the Purebred team.
Here's the full results and photos from the weekend below:
PHOTO GALLERY BROUGHT TO YOU BY:
KIDS / UP TO 55 LBS
1 – ZYRON TABUNAR PHILIPPINES
Carlson Gracie Guam CARLSON GRACIE TEAM
2 – KHALVEN MORENO PHILIPPINES
Carlson Gracie Guam CARLSON GRACIE TEAM
3 – SAGE PEREZ UNITED STATES
Carlson Gracie Guam CARLSON GRACIE TEAM
KIDS / 56-65 LBS
1 – DIOWILL CRUCENA GUAM
Alliance Guam
2 – AIDEN ROY PEREZ GUAM
Alliance Guam
3 – EAN EDDY GUAM
Carlson Gracie Guam CARLSON GRACIE TEAM
KIDS / 66-75 LBS
1 – DOUGLAS ROBERT KELLY GUAM
Carlson Gracie Guam CARLSON GRACIE TEAM
2 – KYMANI FEGURGUR GUAM
3 – GHUNNER MANGLONA GUAM
PUREBRED JIU JITSU GUAM
KIDS / 76-85 LBS
1 – ISAIAH CHARGUALAF GUAM
PUREBRED JIU JITSU GUAM
2 – HUGO REYES GUAM
Carlson Gracie Guam CARLSON GRACIE TEAM
3 – ANGELIQUE JADE CRUZ GUAM
KIDS / 86-95 LBS
1 – ELTON LOBATON JR. GUAM
Figo
2 – MYRA LACUATA GUAM
PUREBRED JIU JITSU GUAM
3 – TRISTAN SANTOS GUAM
Carlson Gracie Guam CARLSON GRACIE TEAM
KIDS / 96-105 LBS
1 -JARVIS VISPERAS PHILIPPINES
2 -CLIFF IBAY, JR. GUAM
Alliance Guam
3 – SOPHIA ELYSE KELLY GUAM
Carlson Gracie Guam CARLSON GRACIE TEAM
KIDS / 106-115 LBS
1 – CADEN KIM UNITED STATES
PUREBRED JIU JITSU GUAM
2 – CHRISTOPHER CRUZ II UNITED STATES
Carlson Gracie Guam CARLSON GRACIE TEAM
KIDS / 126 LBS AND ABOVE
1 -HADRIEL RAIDEN TEMPLANZA GUAM
Spike 22
2 – BY'RON X'ZAMION PALACIOS GUAM
Alliance Guam
3 – JED BRIAN BEJADO GUAM
Carlson Gracie Guam CARLSON GRACIE TEAM
TEEN / UP TO 105 LBS
1 – LOGAN ROSARIO GUAM
Heights Academy
2 – TRINA LACUATA GUAM
PUREBRED JIU JITSU GUAM
TEEN / 116-125 LBS
1 – ASHTON MANGLONA GUAM
PUREBRED JIU JITSU GUAM
2 – JOHANNA DUENAS GUAM
Heights Academy
TEEN / 126-135 LBS
1 – BENJAMIN BORJA GUAM
Figo/Bonsai Jiu Jitsu
2 – IAN KIM UNITED STATES
PUREBRED JIU JITSU GUAM
ADULT / WHITE / UP TO 130 LBS
1 – CZAR DELA CRUZ PHILIPPINES
PUREBRED JIU JITSU GUAM
2 – JOHN AQUINO IV GUAM
Carlson Gracie Guam CARLSON GRACIE TEAM
3 – SHADRIANA TAIMANGLO GUAM
ADULT / WHITE / 131 – 145 LBS
1 – ROSHJAY MANTANONA GUAM
VIDA BJJ
2 – JONATHAN MORA GUAM
Carlson Gracie Guam CARLSON GRACIE TEAM
3 – AJIA FEGURGUR GUAM
ADULT / WHITE / 146 – 160 LBS
1 – TYLER KLEIN UNITED STATES
PUREBRED JIU JITSU GUAM
2 – BRANDEN QUICHOCHO GUAM
Figo
3 – LARRY VIDAL UNITED STATES
Spike 22
ADULT / WHITE / 161 – 175 LBS
1 – PATRICK UNCANGCO GUAM
Spike 22
2 – MARK BATISTA DOMINICAN REPUBLIC
Spike 22
3 – LEVI SHECKLEY UNITED STATES
Spike 22
ADULT / WHITE / 176 – 190 LBS
1 – JULIO FERNANDEZ PERU
Spike 22
2 – ADRIAN ANULAO GUAM
Spike 22
3 – DEVIN MILAM UNITED STATES
Carlson Gracie Guam CARLSON GRACIE TEAM
ADULT / WHITE / 191 – 205 LBS
1 – RYAN RIVERA GUAM
Carlson Gracie Guam CARLSON GRACIE TEAM
ADULT / WHITE / 206 LBS AND OVER
1 – FRANCIS PRESTO II GUAM
Alliance Guam
2 – RYAN DUREN UNITED STATES
PUREBRED JIU JITSU GUAM
3 – ALAN PINKINE GUAM
Spike 22
ADULT / BLUE / 131 – 145 LBS
1 – PETER CRUZ GUAM
2 – JARED LUBASAN GUAM
Spike 22
ADULT / BLUE / 146 – 160 LBS
1 – PETER BENAVENTE GUAM
VIDA BJJ
2 – RYAN DISTOR NORTH KOREA
PUREBRED JIU JITSU GUAM
3 – JUAN LIZAMA GUAM
Spike 22
ADULT / BLUE / 161 – 175 LBS
1 – ZACHERY BENAVENTE GUAM
VIDA BJJ
2 – CASTRO RAMON GUAM
ADULT / BLUE / 176 – 190 LBS
1 – MIKEY FLORES PHILIPPINES
VIDA BJJ
2 – SHANE CRUZ GUAM
Ground Fu
3 – BRIAN ROBERTO GUAM
PUREBRED JIU JITSU GUAM
ADULT / BLUE / 191 – 205 LBS
1 – ANTHONY RIVERA GUAM
Spike 22
2 – KAYNE KAMMINGA GUAM
Spike 22
3 – PHOENIX CANNON GUAM
PUREBRED JIU JITSU GUAM
ADULT / PURPLE / 161 – 175 LBS
1 – RICKY CAMP GUAM
Spike 22
2 – PATRICK CRUZ GUAM
PUREBRED JIU JITSU GUAM
3 – KEVIN RIVERA GUAM
Carlson Gracie Guam CARLSON GRACIE TEAM
ADULT / BROWN / 146 – 160 LBS
1 – OLIVER JAMES CRUZ GUAM
PUREBRED JIU JITSU GUAM
2 – LLOYD CUBACUB UNITED STATES
PUREBRED JIU JITSU GUAM
ADULT / BROWN / 161 – 175 LBS
1 – DAVID HARRIS GUAM
PUREBRED JIU JITSU GUAM
ADULT / BROWN / 176 – 190 LBS
1 – ANTHONY CRUZ GUAM
Carlson Gracie Guam CARLSON GRACIE TEAM
2 – NORBERTO ROSARIO GUAM
Figo/Bonsai BJJ BONSAI JIU JITSU
3 – WILLIAM HENDERSON UNITED STATES
PUREBRED JIU JITSU GUAM
NO-GI / 131 – 145 LBS
1 – ANGEL OLIVERAS PUERTO RICO
Spike 22
2 – ROSHJAY MANTANONA GUAM
VIDA BJJ
3 – PETER CRUZ GUAM
NO-GI / 146 – 160 LBS
1 – TREVIN JONES UNITED STATES
VIDA BJJ
2 – OLIVER JAMES CRUZ GUAM
PUREBRED JIU JITSU GUAM
3 – PETER BENAVENTE GUAM
VIDA BJJ
NO-GI / 161 – 175 LBS
1 – DAVID HARRIS GUAM
PUREBRED JIU JITSU GUAM
2 – ZACHERY BENAVENTE GUAM
VIDA BJJ
3 – JEFF MESA GUAM
Spike 22
NO-GI / 176 – 190 LBS
1 – JJ AMBROSE UNITED STATES
Spike 22
2 – WILLIAM HENDERSON UNITED STATES
PUREBRED JIU JITSU GUAM
3 – NORBERTO ROSARIO GUAM
Figo/Bonsai BJJ BONSAI JIU JITSU
NO-GI / 191 – 205 LBS
1 – PHOENIX CANNON GUAM
PUREBRED JIU JITSU GUAM
2 – ANTHONY RIVERA GUAM
Spike 22
NO-GI / 206 LBS AND OVER
1 – RYAN DUREN UNITED STATES
PUREBRED JIU JITSU GUAM
2 – CALVIN CHO GUAM
PUREBRED JIU JITSU GUAM
FEMALE / WHITE
1 – SHADRIANA TAIMANGLO GUAM
Figo/Bonsai BJJ BONSAI JIU JITSU
2 – RONALENE PRESTO GUAM
Alliance Guam
BLUE ABSOLUTE
1 – MIKEY FLORES PHILIPPINES
VIDA BJJ
2 – ZACHERY BENAVENTE GUAM
VIDA BJJ
3 – JUAN LIZAMA GUAM
Spike 22
BROWN ABSOLUTE
1 – ANTHONY CRUZ GUAM
Carlson Gracie Guam CARLSON GRACIE TEAM
2 – DAVID HARRIS GUAM
PUREBRED JIU JITSU GUAM
3 – OLIVER JAMES CRUZ GUAM
PUREBRED JIU JITSU GUAM
KIDS / 56-65 LBS /
1 – SILVESTRE PEREZ GUAM
Carlson Gracie Guam CARLSON GRACIE TEAM
2 – JOSE CAMACHO GUAM
Figo
KIDS / UP TO 55 LBS / 7-9 YRS OLD
1 – CALLIE GARCIA GUAM
PUREBRED JIU JITSU GUAM
2 – JESSE LUJAN GUAM
Carlson Gracie Guam CARLSON GRACIE TEAM
PURPLE ABSOLUTE
1 – RICKY CAMP GUAM
Spike 22
2 – PATRICK CRUZ GUAM
PUREBRED JIU JITSU GUAM
3 – KEVIN RIVERA GUAM
Carlson Gracie Guam CARLSON GRACIE TEAM