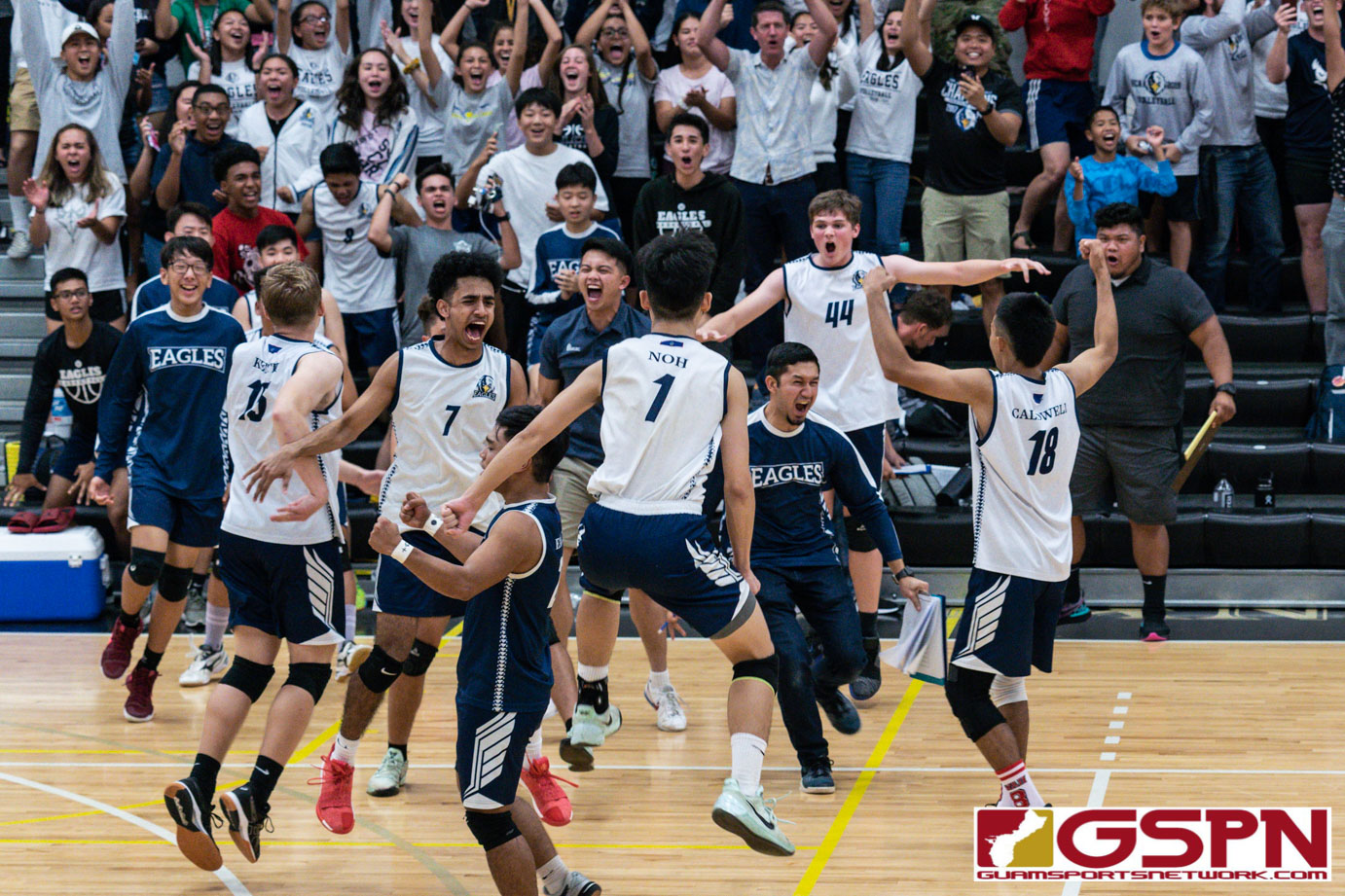 By Brandon Kinsella
The battle for a spot in the Boys Volleyball Championship Game would be decided in five sets, as the Harvest Eagles defeated a tough Tiyan squad in hostile territory (21-25, 25-15, 26-24, 20-25, 15-11). Huge efforts from outside hitter Jacob Oshiro would contribute to the Eagles win, as he came up big in the final set to help pull off the victory.
Following a loss in the 4th set due to a string of mental lapses, Harvest found ways to make adjustments and get momentum back on their side. Tiyan did start off the final set with lots of momentum, but Harvest managed to trade points and stay composed.
Tiyan's Neil Ericsson, who delivered the game winning kill against Harvest in the regular season, began the final set with the same mentality. After an out of bounds play put Tiyan down 0-1, Ericsson answered with a powerful kill to tie the matchup. He would go on to score three straight points for Tiyan on two blocks and another kill.
Ericsson finished the night with 10 kills and nine blocks.
Despite Tiyan's hot start to the set, Harvest kept their composure and came up with some big plays of their own. After a long rally where Tiyan returned several kill attempts, Harvest's JR Noh succeeded on a powerful kill which tied the game at four apiece. Oshiro followed with a kill of his own to give Harvest the lead.
Noh described how his team was able to make their adjustments in hostile territory:
"Our ability to adjust comes from our team's mental strength. Coach always stresses that we need to stay composed mentally and everything will follow after."
Later in the set, a kill by Noh would give Harvest a three-point lead at 11-7. But a string of errors by Harvest would put Tiyan within one point at 12-11.
With no room for error, Harvest would end the set on a 3-0 run to pull off the victory. A tip by Oshiro, followed by a kill from teammate Mason Caldwell, would ultimately setup the game winning play.
After a crisp pass from setter Chase Keith, Oshiro came through for his team yet again, delivering the game-winning kill. A wall of Titans attempted to block Oshiro's kill, but the ball floated out of bounds and Harvest would walk away with an opportunity at a title next week.
Both Oshiro and Caldwell finished the night with 10 kills.
Oshiro described what it feels like to make it back to the Championship Game after much deliberation throughout the season:
"It means everything, being able to make it the Championship. It's a testament to how much our team has grown and evolved since our freshman year. It's an awesome feeling, knowing that our last game played as seniors will be in the Championship Game. Whoever we end up playing, fans can expect to see a great game."
OTHER SEMIFINALS
The other semifinal matchup between the top-seeded FD Friars and 4th-seed Okkodo Bulldogs was moved to Monday 5/13 at 6 pm at the Phoenix Center. The Friar seniors were celebrating their Baccalaureate Mass which prompted the reschedule.
The championship match will be Wednesday, May 15 at the UOG Field House at 7 pm.
PHOTO GALLERY BROUGHT TO YOU BY: