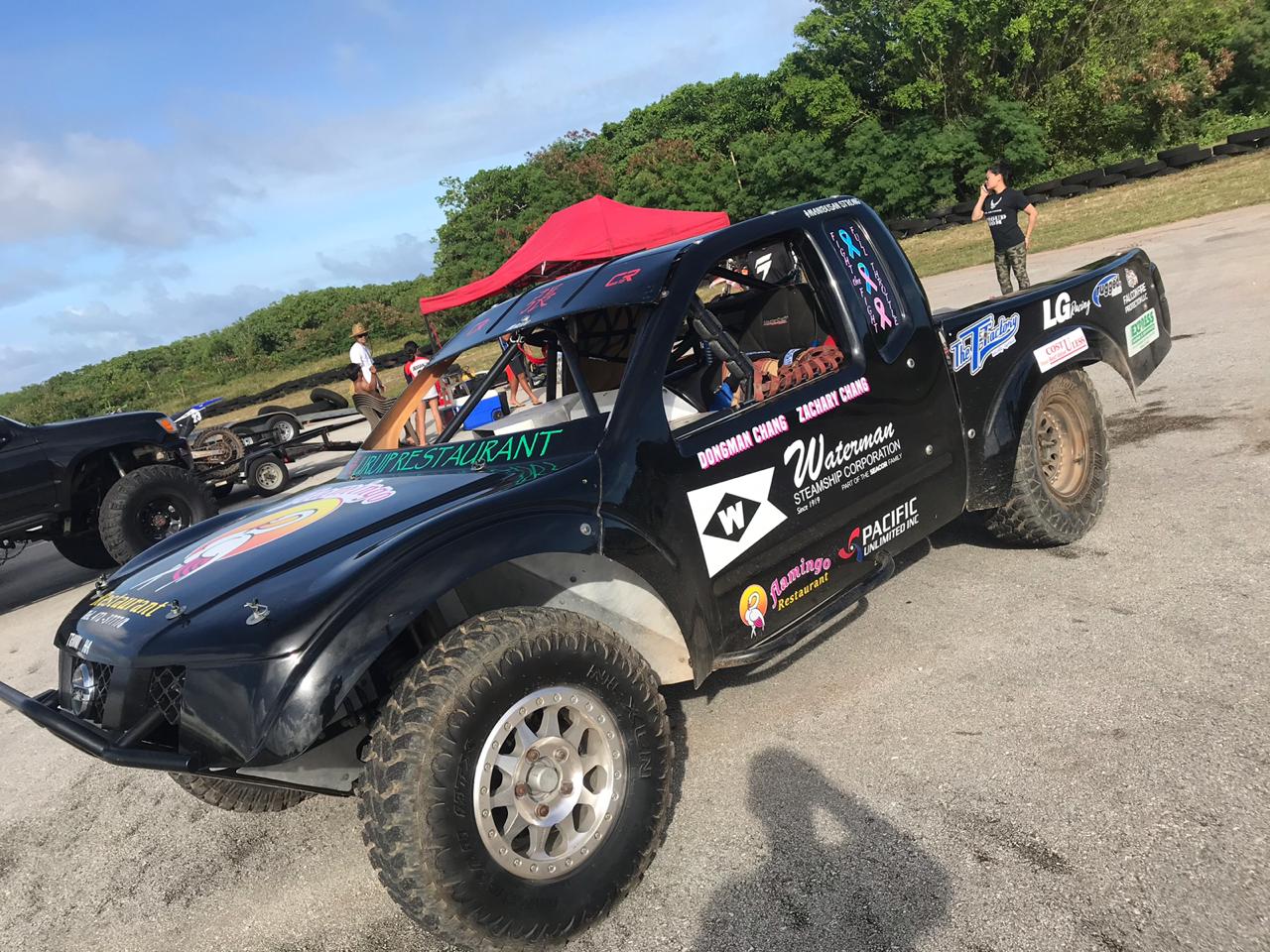 By Robert Balajadia
Dongman Chang had always dreamt about putting his own pro racing vehicle through the Guam off road circuit and his dream will finally become reality during the upcoming 2019 Smokin' Wheels.  Chang will be unveiling Guam's first ever Prolite Truck in the premier four-hour endurance event of the Smokin' Wheels event instead of rolling in the usual pink mini-mag owned by partner Roberto Pitter.
This year, Chang and son Zach will be two-manning the Prolite Truck, a debut for the father-and-son team with their usual family oriented racing crew.
"My family would always tease me after every Smokin' Wheels. I'd be in my office on my down time looking at pro trucks on the internet and how to bring those trucks in. I've been wanting to race with my son as my co-driver in a pro truck and it's always been the ultimate dream. This year we got blessed and we finally get to bring in a pro truck and our dream will be accomplished," said Chang.
The Prolite Truck, which is named 'Malia' after Dongman's granddaughter, will present a wealth of feature changes for Chang compared to his smaller buggie and his test runs at the track have been quite the experience. A key component is the G-Force Trans, one of just two trans' on island, from what Chang has heard.
"I love that buggie, it started me out," said Chang on his former racing vehicle. "The biggest thing that any car enthusiast or racer knows is one of the most important things is the trans. We've got a pure racing trans in our vehicle. The excitement level is up there just by hearing it start up and run the way it's supposed to; it gives us an adrenaline rush."
With Smokin' Wheels just a month away, Dongman, Zach and crew chief Jess Leon Guerrero from LG Racing will be tearing down the truck and making sure it's in top form.
"If it's going to break it's got to break now," laughed Chang on what's left in store for preparing the truck. "We're going to end up tearing down some stuff, rebuilding and tightening things up, beefing up some stuff and a lot more testing on the track."
The endurance race is not only a premier event for Smokin' Wheels, but it's also one of the most competitive. The Crisostomo family at Cars Plus, the Jones family at Triple J and Hanawa from Japan are just a few of the notable competitors in the event. Even though Chang is bringing in a Prolite truck for the first time, their goals are modest.
"It's in our blood to be competitors and want to win, but our expectations are to just finish the race. There's a saying in racing that anything and everything can happen regardless how much you prep. We want to get more experience for Zach, be as competitive as we can, but we just want to finish the race. It's our debut so we're just hoping to do the best we can," said Chang.
The team behind the father-and-son duo will be no different than any other race, a crew full of family and close friends.
"We're a small fish in a big pond. This truck was built in the states, but it's been prepped and tested here locally and that in itself is pride. For our team, we've always been small family team and everyone pitches in," said Chang.
On the left side of the vehicle lies three cancer ribbon decals which represents important family members in Dongman's life battling cancer.
"My sister has battled through thyroid cancer, my father-in-law has prostate cancer and one of our teammates wife has breast cancer so we wanted to let them know that we're right along side them. 'Fight the fight full throttle' is how we wanted to let them know that we're in the fight with them," said Chang.
The truck will make its debut on the final day of Smokin' Wheels 2019 which goes down April 12-14.
Prolite Truck Specs:
– Two wheel drive, mid engine 4-cylinder
– Pro built chasis that meets loors racing specification
– Spec truck racing chasis tubular design, 1 ¾ DESIGN
– All suspension points are the same for all competition trucks
– 12 inches of front travel, 14 inches of rear travel
– Engine is based in sponsorship (NISSAN, TOYOTA, ETC) 350 horse power max allowed in prolite
– Powered by 4-cylinder NISSAN motor
– Body is determined and based on sponsor (based off a Nissan Frontier)
– G-Force trans
Dongman wanted to give a special shoutout to his sponsors for making the dream a reality:
Flamingo Restaurant
LG Racing
Urijip Restaurant
Express Signs
Waterman Steamship
T-Factory
Pacific Unlimited
Falcon Fire
Racers Edge
Cost-U Less
Rugged Radios
PHOTO GALLERY BROUGHT TO YOU BY: