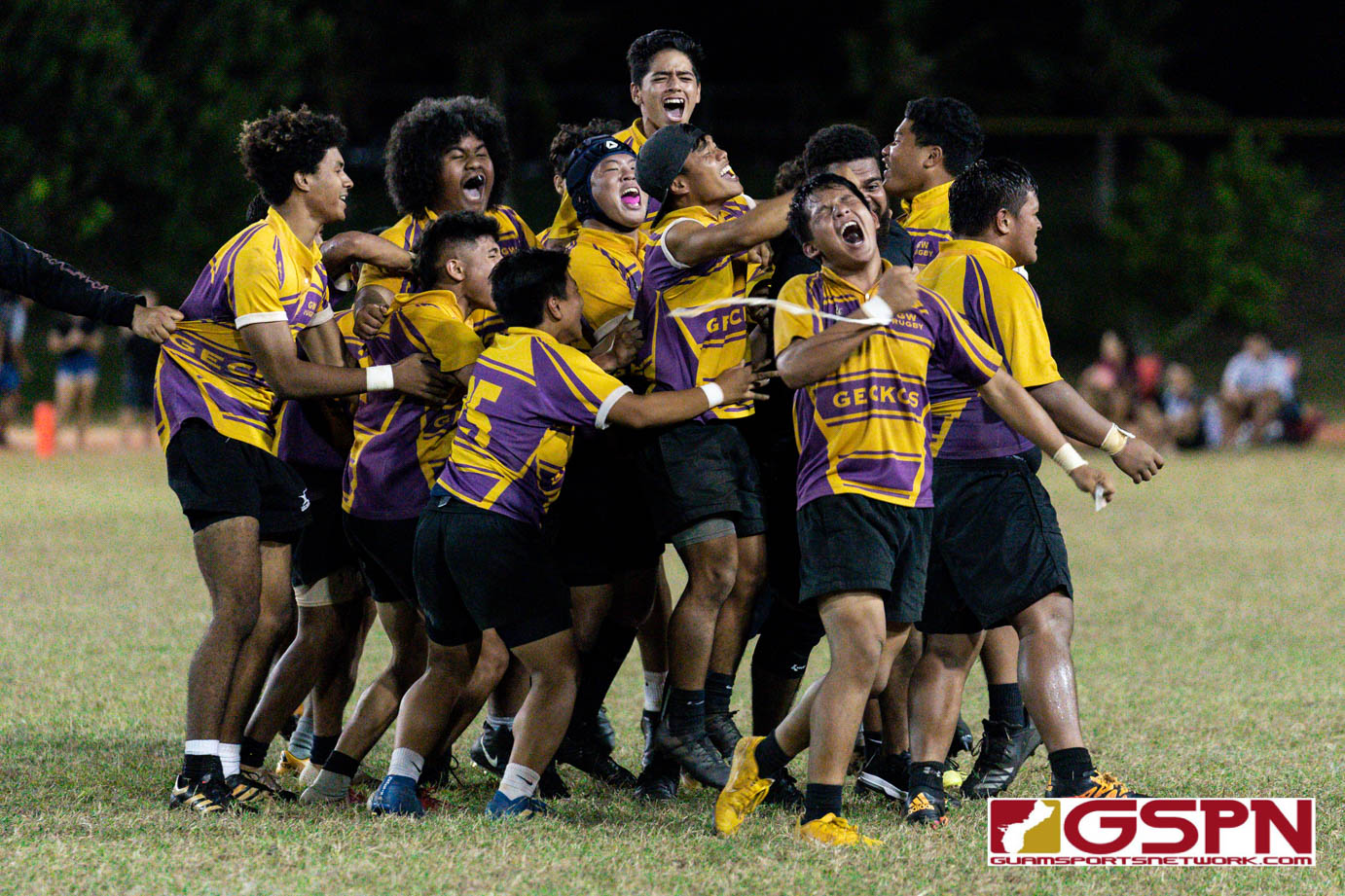 By Robert Balajadia
The GW Geckos had already busted the Friars near four-season long winning streak during the 2019 regular season, but they saved their biggest surprise for the last game of the year by beating the three-time champs 19-12 for the Rugby title to wrap up the IIAAG's 3rd Quarter.
The unsung hero for the Geckos was none other than first year player in senior Ethaniel Cali who scored all three tries for GW in the win. Cali is used to doing the dirty work on the line for the Geckos football team and he has already helped swing in a baseball title for the Geckos earlier this year. When the team needed that final push it was Cali who answered the call.
"I had a lot to learn this season but my boys got me ready. I worked so hard in practice and they never gave up on me so I had to perform in the 'chip," said Cali. "Losing to FD in the football championship game was really hard so it motivated me. But I'm grateful for my boys for helping me."
"A lot of these guys are first year players and we've only had no more than five returnees. So this is a rebuilding team, but we told them that whatever we do in practice we do in the game. They put a lot of work in practice and it really showed. They just got better week to week," said head coach Tevin Santos.
Cali provided the final punch in each of the scoring tries but the defense for GW proved to be the biggest difference. GW's fly-half Kaito Atsuta repeatedly pinned the Friars deep in their own try zone territory which stunted a lot of what the Friar offense wanted to do. Atsuta was also big on the conversions by hitting two-of-three.
"It was a different kind of nervousness when you step on to that pitch, but I have a job and that's to push them back as much as I could. The thing I can rely on the most is my kicks and so I had to pin them deep. I came to GW because I wanted to beat FD and we did that today," said Atsuta.
The Geckos were fired up from the start and their head coach Tevin Santos never let that fire die down. From the kick-off to the tries and to the end of the final whistle, the Geckos roar was heard all over the field.
"One of the biggest things I tell these guys is to never crack under pressure and don't lose your minds. Just go out there and have fun and play your game and play as a brotherhood," said Santos.
Game Recap
The Friars scored the hames first try as Brian Anderson got free on the right side to power in a try followed by a missed conversion from Miguel Hernandez for a 5-0 Friar lead. The Geckos didn't let the Friars celebrate for long after a knock-on opened up a grind-it-out try that Cali eventually punched in after two previous attempts ended in a hold up and an out-of-bounds.
Atsuta missed the conversion with the score knotted at five all.
The Geckos used two big runs from Jose San Miguel and Pumpy Manglona to allow Cali to power in a try near the middle to take a 12-5 lead following Atsuta's successful kick. GW had to rely on an improbable comeback in their first meeting, but this time the team was in the drivers seat up 12-5 at the half.
The leagues leading scorer Noah Diaz showed just how dangerous he can be after a defensive kick from Hernandez bounced right off the chest of the Geckos right wing, right into the ready arms of Diaz who sprinted 60 yards for an easy FD try. Hernandez made good on the kick to tie the game at 12.
"I saw them snap back," said Santos on how his team reacted to losing the lead. "I told them that everyone gets scored on and everyone makes mistakes but it's going to be how you respond to those mistakes. They came back strong."
GW shaved off plenty of clock after three grueling attempts to score nearly came up empty. A hold up in the try zone followed by two out of bounds plays only stalled the inevitable. Friar Tobin Perez was tackled within five yards of the try zone that soon led to a crucial turnover. Cali took the ball after two scrums with his team piling on behind as they fell past the try line.
A hold up was called, but a deliberation between the referees turned the try in question into a score to give GW a 19-12 lead after Atsuta's final conversion.
With less than three minutes to go FD got a big advantage following two Gecko penalties. The Friars tried to power in the final try from 10 yards out, but a knock-on near the try line gave GW back the ball as they managed to hold off the Friars last ditch effort.
"I have to give all the credit to these players. We've worked out all the kinks with them and we tightened up our defense. We stayed low, watch your man and play some hard-nosed rugby," said Santos.
The Okkodo Bulldogs took 3rd place by defeating the Sanchez Sharks 31-19.
PHOTO GALLERY BROUGHT TO YOU BY:

National Guard Athletes
Scott Eclavea
Scott Eclavea is a jiu-jitsu black belt and an accomplished MMA fighter. The Guard has given him an outlet in combatives to display his martial art skills, where he's become a head instructor for that program. Eclavea has served since coming out of high school and the Guard has only changed his life for the better.
COMING SOON …
LIVE FOOTBALL ON GSPN
Semifinals: #1 FD vs. #4 Southern (Friday 7 pm)
GSPN Preseason Basketball Tournament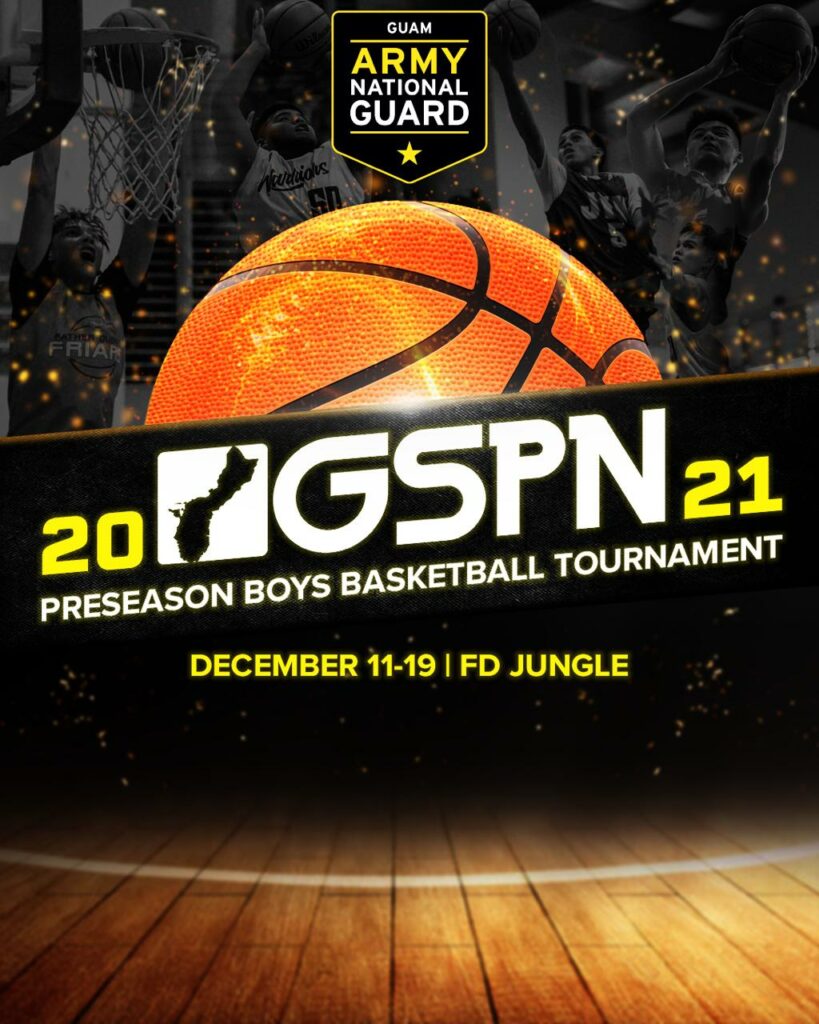 QUICK HITS
Robert Artero Maley recently captured the 182-lb. division of the Costa Mesa Classic, winning via pin in 4 out of 5 matches. Robert is a 4-year varsity wrestler at San Clemente HS (Tritons) and is currently ranked 15th in California's high school scene. He is the son of Jacque Artero Maley (AOLG 1991).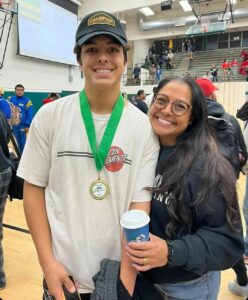 ——————————————–
Pat Taitano and Rich Abiador, teammates on the 1995 SPG volleyball team, have led their high school girls volleyball teams to the Washington State Championships in Yakima, Wa.
Taitano coaches Mt. Rainier High while Abiador leads North Creek High.
There for support is Dr. Mark Perez, a health professor at Central Washington University and a former UOG volleyball player.