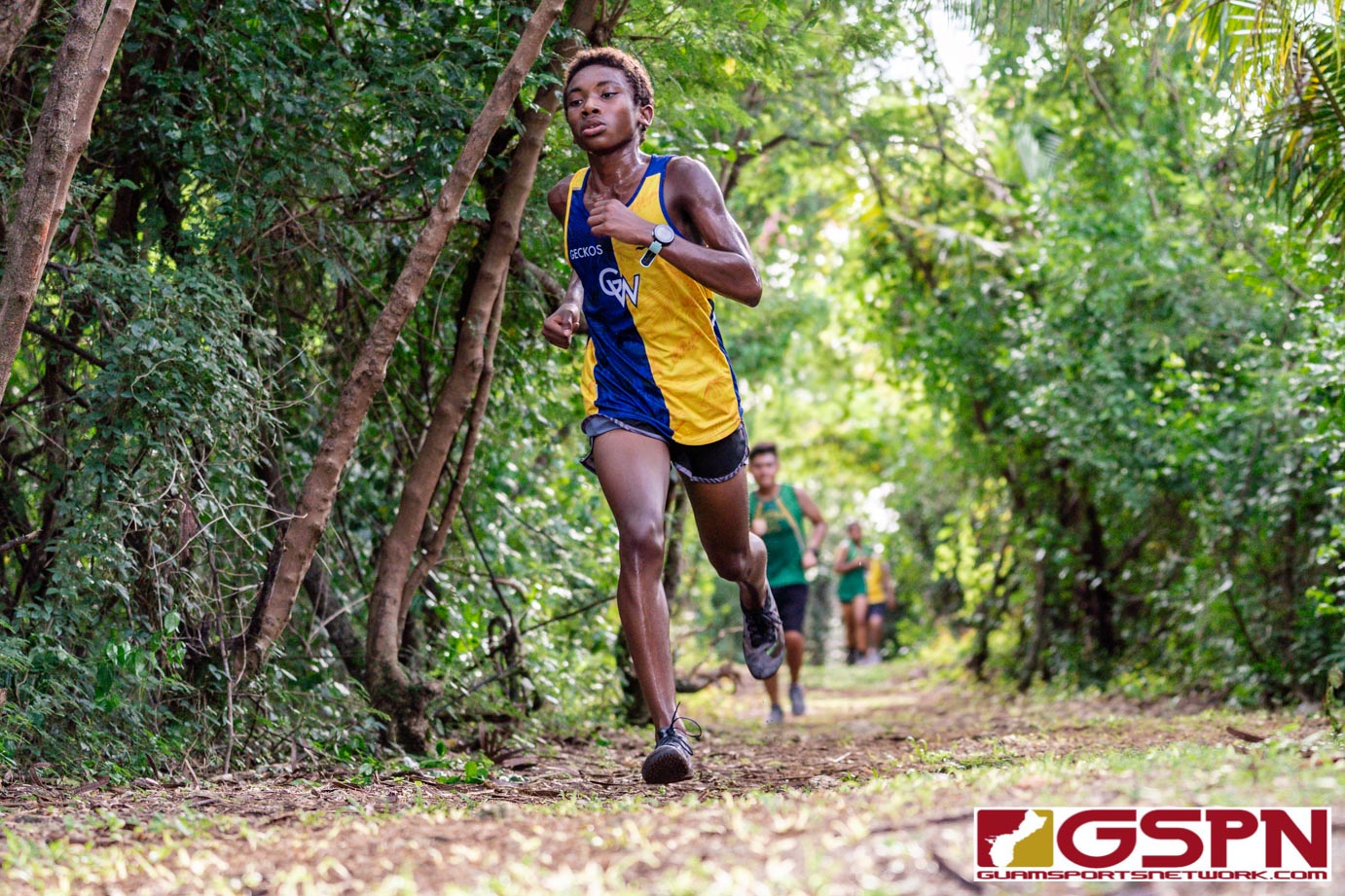 By Jay Leon Guerrero 
An old rivalry continued on Thursday with Guam's oldest schools going against each other in an IIAAG Cross Country Meet showdown. The George Washington Geckos and the JFK Islanders took the course in Upper Tumon and results ended in a split with the Geckos winning the boys meet and the Islanders winning the girls meet. 
Johnson dominates again
GW's Terrance Johnson started a fast pace and never let up, finishing with a fast time of 16:30. Johnson has been performing well individually and is one of the favorites to win the all-island meet scheduled for next month.  
"I was pretty confident but also nervous too because you really don't know what could happen and anybody can do well on any day," said Johnson. 
Johnson finished ahead of GW teammate, and fellow 11th grader, Paul Mansfield finishing at 18:19. The 1-2 finish helped the Geckos get the victory 24-32.
Mya Tolerson was the first female to cross the finish line, clocking in at 21:19 ahead of teammate Trixia Nierva 22:11.
"The weather was hot today compared to yesterday and it made harder for us because it was raining hard yesterday," said Tolerson. "As a team, we didn't run as good as we should but we will be getting better and faster as we get closer to the All-Island meet." 
Elizabeth Desingano was the first GW runner to cross the finish line with a time of 23:39, good enough for third overall. The Islanders won the girls meet with a final score of 22-33. After forfeiting their first two meets due to player eligibility, the Islanders breezed to four straight wins and are now 4-2 for the season. The Gecko girls drop to 3-3.
Joseph Aguon, Mark Imazu and Taiga Sato came in third, fourth and fifth, respectively for JFK.
"GW is a competitive team and Terrance makes them better," said Aguon.
The Geckos are now 4-2 for the season, the Islander boys drop to 3-3. 
Aguon, a short distance specialist on the track, praised Johnson and said he wanted to just run a smart race on his home course.
"I just want to go out there and run at my own pace and I ended up with a PR (personal record)," said Aguon. "Terrance is at another level and he runs at a fast pace."
Aguon clocked in at 18:47, swimming phenom Imazu had a time of 19:14. 
"Going off-island and competing against really fast runners in Australia at the Oceania tournament made me better, on and off the track" said Johnson.
Johnson and Aguon are both potential future track and field superstars on are both currently on the National Junior team. 
"Im pretty sure he will make the team for next year in the long distance races. Im hoping to be on the team as well for the Oceania Tournament," said Aguon who is still recovering from double hamstring injuries.
Rivalry continues
JFK and GW have the longest rivalry and a history of battles in cross country in the 80s and 90s.
"Our coach used to coach GW and he told us that he won many championships at GW," said Tolerson.
"He wants us to win championships here at JFK and he wants us to have that same success. Its alot of pressure for us but its okay," said Tolerson.
PHOTO GALLERY BROUGHT TO YOU BY:
RESULTS
IIAAG 19-20 Cross-Country IIAAG Meet #7 GWHS vs JFKHS - 9/19/2019
                          JFKHS, , Guam                          

                  Varsity Mixed 5000 Meter Run                   
=================================================================
    Name                  Yr Team                      Time   Pts
-----------------------------------------------------------------
                              Girls                              
-----------------------------------------------------------------
  1 Mya Tolerson          11 John F Kennedy High  21:19.92      1
  2 Trixia Nierva          9 John F Kennedy High  22:11.50      2
  3 Elizabeth Desingano   12 George Washington Hi 23:39.74      3
  4 Jada Han               9 John F Kennedy High  23:56.32      4
  5 Gissa Dumaraog        10 George Washington Hi 24:21.56      5
  6 Aveleen Santos        11 George Washington Hi 24:39.63      6
  7 Chasity Minor         10 John F Kennedy High  25:45.22      7
  8 Melanie Rosario          John F Kennedy High  26:17.93      8
  9 Laelas Cabalis         9 George Washington Hi 26:35.51      9
 10 Daeline Pangelinan    11 George Washington Hi 26:38.51     10
 11 Raianne Quichocho     11 George Washington Hi 28:33.63     11
 12 Danie Aguon           10 George Washington Hi 30:32.86     12
 13 Chae Ragadi           10 George Washington Hi 33:57.55       
 14 Daniel Masang            John F Kennedy High  34:26.63     13
 15 Patricia Concepcion    9 John F Kennedy High  43:32.89     14
-----------------------------------------------------------------
                              Boys                               
-----------------------------------------------------------------
  1 Terrance Johnson      11 George Washington Hi 16:30.57      1
  2 Paul Mansfield        11 George Washington Hi 18:19.66      2
  3 Joseph Aguon          12 John F Kennedy High  18:47.09      3
  4 Mark Imazu            10 John F Kennedy High  19:14.60      4
  5 Taiga Sato            12 John F Kennedy High  19:16.48      5
  6 Kristian Versario      9 George Washington Hi 20:34.70      6
  7 Genesis Dumaraog       9 George Washington Hi 20:52.15      7
  8 Christian Ruder       11 George Washington Hi 20:52.93      8
  9 Thomas Cepeda          9 John F Kennedy High  21:00.57      9
 10 Andrew Alconoba       11 George Washington Hi 21:26.57     10
 11 Matthew Rivera        11 John F Kennedy High  21:40.59     11
 12 Landon Taitingfong     9 John F Kennedy High  22:15.62     12
 13 Aaron Milan           11 John F Kennedy High  22:23.65     13
 14 Taiyo Kanekatsu        9 John F Kennedy High  23:16.02       
 15 Caleb Larimer          9 John F Kennedy High  24:01.25       
 16 Robert Cruz           10 George Washington Hi 24:06.90     14
 17 Morken David           9 John F Kennedy High  25:06.64       
 18 Resty Versario        11 George Washington Hi 25:23.05       
 19 Rhenan Sagun           9 John F Kennedy High  26:14.07       
 20 Noah Castro           12 George Washington Hi 26:14.34       
 21 Mckoiel Mane             George Washington Hi 26:16.42       
 22 Laurence Melencia     11 George Washington Hi 26:36.20       
 23 Aguon Ross             9 George Washington Hi 31:37.75       
 24 ELijah Castro          9 John F Kennedy High  34:13.32       
 25 Aaron Olkerill        11 George Washington Hi 34:27.60       



         Girls Varsity Mixed 5000 Meter Run Team Scores          
=================================================================
    Team                   Pts     1    2    3    4    5   (6)  (7) 
=================================================================
  1 John F Kennedy High    22      1    2    4    7    8   13   14  
      Total Time: 1:59:31      Average: 23:54.18      1-5 Split: 4:59
  2 George Washington Hi   33      3    5    6    9   10   11   12  
      Total Time: 2:05:55      Average: 25:10.99      1-5 Split: 2:59


          Boys Varsity Mixed 5000 Meter Run Team Scores          
=================================================================
    Team                   Pts     1    2    3    4    5   (6)  (7) 
=================================================================
  1 George Washington Hi   24      1    2    6    7    8   10   14  
      Total Time: 1:37:11      Average: 19:26.01      1-5 Split: 4:23
  2 John F Kennedy High    32      3    4    5    9   11   12   13  
      Total Time: 1:40:00      Average: 19:59.87      1-5 Split: 2:54