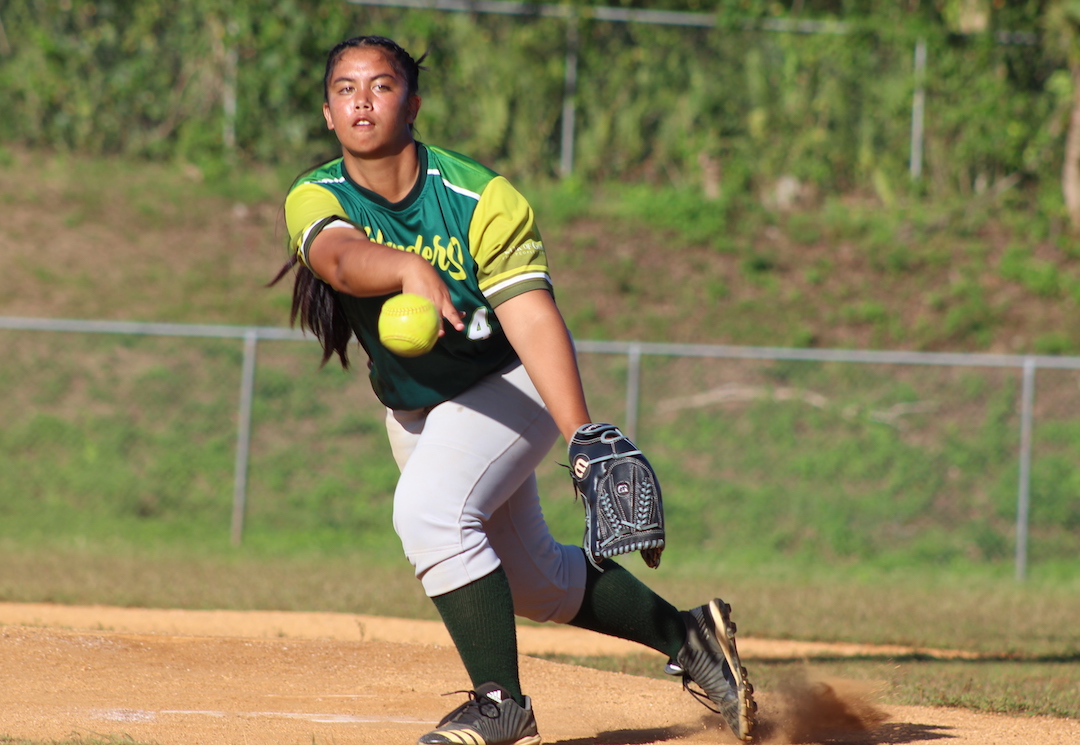 By Robert Balajadia
It was win or go home Wednesday evening in the elimination round of the IIAAG Girls Softball playoffs with four teams on the bubble in a double-header. The JFK Islanders rallied to defeat the Tiyan Titans 15-14 through six and a half innings in the first game and the Sanchez Sharks took on the Okkodo Bulldogs at the Okkodo field right after.
The Islanders offense was dormant for the first four innings with the Titans putting the defending champions down 8-3. Struggles at the mound for JFK allowed Tiyan to score four runs on wild pitches and a 2RBI double from Kaila Owen in the 2nd inning highlighted a strong Titan start.
JFK's sleeping seniors woke up the sticks for the team in the 4th inning as they scored six un-answered runs to take a 9-8 lead.
Senior catcher Nyah Chamberlain didn't start the game, but came in just in time to provide the spark to turn the contest around. Picking up in the 4th down 8-4, Chamberlain smashed a 2RBI single to get the score within 8-6 to spark a furious rally. Fellow senior Alexcis Evangelista smashed a ball deep right with runners on second and third, and an error in the outfield allowed Evangelista's single to turn into a trip around the bases to complete the comeback going up 9-8.
"Our coach [Cruz] keeps pushing us to do better. He always tells us that if we don't hit the ball then we're out of the game and that's what drove me today," said Evangelista
"We don't need to tell the girls much anything because they already know how important this is. We want to play as hard as we can and we want our young girls to experience a hard fought playoffs and we know it's do or die from here on out," said Chamberlain.
The other Islanders started to get into the action as Viannka Leon Guerrero opened the 5th with a lead single. Teammate Kiyoni Yamaguchi brought in Leon Guerrero with a deep shot that turned into an RBI triple as the reignited JFK dugout celebrated their team taking back control up 11-8.
Big hits from Leon Guerrero and Evangelista in the 6th brought more runs in for JFK, taking a commanding 15-9 lead with just one inning to go.
The Titans had one last rally in them facing a six-run deficit in the 7th. Islanders pitcher Nalani Blaz walked three Titan batters to load the bases with Tiyan getting a favorable start to the possible final inning. An RBI single from Marciano followed by a walk from Blaz had the Titans inching back 15-11 with the bases loaded.
Catcher Joanna Cruz then made her last stand by smashing a ball deep right as the lone Islander outfielder tried and missed on the difficult catch. Cruz's shot brought in three runs before getting held up at third. Cruz's efforts got the Titans within 15-14 with her tying run at third with two outs away.
"I was just telling our pitcher to keep her strikes going because she started so good. [Blaz] was losing it in the later innings, but she just needed to take a timeout and regain her focus and she did," said Nyah.
Blaz did just that, striking out Quintanilla for the game sealing save. Kam Heflin pitched all seven innings for the Titans and takes the loss.
The Islander fans were very engaged all game long with their players, which provided it's own entertainment from behind the fences. Evangelista and the girls love their fans, but they don't let the lively chatter from family and friends take their focus off the game.
"It's great to have our family out there to cheer us on, and it definitely motivates us, but I try and tune it out so I can hear my coaches voice so he doesn't yell at me anymore than he should," laughed Evangelista. "I'm just trying to make my team proud."
With another elimination game looming on Saturday, JFK is aware of the tough road that lies ahead in their pursuit to regain the softball crown.
"We really need to work on our batting," said Chamberlain on what the girls will be focusing on heading into Saturday. "We've been getting hits, but it's not as great as it's been in practice. Communication will also play a big role because sometimes when we're down we aren't there for each other like we need to be."
PHOTO GALLERY BROUGHT TO YOU BY:

Athletes Birthdays by W5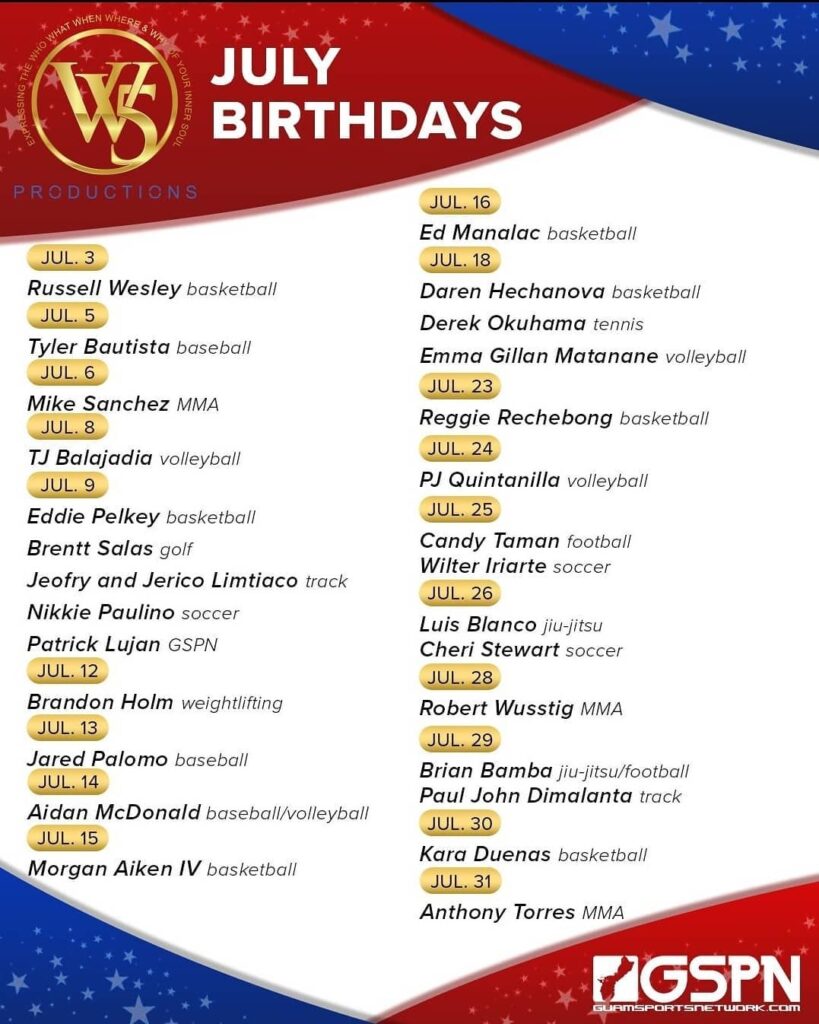 Foody's Fun Facts
Favorites From Year 2
COMING SOON …
2020 Tokyo Olympics
UFC Fight
Aug 1: Trevin Jones vs. Tony Kelley
QUICK HITS
——————————————————–
Guam's Joey Miranda met up with Chamorrita Softball Star Bubba Nickles and Olympic Teammates Dejah Mulipola and Aubree Munro out in Tokyo as we approach the Olympics!
Photo credit: GNOC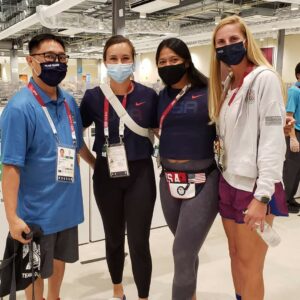 ——————————————————–
Former Guam resident Tre Taylor has committed to play cornerback for the Southwestern Junior College Jags.
Turner attended Harvest and FD before transferring to Hawaii where he played for Saint Louis, the 5th ranked team in the nation.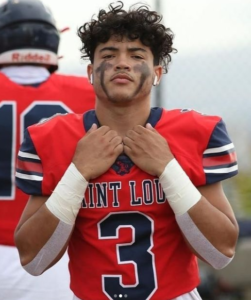 ——————————————————–
The big man Zach Banner getting to throw out the first pitch earlier today for the Pittsburgh Pirates!