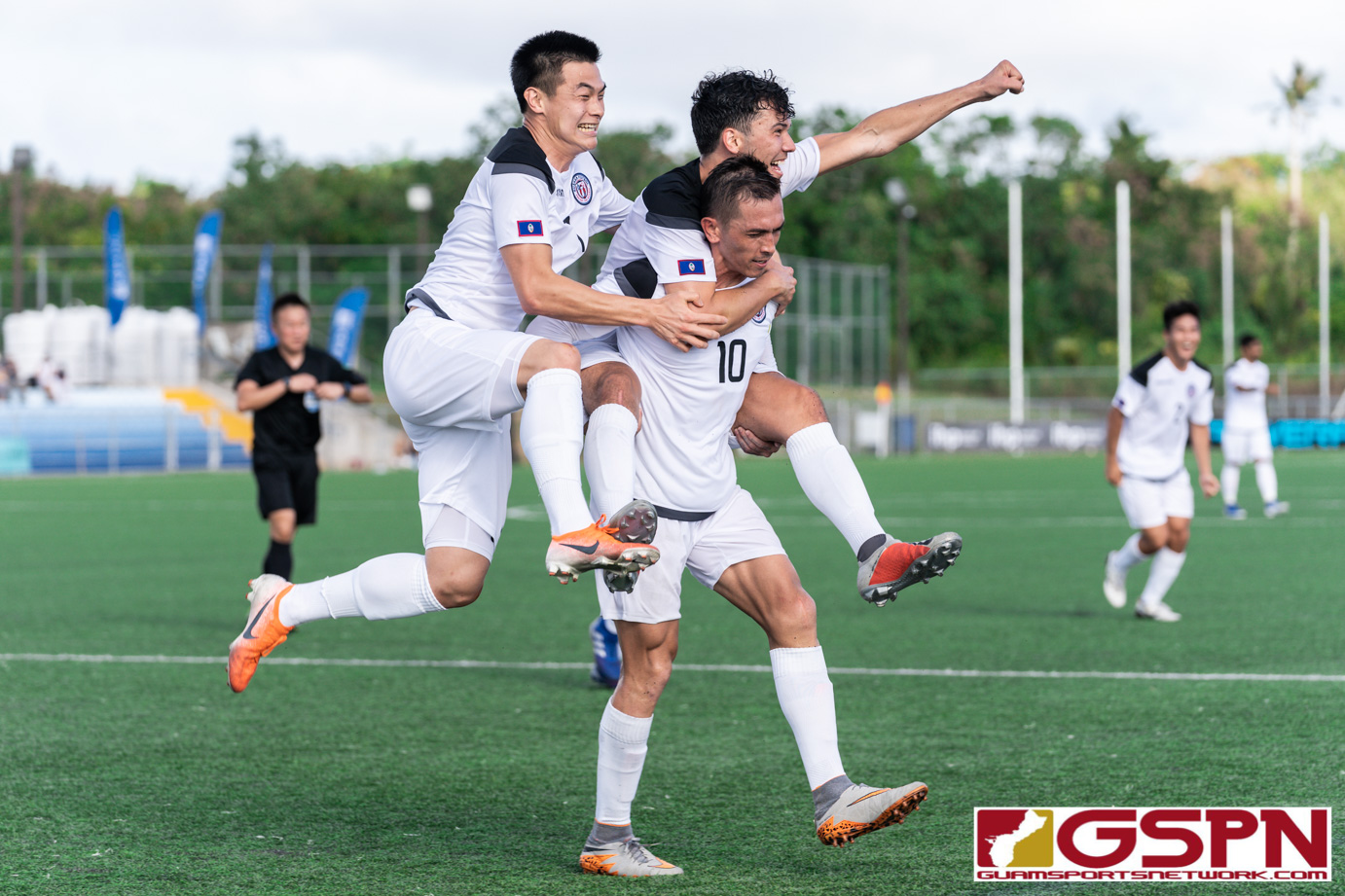 By Robert Balajadia
Home sweet home!
Guam's Matao soccer team dominated the visiting Bhutan team 5-0 in their second game of the FIFA Wold Cup Qatar 2022 and AFC Asia Cup 2023 Preliminary Joint Qualification Round 1 with over 1000+ in attendance at the GFA Field in Harmon.
Guam needed to win by +2 to advance to the second round of the qualifiers and their 5-0 dominant effort assured eight more games for the Matao in Round 2.
Led by the captain Jason Cunliffe, Guam's offense flourished by putting the pressure on from the opening kick. Guam put up a quick pair of goals in the first half behind a left footer from Isiah Lagutang on a pass from Jason Cunliffe, just before Cunliffe put in his own score minutes later on a rebound.
A goal from Shane Malcom early in the second half and two more from Cunliffe late were more than enough to give the home crowd plenty to cheer for. Malcom punished Bhutan after a poor clear on a goal kick allowed Shane to get a one-on-one which he capitalized on for a 3-0 lead.
Moments later, Marcus Lopez fired off a corner kick from the left side and Cunliffe knifed through the defense for a 4-0 score. Lopez and Cunliffe once again connected off a corner in extra time for the final goal at 5-0.
"The big difference from the two games was that we turned it up today. We believed in ourselves and played as a team, which is what we've been working on for the past 14 months," said Matao head coach Karl Dodd.
"We stepped up and played the way that we all knew we could play today… You could chalk it up to nerves or altitude, but bottom line is that we didn't get it done in Bhutan. But playing at home has always been good to us, playing in front of our friends and family, it's a fortress here," said Matao captain Jason Cunliffe.
Matao is coming fresh off a defeat suffered in Bhutan just days ago, losing 1-0. Tuesday was a different story for the home team as they flexed their offensive capabilities amidst the roaring heat.
Bhutan didn't change their defensive strategy, playing a 4-3-3 defense and Matao knew that they needed to ramp up the intensity with their backs against the wall.
"We just went away from our principles," said Cunliffe on the first game against Bhutan. "But that's just futbol. You see it in the Champions league, some of the best teams go and play in what they consider extreme weather, their performance changes. For us, we felt good playing at home and knew that after we got that first goal that it was going to keep coming."
The pace of the game heavily favored Guam as Bhutan's offense couldn't find any rhythm in the second half. Guam's offense took shots from all angles, tiring out the Bhutan defense which led to a plethora of good looks.
The next phase
Guam will now await the draw in Round 2 to find out who they'll be playing for the rest of the qualifying matches. This means four more home games to be played for Matao and eight away over a course of the remaining schedule.
In 2014, Guam drew Asia's top team in Iran, suffering rough losses in both games to keep them out of contention. They achieved a +7 in their FIFA rank, the highest ranking in the history of Guam Futbol, and the Matao are out to top their previous efforts.
PHOTO GALLERY BROUGHT TO YOU BY: