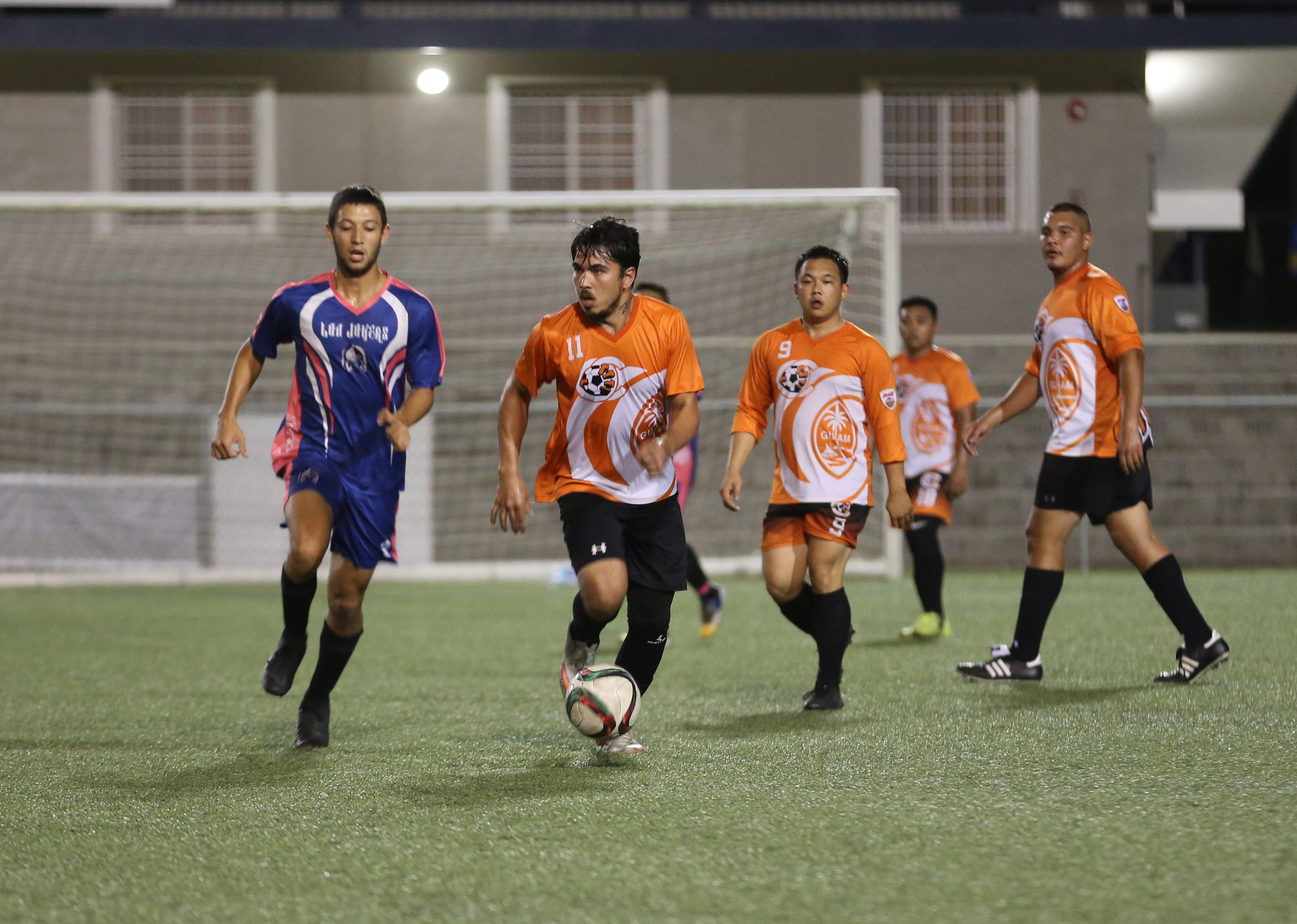 PRESS RELEASE – Quarterfinal fixtures are set for the Bank of Guam 12th Annual GFA Cup following three days of Round 1 action in the main draw over the weekend at the Guam Football Association National Training Center.
Lots of Art Tattoo Heat were the final team to claim its spot in the tournament quarterfinals, edging a relentless Crushers FC team 5-4 Saturday evening.
The Crushers amassed an early 3-1 lead in just over 20 minutes of play until a pair of goals from LOA Heat's Sydney Talledo and Fred Alig III locked the halftime score at 3-all. LOA Heat struck first in the second half on Talledo's second for the night in the 58 th minute, but seven minutes later, the Crushers' Joseph Kim found LOA Heat goalkeeper Keith Surber playing high and framed a lob shot from distance to level the match for the third time. LOA Heat's Seth Surber later prevented a penalty kick shootout, netting the eventual game winner in the 79th minute.
A.J. Root scored LOA Heat's other goal. Dietrich Weathington scored twice for the Crushers in the first half and Leeray Zapatos scored his team's other goal.
In other Saturday evening matches, defending champions Bank of Guam Strykers (Premier) blanked Eurocar Masters 17-0 with four goals each from Andre Gadia, Ethan Sablan, and Morgan McKenna. Aidan Dickson contributed a hat trick in the goal fest and teammates Scott Spindel and Kyle Halehale also scored.
Budweiser Soccer League Premier Division champions NAPA Rovers defeated the Bank of Guam Strykers (Amateur) 6-2 with two goals from Devan Mendiola and one each from James Lee, Min Sung Choi, Mark Chargualaf, and Gustavo Pro. Jeremy Copple and Ivan Borja scored for the Strykers (Amateur).
In Friday evening's matches, the University of Guam Tritons defeated FC Beercelona 9-0 with three goals from Ryoga Okada, two each from Dylan Naputi and Hezekiah Cruz and one each from James Yang and Jordan Rosario.
Quality Distributors defeated the Islanders FC (Amateur) 4-1 with two goals from Edson Toussaint and one each from Evertt Vasquez and Ernest Baah. Brandon Auayan scored the Islanders' lone goal.
In Thursday evening's matches, the GWM Bombers SC needed a penalty kick shootout to put away Guam Shipyard (Premier). Goals from Shipyard's Damien Khoo and Bombers Tem Nchia kept the match level at 1-1 through to the final whistle of regulation time. The Bombers next outscored Shipyard 3-1 in the shootout, which included key saves from the Bombers Brian Anderson, Budweiser Soccer League Amateur Division 2018-2019 Golden Glove winner.
The Sidekicks SC defeated Guam Shipyard (Amateur) 9-0. David Hwang finished with a hat trick and teammates John Anthony Cruz, GianCarlo Abril, David John Cruz, Jerick Cruz, Kim Sih-Heon, and Anthony Aguon also scored.
Quarterfinals begin Thursday at 7 p.m. featuring the NAPA Rovers FC against the GWM Bombers, followed by Bank of Guam Strykers (Premier) against the University of Guam Tritons at 9 p.m.
Quarterfinals continue Friday at 7 p.m. with Islanders FC (Premier) against Sidekicks SC and Lots of Art Tattoo Heat against Quality Distributors.
The bracket is available for viewing and download on GFA's official Web site: http://guamfa.com/all-leagues-mens-gfa-cup-results
All GFA Cup matches are streamed on GFA's Internet TV channel, https://mycujoo.tv/guamfa

COMING SOON …
High School Football starts Sept. 29
Brawl 3: Oct 13
Guam's Strongest Man and Woman Competition October 29
QUICK HITS
The Figo Islanders 40s women's softball team took gold in the Senior Softball World Championship in Las Vegas. Figo came out of the loser's bracket and beat the Arizona Belles 17-3 in the AA division championship game Sunday afternoon.
Other Guam teams that played in the 40s tournament were: Team SOTTA (women's) and Bud Light Guam, Friars 671 and Sindalun Guahan (men's).
Sindalu finished a respectable 4th out of 24 AAA division teams.