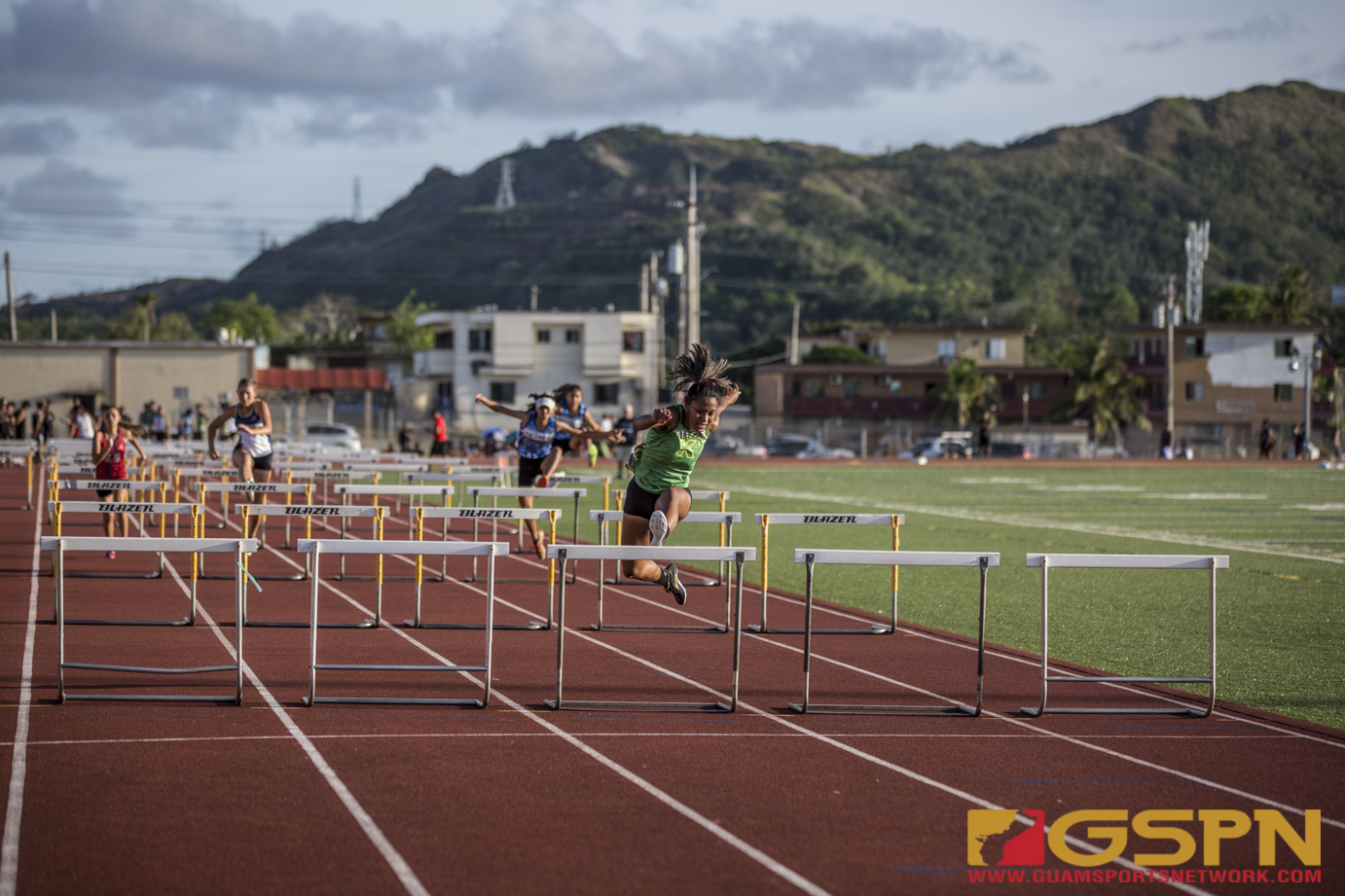 By Jay Leon Guerrero
Athletes assembled for Week 3 of the IIAAG Track and Field League Friday evening at the Guam High Track in Agana Heights. Runners, throwers and jumpers are all looking to make the qualifying times (or distances) for the all-island meet scheduled for next month.
Introducing the Saints
Two small schools combined to form one track team called the Saints. St. John's and St. Paul teamed up with head coaches Desmond Mandell III (St. John's) and Sherwin Paet (St. Paul) leading the combined group.
The Saints are looking for a respectable top-3 finish when the All-Island event is completed. Two juniors lead the way for the Saints with Madison Packbier from St. John's and All-Island cross country champion Brandon Miranda from St. Paul combining to form one team.
"At first it was weird because I didn't know them. But it turned out to be great working with all of them, they (St. Paul) are really nice people," said Packbier.
"We all had different personalities but we ended up just clicking and now we are one," said Miranda.
Both Packbier and Miranda qualified for the all-island meet in their respective strong events. Miranda posted fast times in the middle to long distance events and Packbier in the short distance events.
Miranda bounced back after a sub-par performance in meet one with a strong performance in meet two (last week) to solidify his spot in the All-Island meet.
"It's much different from cross country, I need to improve mentally because it's a different race on the track," said Miranda.
Miranda did just that, winning his races last week to stamp his ticket to the All-Island. Miranda ventured off the track and participated in the triple jump to help get points for his team.
Packbier said she will not only try to accomplish personal and team goals, but also use the track season to help her in future international events.
"These meets and practices definately help to get me in competition shape for future competitions," said Packbier. "I've been under coach Des for three years and now I also have coach Paet so I have double feedback and two additional points-of-view which is great."
Tugade nearly breaks record
Richelle Tugade nearly broke the girls 100 meter hurdles record during the second heat of meet 3. Tugade broke away and said she felt good after the race but her time of 15.77 was short of the record which is 15.65. Tugade still has three more meets to break the record and her confidence is at an all-time high.
"My confidence is high on my senior year and I'm just focused on accomplishing my goals," said Tugade. "For our team, we have about 20 girls and so far we are up there in the rankings so I'm proud of the team despite our small size."
Tugade and Packbier are both on the Team Guam contingent scheduled to compete in the Pacific Games in Samoa this summer. Tugade said the experience and workouts during the season will help her this summer.
The hurdle king is back
Last season, Erjel Sanchez from Simon Sanchez High School won double gold in the 110 and 300 meter hurdles. The junior won the 110 race with a time of 16.89 seconds despite his lack of practice.
"I just came back from a basketball tournament in the Philippines so I'm looking to improve with more practices," said Sanchez. Sanchez plays on the Sharks basketball team and travelled with the varsity squad to a post-season tournament. After arriving, he immediately joined the track team and looks to defend both hurdle events by getting in top shape by next month. "This is my first meet and I have to get better in my technique. I'm still a bit rusty but with a more workouts I'm hoping to improve."
Sanchez and all the athletes will have a week off with spring break next week. The track season will commence two weeks from now, skipping next Friday which is Good Friday.
PHOTO GALLERY BROUGHT TO YOU BY:

QUICK HITS
Guam MTB National Championship: Edward Oingerang and Jennifer Camacho are your 2023 MTB national champions. Oingerang finished the course in 1:13:24 while Camacho won her second straight title in 54:08.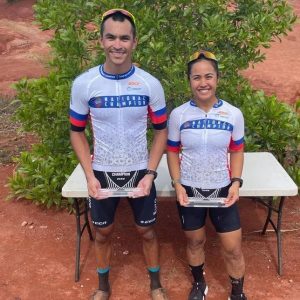 ——————————————
Kobe Miyashita, with St. John's coach Arvin Flores, was named the 2023 IIAAG Middle School Boys Volleyball MVP!